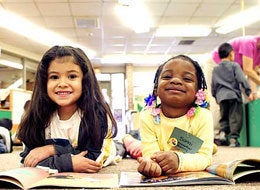 I am convinced that schools can be the difference between hope and despair because of the impact public education had on my life. I grew up in East Flatbush, Brooklyn; the son of two New York City public school educators. My father who was born in 1908 grew up in Bedford Stuyvesant. In a career that spanned nearly 40 years, my father served as a teacher, a principal, and eventually Deputy Superintendent. At that time, in the early 1960s, he was the highest ranking African-American educator in the country. My mother came to New York from Puerto Rico as a little girl. She grew up in the Bronx, the child of a single mother who was a garment worker. Like my father, my mother saw education as a path to opportunity. She was the first in her family to graduate from college and she became a NYC public school teacher.
My parents' faith in education inspires me every day, but I did not get the chance to know either of them well. When I was eight, my mother had a heart attack and passed away. I then lived alone with my father from the time I was 8 until I was 12. During those years, he suffered from undiagnosed Alzheimer's disease. No one knew he was sick and as a result, life with my father was unpredictable and often scary. I can recall one night he woke me up at 2 AM to go to school. I remember crying and clinging to the staircase banister as he pulled my arm and I begged him not to make me go. By 7th grade, I was doing the laundry, cooking meals, and signing checks in my father's name to pay overdue bills. As he got sicker, he didn't leave the house even to go to the store - so I was forced to sneak into his room to steal money so I could buy us food. When I was 12, my father passed away.
Throughout that frightening period, school was my refuge. Mr. Osterweil, my teacher at P.S. 276 was like a surrogate father to me. He was sort of a crazy guy - an ex-hippie who wore two inch platform shoes - but he was an amazing teacher. As 4th graders, we had to read the New York Times every day. In his classroom, I felt safe, I felt nurtured, and I felt challenged. Later, at Mark Twain Junior High School in Coney Island, I was again blessed with a wonderful life-changing teacher: Celestine Dessasure or Miss D. She was an actress outside of school and her classroom was the perfect blend of rigor and joy. The teachers at P.S. 276 and Mark Twain Junior High literally saved my life. If not for them, I could not have survived this period in my life and I certainly would not be standing here today.
When my father died, I went to live with my half-brother. He was 24 years old, drove a sports car, and drank a lot. He loved me and I loved him, but once again, I was doing the cooking and cleaning, taking care of the bills, and fending for myself. The worse things got at home, the more solace I took in school. I decided the best alternative was boarding school and got accepted at Phillips Andover. The classes were amazing, but I was unhappy and overwhelmed and eventually got kicked out. I went to live with my father's brother, Uncle Hal, a career Air Force officer who had been a Tuskegee Airman. Living with Uncle Hal and Aunt Jean provided a sense of normalcy - dinner every night at the same time, strict rules and high expectations. I was back on track.
I was then fortunate enough to go to Harvard where I volunteered in after-school and summer programs in a public housing development in Roxbury. That experience provided me with the opportunity to do for other kids what Mr. Osterweil and Miss D had done for me - to provide them with a safe, structured and caring learning environment. I went on to become a teacher and eventually, at 24, to co-found Roxbury Preparatory Charter School in Boston with Evan Rudall, who is now CEO of Uncommon Schools. In the ten years since we founded Roxbury Prep, the school has consistently outperformed schools in the most affluent communities in Massachusetts. In 2004, I left Roxbury Prep to attend Yale Law School because I wanted to figure out a way to do what we had accomplished at Roxbury Prep on a larger scale.
After a year at Yale, I realized that the best way for me to contribute to changing the course of urban education was to work directly in schools. That's why I was thrilled when Evan asked me to consider joining Uncommon Schools. So, in my 2nd and 3rd years of law school, I worked full-time at Uncommon, commuting between New York City, New Haven, and Boston where my wife Melissa was finishing up grad school. With two small children, those years were difficult. However, we felt it was worth it because we knew the impact that quality education could make in a child's life and we were confident that Uncommon could prepare thousands of New York City kids to enter, succeed in and graduate from college.
Our work would not be possible without the extraordinary commitment of Mayor Bloomberg and Chancellor Klein to school choice and educational excellence and, of course, Robin Hood and many of you in this room. One of the most significant projects Uncommon Schools and Robin Hood have accomplished is the development of Excellence Charter School, our all-boys school in Bedford Stuyvesant that was founded by Paul Jones.* Today, the school serves nearly 300 students in grades K-5, virtually all of whom are African-American. This year, 100% of Excellence students scored Proficient or Advanced on the state math exam and the school was the number one elementary school in New York City on the Department of Education school progress report. The Excellence building is itself an incredible story of community renewal. It was a district school, P.S. 70, for nearly a hundred years until it was sold and fell into disrepair. By the time Robin Hood and Uncommon Schools found it, it was a burnt out shell filled with empty crack vials and stray dogs. We gut-renovated the building and turned it into a state-of-the-art K-8 facility.
Shortly before we moved in, I was looking through an old book entitled Negroes of Achievement that has a chapter about my father. In an uncanny twist of fate, I discovered my father had been the principal of P.S. 70, now Excellence, in the 1940s. In restoring the building, we had not only restored a community institution, but unbeknownst to me, we had helped to resurrect my father's legacy. At the grand opening of Excellence, several members of the P.S. 70 alumni association brought their class pictures which included my father, and explained the impact he had on them. *Although my time with my parents was brief, I feel closer to them each time I walk through the door of Excellence.
My father used to tell a story that captures the urgency of our work. He loved basketball and one weekend, while playing, he broke his wrist. When he went to work on Monday, with his wrist in a cast, the principal stopped him and told my father - who never took a single sick day in his nearly 40 year career - that he could not teach with his cast. My father explained that he would be able to teach just fine. The principal explained that there was a regulation about not teaching with a cast and again told my father he couldn't teach. My father then walked over to the counter in the main office and slammed his cast down shattering it. He brushed the pieces into a trash can, put his hand in his suit pocket, and went to teach his class.
In a nation where there is a 30-40 point achievement gap between low-income students of color and their more affluent peers, in a nation where students with the most income are seven times more likely to go to college than students with the least, in a nation where our urban school systems have high school graduation rates around 50%, and in a nation where one in four African-American men between 19 and 29 is either in prison, on probation, or on parole, we need to bring to the work of closing the achievement gap the same sense of urgency my father brought to his teaching. We cannot afford to let up or slow down.
Together we can build great schools and change histo
Related