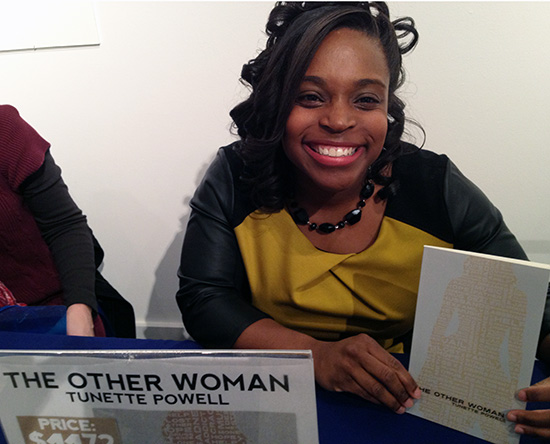 The Christian Bible says in John 8:32 "the truth will set you free," and an Omaha area 20-something woman is living by her faith.
Tunette Powell gathered over the weekend with family and friends for the release party of her first book, The Other Woman. Published locally by WriteLife, the memoir tells Tunette's truth about growing up with the struggle of her father's crack addition and prison time.
I met Tunette a year-and-a-half ago, after she transferred to the University of Nebraska at Omaha, declared a speech communication major and joined UNO Forensics as a senior. She helped the team finish fifth in the nation for the second consecutive year. Then, she was selected as one of two Nebraska public speakers to represent the state at the 140th Interstate Oratory in Boston. By the time she competed there, I knew enough about Tunette to expect success. Still, none of us believed she would win the national title, as she did.
Tunette's path to a college degree should tell us a lot about the value of education and the importance of a strong family, including her mother and brothers, in overcoming the odds.
Tunette's father, Bruce Callis, began selling drugs at 14, and he traded what he could take from family or steal to buy drugs. Tunette's story, which was the basis of her award-winning speech and now book, takes readers through her path to forgive and understand Bruce.
Dedicated to her father, Tunette quotes an African Proverb: "When there is no enemy within, the enemies outside cannot hurt you." Her painful story, as she said before a reading from the book, shows "the truth" may be used for healing.
The Other Woman is divided into 16 tracks, rather than chapters, that begin with the truth. "Hi, my name is Tunette and my father is a drug addict," she writes. "There, I said it."
From the east side of San Antonio, Tunette was born into in Bruce's world of failed drug rehabilitation, drug dealing and addiction. He landed in the county jail for 18 months, facing the possibility of up to 99 years in Texas state prison for a felony conviction. He was sentenced to 15 years. He did time at Huntsville, chose to go to school for air conditioning and refrigeration, and made parole after three years.
Tunette writes of being molested by an older boy when she was a young girl. She grew up without her father at key moments. Through her own struggles, she began to understand how her father's drug addiction was rooted in his own painful childhood.
Tunette found a way out of the cycle of addiction and unhealthy relationships through education. After high school, she began writing for the San Antonio Express News, studied journalism at the University of Missouri, and found her voice through public speaking. Today, she is a Christian military wife and mother, mommy blogger, author and inspirational speaker. She volunteered with a church prison ministry and at an organization focused on helping women gain "life skills and healthy relationships" -- before accepting a position as program director for Boys and Girls Club.
"I coordinate a lot of non-traditional career field trips," she said. "I work with a lot of students who have similar backgrounds as me." Tunette teaches writing and speaking skills to others, and she has become a role model for the path to success.
The Other Woman makes it clear that life can be a struggle, and that Tunette's path to a healthy future included a series of bumps along the way. Yet, by telling the truth of her difficult childhood, she may open doors for others to be honest with themselves, family members, friends and the public.
As Tunette read from her book at the release party, her father Bruce sat quietly listening. Through the years, he had encouraged her to use "intellect."
Through her emotional tale, Tunette instructs us to understand that there are real events and lives behind the news headlines of drugs, crime and violence. Too often our local news media reduce these stories to newspaper headlines and evening newscast live shots that fail to promote understanding.
As a media educator, Tunette's story reminds me that education, journalism and journalism education can and must do better. Only then do we have hope of understanding painful childhoods that can lead either to a violent end or a marvelous success story.