It's fairly simple: 15 plus 12, 10 plus 17, 9 times 3. The number 27 is divisible by 3 and 9, and 27 less than 54.
It's inexcusably horrific: the richest and most powerful nation in the history of the world has the 27th ranked childhood poverty rate.
27th is the way we are treating our most vulnerable, helpless, and defenseless population, our children.
We gave a lecture at Keene State College in New Hampshire on Friday detailing and dispelling myths surrounding education and the media's constant Dystopian narrative about how bad our schools are, how lame teachers are, and how gooey and wonderful charter schools and vouchers would taste on the American palette of free enterprise and choice.
Rubio, Cruz, and Trump want to close the Department of Education and end Common Core. Sanders and Clinton and Rubio want to expand access to college. All five support school choice in some form or another. Only the democrats list education as issues on their campaign site. Not surprisingly, education is mostly missing from the debates during this primary season but the American people deserve to know how our country can fix education.
We ask that education voters forget about all of the issues candidates are or are not discussing designed to help improve education, myth or reality. All of the educational reform or innovation in the world will not overcome the damning effects of childhood poverty, will not change the 27.
What will or won't allegedly fix education is irrelevant because none of it will change our rankings on achievement tests (that are nearly perfectly correlated with family income, by the way) or help the children of our country that desperately need us to act boldly on their behalf. What will address poverty is the only question we educators should ask during this election.
Forget charters, Teach for America, universal pre-K, Finland, and Common Core. Forget ESSA, ACT, accountability, and private schools. Not a single thing matters if we don't address number 27 first. All of this is moot if we address the real issue.
We believe that anyone telling you otherwise is either ignorant, misled, or purposefully obfuscating the reality of education for their own personal, political, and/or financial gain. There's plenty of static out there about what will help our "failing" education system. It isn't failing, our economics are.
No change in the education equation matters other than addressing the egregious wealth inequality our country faces. Educational achievement and family income levels line up like Kindergartners heading for the bathroom.
27th in childhood poverty.
We agree that Hillary Clinton might be a terrific president and she's the choice of many due to her longstanding education work, her experience as a politician, and the support she enjoys of both major teachers unions. We are honored to call her former home of Fayetteville, Arkansas our home. Hillary's great.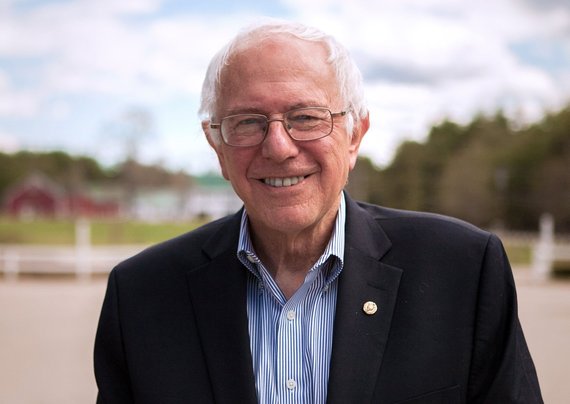 There's only one candidate that education voters--those Americans concerned about children or our future--should support in the upcoming primaries tonight, tomorrow, and in the coming months: Bernie Sanders. Bernie's been advocating for wealth equality since before it was cool and until our country faces the hard truth of 27, the crippling effects on our children of what it means to grow up without enough food or safety or supervision or any of the unquantifiable effects of poverty, an issue we believe only he is uniquely qualified to address, lets place a moratorium on ideas how to fix or "reform" an education system that, by the way, when one controls for family wealth, is the best in the world.
In our view, nothing else matters to education, to our country's future, or to this time in world history more than the number 27. Think of that number and think Bernie Sanders.
Calling all HuffPost superfans!
Sign up for membership to become a founding member and help shape HuffPost's next chapter