Perhaps you've heard about a little show taking the world over by storm. And Chicago is lucky enough to have it, eight nights a week for the foreseeable future, at the PrivateBank Theatre.
But another show is also happening on that same stage during Hamilton's off-hours – one that's just as dynamic, and perhaps even more inspiring. A performance that makes a powerful case for the importance of retaining the arts in our schools.
This show, which I had the honor of attending last week, features students, who represent a wide cross-section of Chicago's school system, performing scenes, songs and spoken word inspired by the celebrated musical Hamilton. And in the audience are a few thousand students who enthusiastically cheer each other on as their peers take a few minutes to bare their souls on the PrivateBank stage, prior to that afternoon's matinee performance.
The Hamilton Education Program (#EduHam), made possible through a grant by The Rockefeller Foundation to the Gilder Lehrman Institute, gives high school students the unique opportunity to not only see Hamilton for just a "Hamilton" ($10), but leading up to that performance they spend time learning about American history, the enigma that was Alexander Hamilton, and the evolution and development of the celebrated musical.
Having launched in New York in partnership with the Broadway production a few years ago, this was the third of ten planned EduHams in Chicago.
To me, this is more than just a typical education program. It's a rekindling of the American musical as a viable and relevant art form – starting from the ground-up. And that's because this show – which blazingly cuts through cultural barriers – has sparked an interest in this next generation of theatregoers to understand the potential live performance can bring. It also doesn't hurt that teachers have a kickass resource to get their students excited about history – making it more than just a list of dates and names. These are flesh-and-blood people who suffered and succeeded through sacrifice.
Student performances for this round of EduHam ranged from solo songsharing to spoken word to group rap. For many, this was the first time they'd performed in front of a large group – let alone a Broadway in Chicago stage, where the likes of Nathan Lane, Julie Andrews and Bernadette Peters have trod – comprising a houseful of their peers. While nerves certainly could have set in for any seasoned performer, students applauded and cheered each other on, while MC Miguel Cervantes, who doubles as Hamilton in his off-time, kept the afternoon supportive and energetic.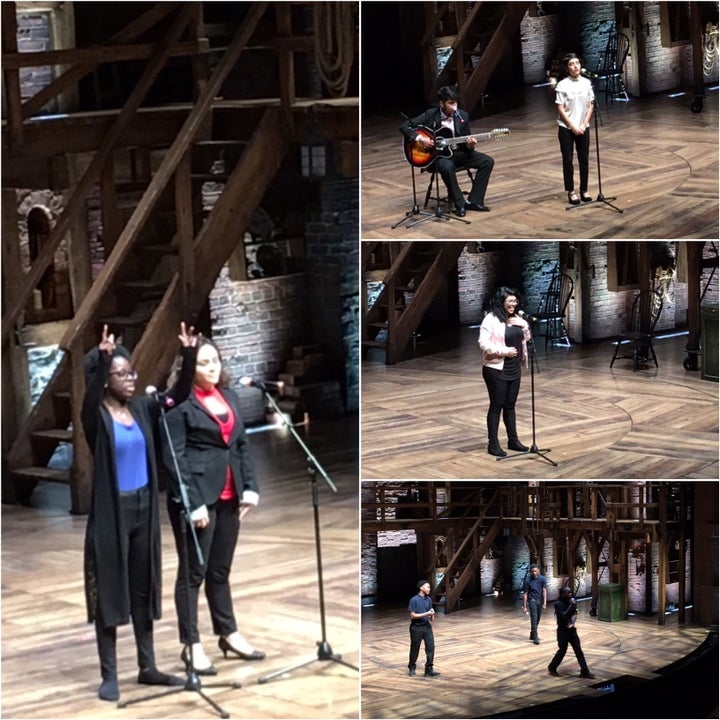 As a sampling of the dozen performances that afternoon (and the few I was lucky enough to speak with afterwards), Julia White and Jocelyn Santos from Pritzker College Prep performed a powerful spoken word piece about race and equality. Through this experience, they each learned the importance of practice, trust in your partner and having passion for what you do. Carmen Villagomez of Epic Academy Charter High School performed an emotion-filled original song about Thomas Payne and, through the process, honed her skills in overcoming nerves and self confidence. "I've always liked singing, and now I'm certain this is something I want to pursue further," beamed Villagomez.
Following student performances, members of the Hamilton cast came out to speak to students about their professional path and the hurdles they had to overcome to get work. With great insight, Jonathan Kirkland, who plays George Washington, relayed to the rapt crowd that to get what you want, you need to "block out the noise."
"Be yourself; don't be a carbon copy. And, from there, you can do your job."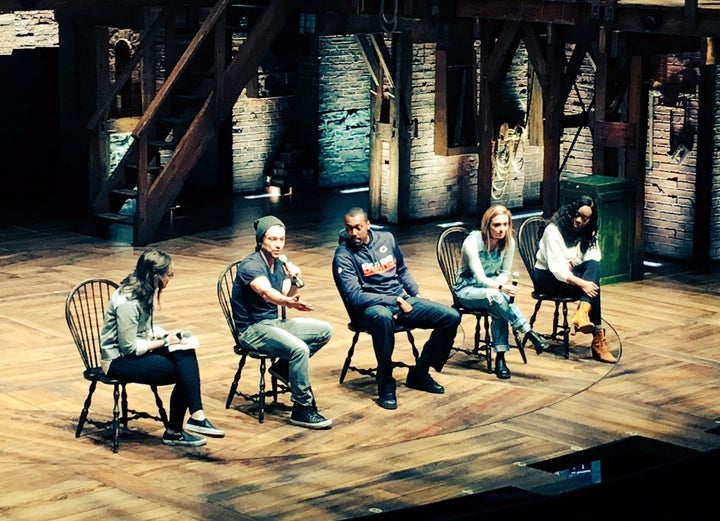 Certainly this is a message will stick, especially after that afternoon's masterful matinee performance of the show – which I also saw for the first time. Thoughts on that later.
Popular in the Community