Edward Enninful is easily one of fashion's most fascinating characters.
The 38-year-old British powerhouse has spent over half of his days in the industry, starting off in front of cameras as a model, shifting to editorial as the fashion director of i-D magazine at age 18, contributing to Vogue Italia and overseeing its first all-black issue, and eventually moving stateside to work on Wintour's Vogue -- you can spot him in "The September Issue."
Now, he's settling in at W magazine, tapped as of April to replace Alex White as the glossy's fashion and style director. I caught up with him on Tuesday to talk about his new post, being black in the biz, street style, and, because I can't resist asking anyone with an accent, Kate Middleton's outfit choices.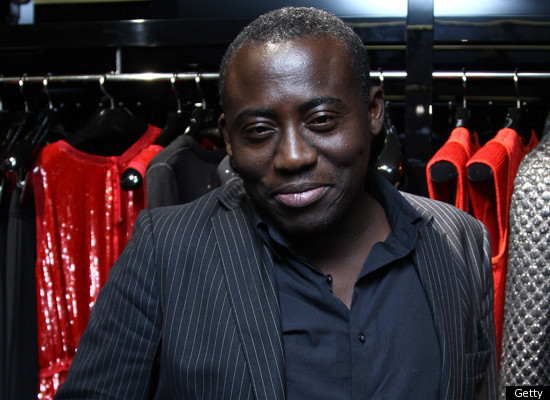 Hilary Moss: So, to start off with, I just wanted to talk a little bit about your new job and your vision for W.
Edward Enninful: For me, I can really describe my vision in 3 words. W is a great American institution and I want to approach it in three ways. The first is reflection, and reflection to me is expressing the idea of looking back with a history. Sort of the bygone movies, bygone times, to create multiple inspiration boards for the W reader. And there's the projections, which to me means showing something new and being a projector of what's to come in a forward-thinking way. And then, W's documentation, that to me, is to collect what is going on in fashion and finding out how different designers respond to the mood of our times and how we want to dress contemporary women.
EE: Basically, Beyonce had already been shot before I got here, and I was involved with Christina. I worked with our contributing editor Giovanna Battaglia on the look and the photography and also Lynn Hirschberg. And I wanted to show Christina in a new light, show off the icon that she is. For me, she's a real woman. She's got ups and downs and now she's back up again. And really, it was sort of to celebrate that, the fact that through all this she's come out on the other end as a cultural icon.
HM: Moving forward, what photographers or which artists --
EE: We'll continue to work with photographers like Craig McDean, Patrick Demarchelier, Mario Sorrenti, Inez and Vinoodh, Mert and Marcus, but we also have a few big names in the pipeline and you'll see it in the coming months, particularly in September.
EE: The September issue will be first big issue for myself, along with Alex Gonzalez, the creative director, and sort of Giovanna Battaglia, whom we offered to be fashion editor and hopefully a few other editors. And we're going to feature the industry's biggest names and well-known photographers. I think you'll be pleased. And what I love about this sort of blend of photographers is that each one has their own unique style. So if it's okay I'd like to keep their names under wrap just to surprise our readers. It's really hard to keep anything secret these days. But I try.
HM: Is there a specific celebrity or model that you'd really like to get your hands on and style?
EE: Celebrities are very important to the magazine... I've always really loved Tilda Swinton as a model, along with Gwyneth [Paltrow] and Chloe [Sevigny], but I'm also looking at a lot of the new starlets, like the Fanning sisters, Emma Stone, women of their times, the new generation of actresses. They're really, really sort of into where the magazine's going to go.
HM: And on the other hand, are there any people that you're just totally sick of and would rather not see for a little bit?
EE: (Laughs) Oh my god! I can't, I can't, I can't say that out loud. No. I mean, I think, you know, if a celebrity's not good for W, they're good for Glamour, or they're good for InStyle. There are so many magazines that I think we're lucky enough to be able to pick and choose the actresses and singers, whatever, who are perfect for the magazine.
HM: That's the most diplomatic answer imaginable. Speaking of the different magazines, I'm just wondering, how is W different from Vogue? How is Vogue different from i-D? What are the main things that you've noticed? Specifically between W and Vogue, let's say.
EE: Comparing Vogue to W would be like comparing apples to oranges. Vogue is an institution, and I'll always have a little bit of a soft spot in my heart for the magazine and its editor, Anna Wintour. But what I love about W is that it focuses on, sort of, the intersection of fashion, art, design, celebrity, and I think that's really what fashion is about these days.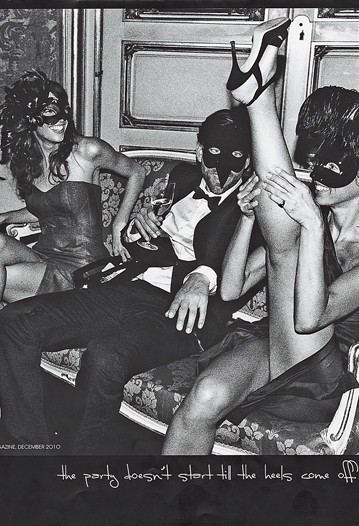 HM: Along those lines, I saw W's new "Fashion's After Party" slogan. What does that mean to you?
EE: I think that everyone wants to be part of an after-party. One of the things people enjoy is having fun, you always want to be a part of it. That's the first thing. And we hope that W is that. I think it makes fashion fun, wearable, accessible. We've been constantly talking -- Alex Gonzalez, Giovanna and myself -- and we made it clear that W is committed to fashion's coverage. And you know, that's why I joined W, because I thought it can really have an impact in that respect. And you know, the photography's exquisite, the editorials are all avoiding expectations and I just want W's fashion coverage to be all that. You know, fun, fresh, art-inspired, original, forward-thinking, approachable and most importantly, wearable. It's something exciting, a lot of things with energy to the industry, really. We can only try.
HM: Could talk a bit about the beginning of your career? Starting off as a model, and then moving on to be fashion director of i-D at such a young age. What was that like?
EE: Looking back to when I started, I was 16 years old. I was very, very innocent. The lucky part of it is that I found myself working with really extremely talented and successful people from the beginning of my career. My career as a model was pretty brief... The images appear on the internet, and I've said, Oh my god, those old days... When I got the [i-D] job at the age of 18, my attention was not on the title. And wasn't what drove me, you know. I think I had such a creative energy and I wanted to express that to the world. I've had that since I was a child. I just didn't know that there was a platform in fashion where you could share that, and I think being a teenager really sort of helped me fit in. I mean, I just loved making images, really, from a very young age.
HM: How about being black in a predominantly white industry? How do you think things have changed over the past few years, either for models or designers or editors who are black? And are they changing for the better?
EE: You know, I look around the industry, there's still very few black people. The American fashion industry really has had to reassess its approach to fashion, particularly because Obama came into office. You know, for one of the most influential women [First Lady Michelle Obama] in the country to be black. I know that meant a great deal to a lot of black people in the fashion industry. And also now we have Twitter, we have the internet, and I've seen so many young black people who are involved in fashion. They're making their own clothes, they're styling, they're taking photographs, and I guess the future generation to come, they're all racing to become one global fashion industry. That's what I hope, anyway.
HM: Do you think any one part of the industry is to blame?
EE: I feel that it's all about education. The best photographers know how to light any color skin. If you're good at styling, it's like the first time, you know how to dress any body shape. I think if you're really good at what you do, you can see outside the box... It depends on the level of vision a person has.
HM: Just one more question along those lines. I know that you were instrumental with Vogue Italia's first all-black issue. What was it like to work with Franca Sozzani on that and what do you think about what she's doing now?
EE: To be part of the black issue was great because it was monumental for its time. No editor had ever dedicated a whole issue to a certian ethnic group. Franca basically, puts her money where her mouth is. The beauty of the black issue was that it was an all-black issue, but it wasn't just a one-off. She continued to feature black models, she continued to feature different body types or body shapes. She continued to challenge the norm, which is the question that we've been talking about, and I feel that's what we want to take from W as well. We want to make everybody a part of the after-party. Everyone's welcome. I feel that's really, really important.
HM: Let's talk about Britain and street style. Why are the British so much better at street style? As in, they always look so good and like they're not trying too hard.
EE: I wouldn't say they're better or worse than anyone else in the world, but I think that London has historically been most excited by street fashion. And the general attitude in London is to dress down a little, to give a lot of status. But at the same time, no one would look at you twice if you were punk or Rastafarian. A lot of my friends, we all grew up sort of not very wealthy. And in England, whatever ends up being a negative, that's a positive. You want to out-do your friends, you want to out-do your friends in creativity, in how you dress, in how you think, in how you, you know? You just really sort of want to out-do each other, I think that's really ingrained in us. That's our point of view, anyway.
HM: What do you think are some lessons in dressing that we could learn from British people?
EE: Oh my God. (Laughter) I don't think everything has to be new all the time. You don't have to have the latest designer all the time to look good. Just have things you're comfortable with, have key pieces that you can sort of, reinvent over and over again, and always keep things that you really love for a while. That's how, in England, that's how we're brought up. So don't throw it away because it's not new, just find a new way of presenting it to the world.
HM: How about Kate Middleton? What do you think of her outfit choices? Is she nailing it? Is she representing fashion well?
EE: I think she's doing really great. She looks amazing, and I feel a lot of women can relate to her. You know, they call her the model princess. I like the fact that she champions what's called the High Street. She has Alexander McQueen, who is one of our greatest designers and was a dear friend of mine. You know, how Sarah Burton designed the wedding dress for her, you know, she definitely a part of the people, and I think she's going to be as important to fashion and to the world as Lady Di was. She's definitely a great champion of Britain. We're very proud of her.
Popular in the Community