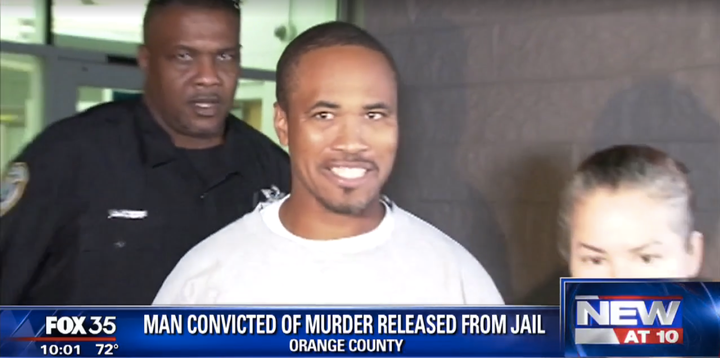 A Florida man who was sentenced to life in prison at the age of 17 for murder has been released after serving about 20 years behind bars.
An Orange County judge on Friday resentenced Edward Francis, now 37, to time served plus five years' probation for his role in a 1996 murder and kidnapping involving three fellow gang members.
Orange-Osceola State Attorney Jeff Ashton, who personally prosecuted Francis in the shooting death, voluntarily brought the new case before Circuit Judge Keith Carsten.
That move follows the Florida Supreme Court ruling in March that some juveniles sentenced to life in prison without parole can be eligible for a new sentence. Prosecutors believe Francis is the first inmate in Orange and Osceola counties to be released under the new guidelines.
The high-profile attorney pursued the case because he found Francis to be humble and remorseful for what he had done, said Angela Starke, a spokeswoman for Ashton's office.
"The State Attorney vividly remembers Francis's acceptance of his responsibility, his humility and his willingness to testify against the actual killer," Starke told The Huffington Post by email Sunday.
Starke said that at the time of Francis' trial, the teen testified against the man who pulled the trigger and killed 28-year-old Kenneth Lewis after he had been beaten, bound and gagged following a botched robbery attempt. Francis was convicted of murder and kidnapping.
"Francis testified -- even though he had nothing to gain as he had already been sentenced to Life. This is an unusual and surprising attitude for a defendant with a Life sentence and the [state attorney] thought about this intermittently through the years -- to the point that when he retired in 2011, he reached out to Edward Francis to encourage him," Starke said.
Prosecutors and defense attorneys agreed on Friday that Francis did not intend to kill Lewis, though it was the judge who ultimately made the decision for his release.
Outside the courthouse, friends and family gathered to greet Francis, who called himself lucky.
"That was one of the best things I have ever received in my life even though I am not worthy," he told reporters, according to WESH-TV.
"I didn't want to acknowledge it at the time but yes I was wrong for my crime and I deserved to be punished for it," he said. "It took me to lose the freedom and it took me to actually see what the face of no love is, to actually find love."
Steven Evans, who was in his 20s when he pulled the trigger on Lewis, is on death row after being convicted of first-degree murder. A second teen, who was 16 at the time, pleaded guilty to armed kidnapping and was sentenced to 10 years in prison, the Orlando Sentinel reported.
According to the terms of his release, should Francis commit a crime while out of prison, his life sentence will be reinstated.
PHOTO GALLERY
Justice For Prisoner Samuel Harrell
REAL LIFE. REAL NEWS. REAL VOICES.
Help us tell more of the stories that matter from voices that too often remain unheard.