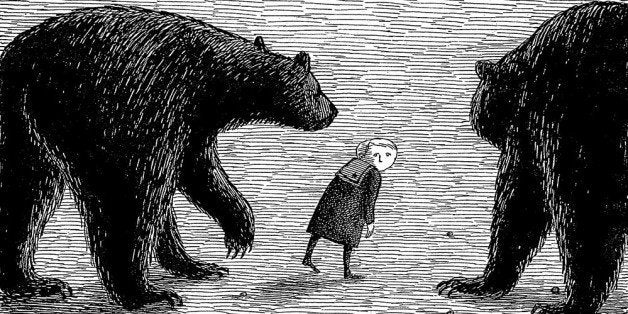 Despite the fact that renowned author and illustrator Edward Gorey was born in Chicago and spent a sizable chunk of his formative years in the Windy City, his work has never been recognized with its own exhibition. That is, until now.
Beginning earlier this month and continuing through June 15, the macabre creations of the late Gorey are front and center for two concurrent exhibitions at the Loyola University Museum of Art (LUMA) in Chicago.
One of the shows, "Elegant Enigmas: The Art of Edward Gorey," is a touring exhibition organized by the Brandywine Museum in Chadds Ford, Penn. that offers a comprehensive look at his illustrations as well as work by other artists he influenced.
The second exhibition, "G is for Gorey, C is for Chicago," pulls from the collection of Loyola alumnus Thomas Michalak, a member of the board of directors of the Edward Gorey House in Massachusetts who has collected Gorey material for over two decades. It includes a number of rare items offering a deeper look at the mysterious man behind the art, including some of his report cards, early drawings and book covers he designed, and the ornately decorated envelopes of letters he sent to his mother, Helen.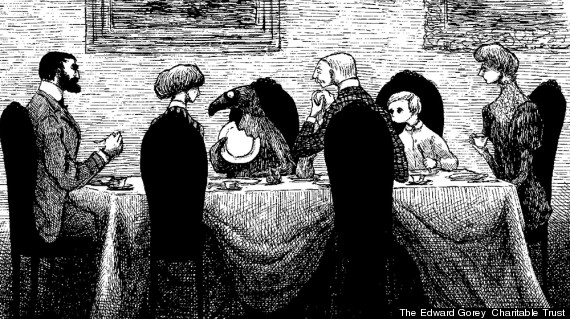 Illustration (detail) from The Doubtful Guest, 1957. (The Edward Gorey Charitable Trust)
Pam Ambrose, director of LUMA, told HuffPost the shows aim to address the lack of awareness of Gorey's Chicago roots in addition to tracing the man's development from a budding artist to an acclaimed cultural icon who inspired creators like Daniel Handler and Tim Burton. His influence is also felt in "Summerland: A Ghost Story," a small mixed-media installation by Chicago artist Kenneth Gerleve that's also also included in the show.
"I want people to really think about who this man was," Ambrose said," because he appears to be many contradictions in one persona. But was this a persona invented to keep people away? It's very hard to say. He seems like someone who shapeshifts a bit."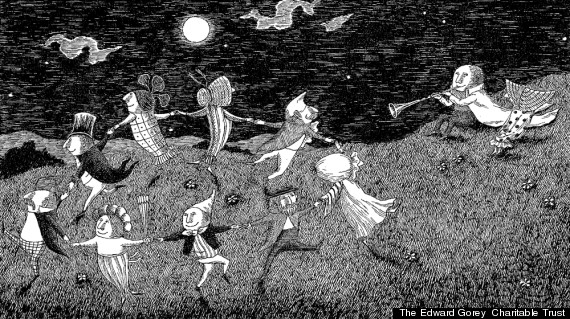 Illustration (detail) from The Dong with a Luminous Nose, 1969. (The Edward Gorey Charitable Trust)
The LUMA shows have been a hit -- they had people lined up outside the front door on opening day, "pretty good" for a university museum, Ambrose noted. Tickets to a Saturday bash celebrating what would have been Gorey's 89th birthday sold quickly.
While Gorey will forever be linked to gothic subculture thanks in large part to his signature Victorian characters dressed in head-to-toe black, the show paints a broader portrait of the artist than that. For example, prominently-placed illustrations of cats throughout the show acknowledge his fascination with felines, and many of his kid-centric illustrations feel downright giddy when compared to his familiar somber style.
"This is an artist who was much more important than the immediate perception of just the gothic tale or cautionary tale," Ambrose said.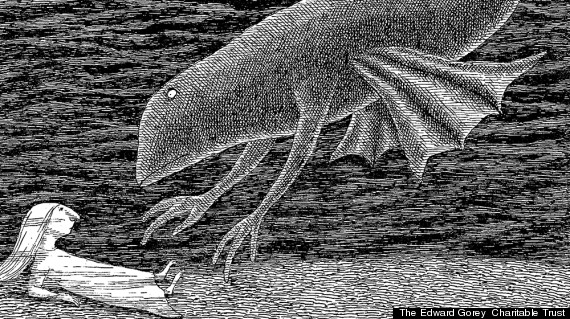 Illustration (detail) from The Tuning Fork, 1990. (The Edward Gorey Charitable Trust)
REAL LIFE. REAL NEWS. REAL VOICES.
Help us tell more of the stories that matter from voices that too often remain unheard.