The collaboration between poet, Edward Mayes, and architect and painter, Alberto Alfonso, gives credence to the idea that art happens not on the printed page or on the canvas, but rather in our mind's eye.
For the past 16 months the two have worked together on a unique kind of art; one that functions on a visual and verbal level, then challenges us to create our own personal artistic experience.
I spoke with them about their art, and Alberto had this to say, "It all started when Ed sent me a poem. I immediately felt the need to do a painting. We've been doing at least one a day ever since."
Edward's poems are, by themselves, transcendent. He uses words and phrases in a way that conjures up vivid images one after another. "I get up early to write," Edward says, "sit in a dark room and spend about three hours in deep meditation. It's my Holy Time."
Edward is a world-renowned poet, the author of six collections including First Language, To Remain, Magnetism, Works and Days, Speed of Life, and Bodysong. His work has been honored with myriad awards and his poems have appeared in prestigious journals such as the American Poetry Review, The New Yorker and Virginia Quarterly Review. "Edward's process is architectural," Alberto says, "his poems are meaty, three-dimensional and spatial. Our processes are very similar."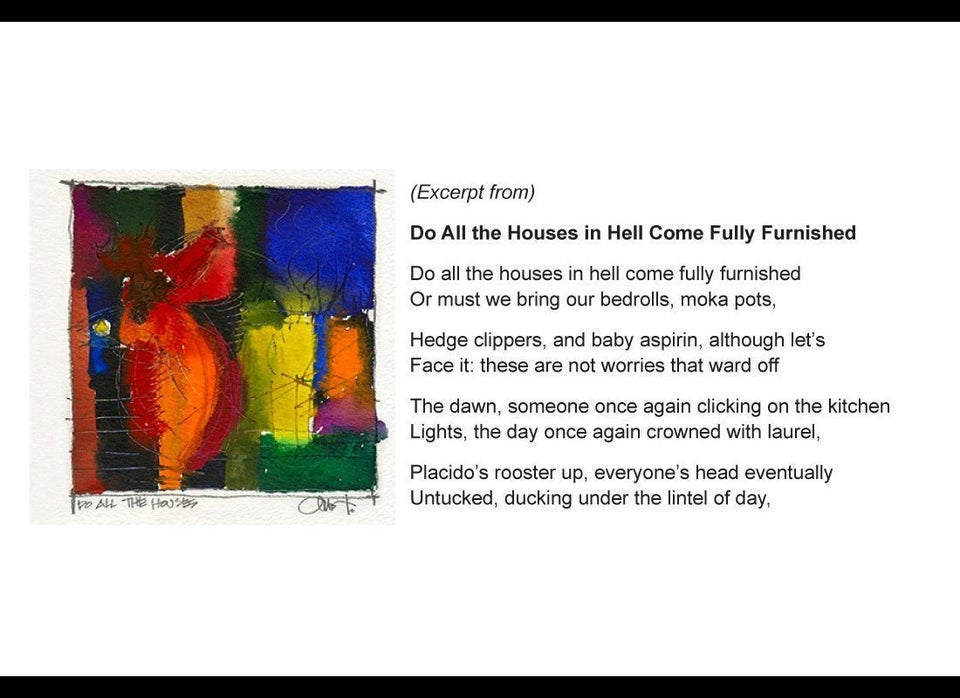 Painting Poetry
Alberto's paintings are hauntingly beautiful. Layered and complex, they produce a visceral effect. His images are somehow fleeting; infused with an energy that at times strives to break free from the confines of the frame. We feel that if we look away, when we look back they'll be gone.
An award-winning architect and accomplished artist, Alberto's paintings are permanently installed at Nielsen Media Global Technology Center, the Mission of St. Mary Chapel and Carmel Café. He and Edward exhibited together twice in 2010 at the Tuscan Sun Festival and at the Morean Arts Center in an exhibit called Painting the Poem, Poeming the Painting.
Alberto lives in America and Italy where he keeps a part-time residence in Cortona. Edward and his wife, writer Frances Mayes, also part-time Cortona residents, are Alberto's neighbors. The two artists' work will be featured again this summer at the Tuscan Sun Festival with a new exhibit entitled, From Things About to Disappear, I Turn Away in Time.
The artists are virtuosos in their own rights, but when we juxtapose Edward's poetry with Alberto's paintings, a third kind of art emerges and it takes a moment or two for the mind to grasp the importance and significance of the experience.
Not intended as a literal translation of word into image or "picture and caption," the collaboration instead gives us a glimpse into the process and thinking and minds of the artists.
It's holistic; the effect is greater than the sum of the parts. Impossible to explain in words, we have to view the paintings and poetry together and let our "Third Eye" fill in the space between. Visualizing the possibilities of that mysterious in-between place, we see what hasn't yet been seen and so become participants in the process. We get to be artists, too.
Darby Roach is a designer and a writer and heads up his own marketing agency, Orbit Direct. His most recent book, Your Three Second Window, demystifies the design process by explaining why we like the things we like, how to see and think as a designer, and what each of us can do to introduce harmony into our lives through enhanced aesthetic experiences.
Popular in the Community