Baltimore Police Officer Edward Nero was found not guilty on Monday for his alleged role in the death of 25-year-old Freddie Gray a year ago.
"The State's theory from the beginning has been one of negligence, recklessness, and disregard for duty and orders by this defendant," Williams said in his verdict. "There has been no information presented at this trial that the defendant intended for any crime to happen. Nor has there been any evidence presented that the defendant communicated any information to a primary actor that he was ready, willing, and able to lend support, if needed, to any crime."
"Based on the evidence presented, this Court finds that the State has not met its burden to prove, beyond a reasonable doubt, all required elements of the crimes charged," he added.
Nero is the second of six officers to stand trial in connection to the death of Gray, a black man who sustained a fatal spinal cord injury in police custody on April 12, 2015. Gray died from his injuries a week later, on April 19, sparking citywide protests against police brutality. After his funeral on April 27, the unrest intensified -- residents looted stores and set fires, and protesters threw rocks and other items at police lines.
"I think that the present verdict will affect the remaining trials in that the other defendants will be acquitted, as well, in deference to the judge's decision."
Baltimore Police Officer William Porter was the first to stand trial, in December, but the jury could not reach a verdict. Unlike Porter, Nero opted for a bench trial.
The verdict in Nero's case could trickle down to the remaining trials, according to Barry Slotnick, a criminal defense attorney.
"The judge who tried the case obviously went along with the idea that a defendant is presumed to be innocent unless proven guilty beyond a reasonable doubt," he told The Huffington Post. "What we have here is clearly a case in which there was a conclusion that the judge drew with regards to the intentions of Officer Nero and as a result the verdict came in as not guilty. I think that the present verdict will affect the remaining trials in that the other defendants will be acquitted, as well, in deference to the judge's decision."
Some residents, according to a local Fox affiliate, wondered if the reaction to Nero's verdict would be as intense as that to Gray's funeral.
"It just comes down to, you don't want another outbreak of people looting and whatnot," Andrew Murphy, a Baltimore resident, told Fox 5 DC. "Hopefully it comes to a peaceful resolve."
Rep. Elijah Cummings (D-Md.) asked residents on Friday to put aside their personal feelings and honor the verdict.
"The future of our community will not be defined at the moment of the verdict, but in the days and years that will follow," Cummings said during a press conference.
Baltimore Mayor Stephanie Rawlings-Blake also released a statement asking residents to keep the peace.
"Although the criminal case against Officer Edward Nero has come to a close, the internal investigation has not. With that, Officer Nero's status will remain unchanged. He will remain in an administrative capacity while this investigation continues," the department stated in a release. "The internal investigation is being handled by other police departments. The internal investigation will not be completed until all of the criminal cases against the other five officers are completed because they will likely be witnesses in each case."
The Baltimore City Fraternal Order of Police also weighed in, claiming that the state attorney's office was hasty in charging the officers due to the unrest that followed Gray's death.
Meanwhile, Baltimore residents and racial justice organizations are condemning the judge's decision, saying Nero's acquittal is another example of injustice and impunity.
"Like too many other Black families and communities, Freddie Gray's family and the people of Baltimore were denied justice today by a judge's refusal to hold Baltimore Police Officer Edward Nero accountable for Gray's death," Rashad Robinson, executive director of Color Of Change, said in a statement.
"This injustice sends a clear message to Black communities that we cannot rely on law enforcement to protect our lives or the justice system to protect us from police violence," Robinson continued. "If police departments and our justice system want to strengthen their relationships with Black communities, it is paramount for them to demonstrate that they can—and will—police their own. While a guilty verdict for Edward Nero would not have solved all the challenges facing Black communities in Baltimore, it would have been an important step towards justice for Freddie Gray."
Before You Go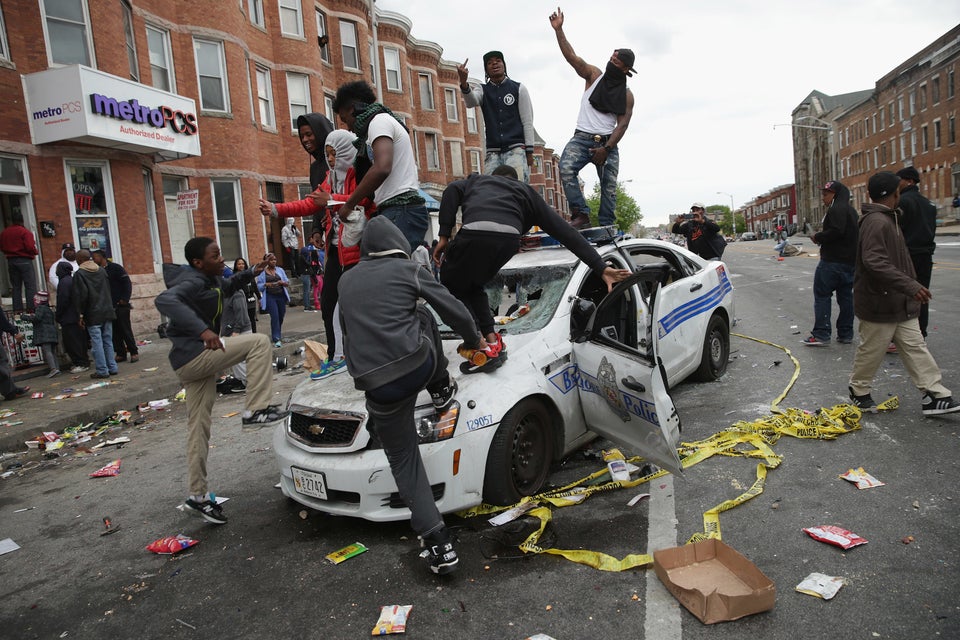 Baltimore Riots
Popular in the Community