U.S. officials have not been shy in claiming fallout from former National Security Agency contractor Edward Snowden's leaks.
"I think it's the greatest damage to our combined nations' intelligence systems that we have ever suffered," former NSA Director Keith Alexander told an Australian newspaper. Director of National Intelligence James Clapper said the revelations caused "profound damage." And House Intelligence Committee Chairman Mike Rogers (R-Mich.) claimed the disclosures "are likely to have lethal consequences for our troops in the field."
But the U.S. government has revealed little to back up these catastrophic-sounding generalizations, saying it wants to keep further details about its intelligence sources and methods from the public. So, one year to the day after Snowden's first leaks were revealed, Americans are forced into a strange balancing act -- weighing whatever good the leaks generated in revealing the vast reach of government spying against unsupported official claims of harm to measures meant to protect the nation.
"If after a year, they can't show a single individual who's been harmed in any way by this reporting, is it really so grave? Is it really so serious?" Snowden asked in an interview with NBC's Brian Williams that aired last week. "The possibility exists, and if this has caused some serious harm, I personally would like to know about it."
Getting the facts has been hindered by government agencies whose chiefs made those dire-sounding statements about the Snowden leaks. Contacted by HuffPost, the Defense Intelligence Agency, Office of the Director of National Intelligence and State Department all declined to provide additional detail on their claims of damage.
The explanation for those redactions and for the agencies' reluctance to reveal more is relatively straightforward: Laying out what Snowden wrought would risk revealing more sensitive secrets, the agencies say.
"It would not be in the best interest of our National Security and efforts to fight terrorism for us to educate -- thru the media -- terrorist on the changes we might be seeing in their communications," Gene Barlow, spokesman for the Office of the National Counterintelligence Executive, said in an emailed statement.
"We constantly look for opportunities to share with Americans what collection we've lost, but are wary of doing further damage to collection that we need to regain," Barlow added. "We do however, continue to work with our Congressional oversight to make sure they have visibility into the damage done by the leaker."
But Congress has been of little help in explaining to the public what damage -- if any -- Snowden has done. In fact, Foreign Policy reported in January that the only reason the White House declassified small portions of the DIA report was so that Rogers and other members of Congress could discredit Snowden. Spokespersons for Rogers and for Senate Intelligence Committee Chair Dianne Feinstein (D-Calif.) failed to respond to requests for more information.
What few details the public knows about the alleged Snowden damage have come from sources outside the government. U.S. cloud computing companies may lose an estimated $35 billion in business from customers abroad, concerned NSA spying compromises their security. U.S. diplomatic relations with Brazil and Germany have been frayed by the news that the NSA spied on their leaders. Both of those countries are generally still aligned with U.S. because of their basic interests -- so it's far from clear that the fallout will last.
More difficult to ascertain, and more important, is whether terrorists are changing tactics. If they are using tougher encryption, or switching from easily intercepted digital communications altogether, they may be going dark to the NSA and other government spy agencies. And that could mean -- theoretically -- that it is harder to stop attack on troops in places like Afghanistan.
"To the extent that this is true, it means that valuable intelligence that might have been collected using these methods will not be available," said Steven Aftergood, director of the Federation of American Scientists' Project on Government Secrecy. "That is a presumptive future harm, but also a plausible one, I would say."
Damage also may take the form of allies choosing not to cooperate with U.S. surveillance of potential terrorists. Reporting by The New York Times suggests efforts to strengthen intelligence cooperation between the U.S. and Germany have stumbled since the Snowden leaks.
"One of the reasons we have been successful over the past 12 years in reducing the threat is extensive international cooperation," former State Department official P.J. Crowley wrote in an email. "If the political fallout from these disclosures causes some of our allies to pull back cooperation, then that too would have an impact."
Crowley suggested that one way Americans could think of the Snowden leaks is in terms of future risk, rather than present known harms. "A lot will depend on the extent to which adversaries exploit what they have learned from him," he said. "We are a long ways from being out of the woods."
Snowden's supporters, on the other hand, say the government owes citizens more than hypotheticals about future damage. They also say they believe there is ample reason to believe official claims exaggerate any damage. One need look no further, they said, than WikiLeaks source Chelsea Manning, the former Army intelligence soldier now imprisoned for violating the Espionage Act.
Manning was arrested in 2010, and U.S. officials, including Adm. Mike Mullen, former chairman of the Joint Chiefs of Staff, suggested Manning had blood on her hands for leaking hundreds of thousands of classified documents. But testimony at Manning's 2013 trial revealed that prosecutors had little evidence to show that the leaks led to the deaths of U.S. service members or allies. Nothing presented in open court backed up Mullen's assertions.
Aftergood said he believes the government's damage claims could be investigated by Congress, the General Accountability Office, or an inspector general. Snowden's supporters would settle for anything.
"I haven't seen any concrete evidence," said Trevor Timm, executive director of the Freedom of the Press Foundation, where Snowden is a board member. "So far, it's been all hypotheticals and bluster. We should always be open to the possibility that damage occurred. Just like we should be open to the possibility of weighing the public interest against that damage to decide."
Support HuffPost
The Stakes Have Never Been Higher
Before You Go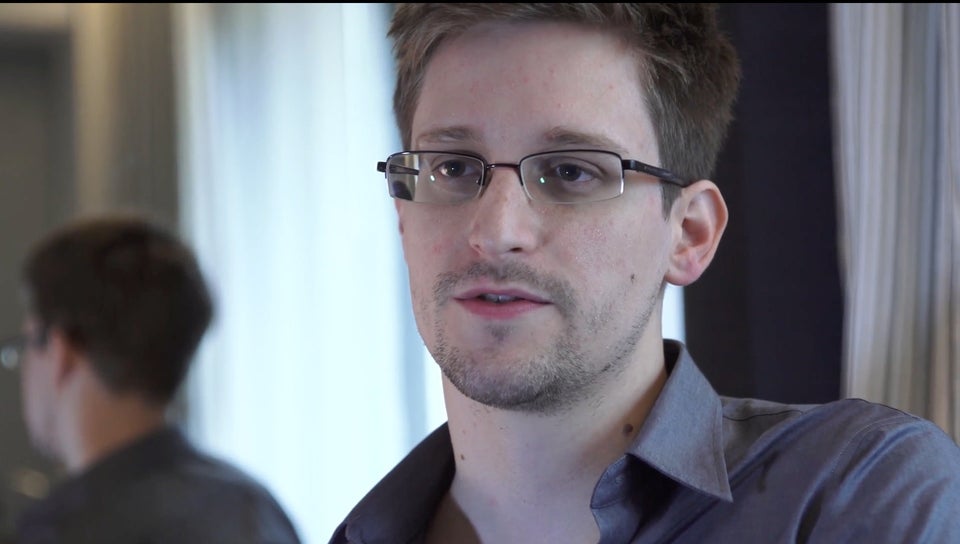 Edward Snowden
Popular in the Community