The New York City police department says its Intelligence Division is investigating a giant sculpture of National Security Agency whistleblower Edward Snowden that was installed in a Brooklyn park early Monday morning.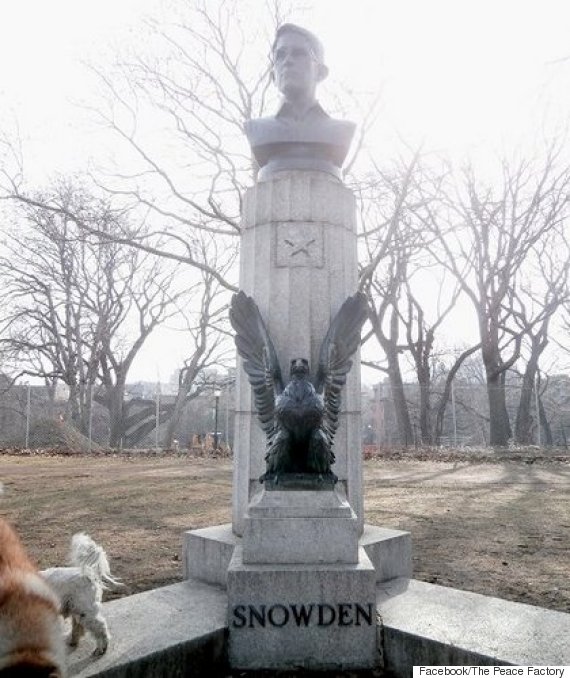 (Photo via The Peace Factory.)
A group of unidentified artists wearing yellow construction vests erected the 100-pound, bronze patina bust atop a stone column at the Prison Ship Martyrs Monument in Fort Greene Park before dawn Monday. On the bottom of the column, capital letters spell out Snowden's name in a font similar to one often used on war memorials.
"Fort Greene's Prison Ship Martyrs Monument is a memorial to American POWs who lost their lives during the Revolutionary War," the group told Animal in a statement. "We have updated this monument to highlight those who sacrifice their safety in the fight against modern-day tyrannies. It would be a dishonor to those memorialized here to not laud those who protect the ideals they fought for, as Edward Snowden has by bringing the NSA's 4th-Amendment-violating surveillance programs to light. All too often, figures who strive to uphold these ideals have been cast as criminals rather than in bronze."
(For more on the artists that erected the statue, head over to Animal New York.)
Mashable reports that as of 11:55 a.m. Monday morning, the "Snowden" part of the monument had been removed by the Parks Department, and a video posted to Vine at 12:12 p.m. shows unidentified officials placing a tarp over the sculpture.
A Parks department spokeswoman told The Huffington Post only that "the erection of any unapproved structure or artwork in a city park is illegal" and that the department is "looking into" removing the monument. An NYPD spokesperson told HuffPost that the department is aware of the situation and an investigation by the Intelligence Division is under way.
It's been nearly two years since Snowden, a contractor working in NSA facilities, leaked classified documents showing the United States' widespread government surveillance programs. He then fled to Russia, where he's been living in exile ever since.
"I do miss my country," he told Oliver. "I do miss my home. I do miss my family."

Related
Popular in the Community