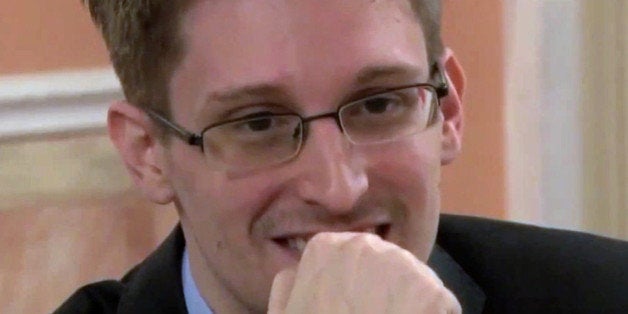 With Valentine's Day around the corner, the staff at Brave New Films have had butterflies all week. We've wanted to send a valentine to our collective crush and hope that others around the globe share in our collective crushing from a distance.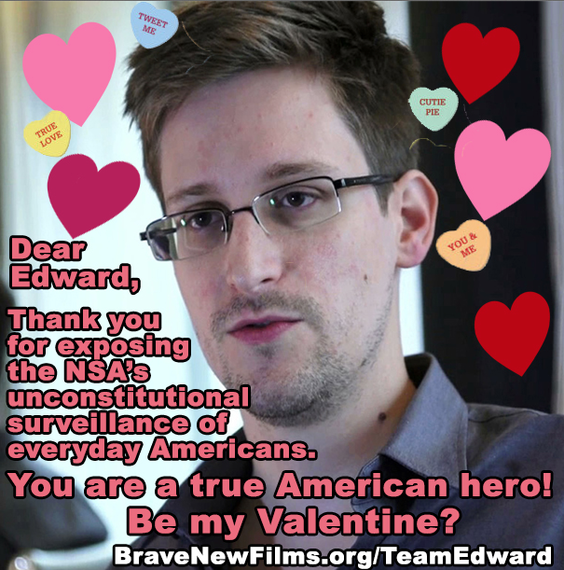 You may be wondering why we're crushing so hard after Ed, so below you'll find four reasons that you should have a crush on him too.
Those sweet texts you want to send to someone special? Yeah, they're collected. Thanks to Ed's revelations, we know that the NSA doesn't just troll your Internet activity. The NSA intercepts almost 200 million text messages a day through the program Dishfire. Nothing makes you want to bring sexy back more than knowing the NSA could be reading your text messages.
Snowden loves that Dick Cheney thinks he's a traitor. When a former vice president with a shaky track record on human rights (Guantanamo, anyone?) feels compelled to slander your name, I think it's safe to say you've done something good. Ed stated, "Being called a traitor by Dick Cheney is the highest honor you can give an American." My heart swoons.
He's a movie star. No, really. Fellow documentarian Laura Poitras' documentary about Ed had the year's most impressive nonfiction debut. In addition to Citizenfour, Ed appears in our upcoming re-release of War on Whistleblowers: Free Press and the National Security State. You've always wanted to date a movie star, right?
He stands up for what he believes in; that's the whole reason he's a whistleblower in the first place. He'd stick up for what is right. Ed became aware of egregious violations of Americans' privacy and the Constitution, so he spoke up. He tried to go through official channels to raise concerns, but no one listened. It wasn't until The Guardian and the Washington Post published the information that we became aware of just how much information the government is collecting and storing on all of us. If he's willing to live in Russia because he believes so strongly in protecting the privacy of millions of people, he'd definitely defend your honor.
REAL LIFE. REAL NEWS. REAL VOICES.
Help us tell more of the stories that matter from voices that too often remain unheard.