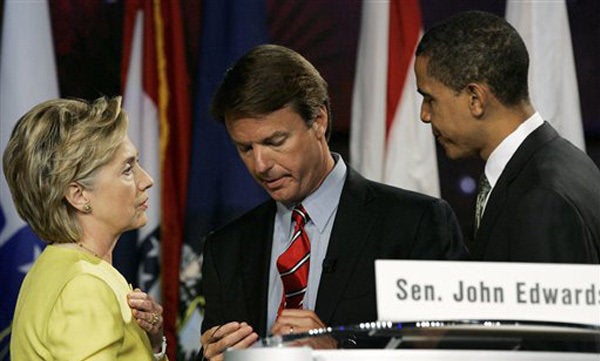 UPDATE - 5/14: The Obama campaign has announced a "major national endorsement" for a rally tonight at 7pm in Michigan, and the rumor mill is swirling that it is none other than Sen. John Edwards. Time's Mark Halperin is teasing as much at his Web site, with a photo of Edwards and the text, "Ready to choose? Ready to hope?"
Edwards has certainly dropped some hints in recent days. He's chided Hillary Clinton over her comments about race, said he can't figure out how Clinton could ever win the nomination, and even said he planned to endorse the person he voted for in North Carolina's primary, using (it seems) the word "him."
That said, in an interview with People magazine, Edwards said of Obama, "Sometimes I want to see more substance under the rhetoric."
UPDATE: 2/21: Although David Plouffe wasn't in town meeting John Edwards, it appears he was meeting with Edwards' supporters:
About two dozen Democrats gathered in the law offices of Kirby & Holt at noon today to listen to a one-hour talk by David Plouffe, the campaign manager for Barack Obama.

Several participants said there was no explicit pitch for the backers of former Sen. John Edwards. In fact, Plouffe went out of his way to say he understood that some Edwards backers may not be ready to make another choice yet, Rob Christensen reports.
UPDATE 2/21: Obama campaign manager was spotted in the homestate of John Edwards, a full two months before the state's primary:
Plouffe swore up and down to the paper that he wasn't there on a stealth mission to court Edwards' endorsement. Instead, he was there to raise money and organize, in the believe that North Carolina's May 6th primary could prove pivotal.

Plouffe seems like a pretty major player to be spending time merely organizing in a state who's primary is over two months away, but we'll take his word for it.
UPDATE 2/18:Following on yesterday's meeting Barack Obama adopted the rhetoric of his formal rival, albeit without providing much information about the substance of their conversation:
"I think John still has an enormous following, I think he has a lot of credibility and so we would love to have his support," Obama said. "But right now, what I think is most important is for me to make sure that I am getting out and talking to voters."

What will be "most helpful ultimately," Obama said, "is that the people have a sense that I will be fighting for them in the White House, that my priorities are their priorities. If they know that, then the endorsements will probably have less sway."
UPDATE 2/17: John Edwards and Barack Obama have finally had their private meeting in Chapel Hill:
Mr. Obama, who canceled an afternoon campaign trip to Wisconsin, flew to Chapel Hill, N.C., to meet with John and Elizabeth Edwards this morning. The meeting was quietly rescheduled after a session Monday with the two men was postponed because too much attention was being paid to it and camera crews were staking out Mr. Edwards' home.
"I don't think there's any imminent news," Obama told CBS affiliate WISC-TV this afternoon.
"We were exchanging views, he was giving me some thoughts, and obviosuly he's gonna be a big force in the Democratic party for many years to come."

Campaign officials would not specify whether the meeting included a promise of an Edwards endorsement.
Also, AP reports tonight that Clinton has been wooing the Edwardses more effectively:
People close to the Edwardses, speaking privately, say they have been torn about whom to support. The former North Carolina senator is concerned that Obama may not be ready for the presidency and that his health care plan is inferior. But Edwards was highly critical of Clinton - her policies, her ties to special interests and her character - during his campaign, making it more difficult to support her now.

The couple has been impressed with Clinton, who has more effectively courted them since the 2004 vice presidential nominee dropped out, people who talk to the Edwardses say. Obama has been less attentive, they say, and some of those close to the Edwardses have been annoyed that Obama has continued to ridicule him for once saying his biggest weakness is that he has a powerful response to seeing pain in others.

Still, since Edwards has left the race, Obama often praises him in public. This week he told Wisconsin voters that Edwards will "be a major voice in the Democratic party for years to come, and I want him involved and partnering with me in moving this country forward."
Jim and Susan Phillips were loyal supporters of fellow North Carolina Democrat John Edwards and backed up their support with money. But a day after Edwards dropped out of the presidential race last month, Susan Phillips sent $500 to Sen. Barack Obama of Illinois.

"He is the most likely guy to bring people together and the guy with the most potential to fundamentally change the way we do business in the United States," said Jim Phillips, a Greensboro lawyer and chairman of the UNC system board of governors.

Of the $44 million Edwards raised through December, more than $2.6 million came from the Carolinas.

Interviews with nearly 20 of Edwards' top contributors in the Carolinas, selected randomly, showed a majority of them tilting toward Obama, with some undecided.

No contributors said they're ready to back Hillary Clinton.
UPDATE 2/13: John Edwards is "as split as the party he once hoped to lead -- and is seriously considering supporting Sen. Hillary Rodham Clinton, despite the sharp criticism he leveled at her on the campaign trail, according to former aides and advisers," ABC News reports:
In deciding between his one-time rivals, Edwards appears deeply divided. Several former advisers likened his thought process to a heart-versus-head split -- with his heart favoring Sen. Barack Obama's strong message of change, and his head attracted to Clinton's tested nature and commitment to tough fights.

Though he sometimes aligned himself with Obama -- and against Clinton -- as a candidate, several Edwards campaign insiders say the former senator began to sour on Obama toward the end of his own campaign, and ultimately left the race questioning whether Obama had the toughness needed to prevail in a presidential race.

"He is much more torn than people realize," said one former aide who has stayed in contact with Edwards. "Honestly, he has serious reservations about both of them."
UPDATE: Tonight's meeting between Obama and Edwards has been postponed, according to ABC's Political Radar:
While it is unclear which party ultimately pulled the plug on tonight's meeting between Obama and Edwards, sources indicate the meeting will be rescheduled in coming days.

No cause was given for the abrupt rescheduling but sources have indicated that the Obama campaign and Edwards wished that the meeting would be done in private without massive media attention.
Former Sen. John Edwards "met with Hillary Clinton Thursday in North Carolina, and is meeting with Barack Obama Monday, to discuss a possible primary endorsement." CNN reports:
The Thursday meeting, which took place at Edwards' home in Chapel Hill, was followed by a Saturday night session during which the former North Carolina senator and several longtime advisers discussed many issues, including which candidate he should endorse. [...]

At a Chapel Hill party yesterday for Edwards supporters, he gave no indication who he might endorse, or whether that endorsement is imminent. Some advisers are encouraging him not to endorse.

The former candidate is weighing a number of considerations before making his choice - including electability, and who will best promote his ideas.

There are policy considerations at play: there is a sense within the Edwards camp that Clinton's policies could be better for working class Americans. But Obama's anti-lobbyist proposals are more aligned with Edwards' politics.

In response to a CNN report that Elizabeth Edwards may favor Obama over Clinton, sources close to the Edwards family flatly deny that she favors one candidate over the other.
Greg Sargent at TPM Election Central spoke to an Edwards aide who offered more details, including: "There's a greater than 50% chance he will endorse."
The Edwards aide cautioned against reading too much into the meetings, saying that he'd been talking to both of them before. "He's torn," the aide said "He has reservations about Hillary, which are pretty apparent."

On Obama, the aide says, Edwards worries "whether he's tough enough to be President of the United States. If you look at what Edwards ran on, which is not negotiating with the special interests, taking away their power, that's pretty different than the Obama model."

The Edwards aide added that Obama's lack of a health care plan with a "mandate" is a "tough hurdle for him to get over." He added, however, that Edwards is much more in line with Obama on other issues.
Popular in the Community