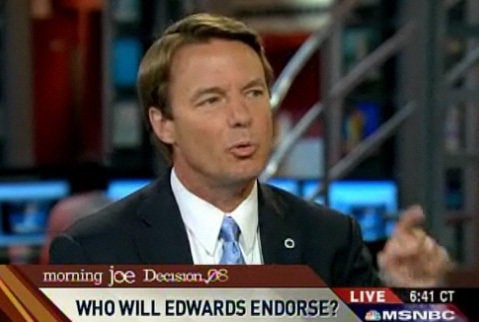 John Edwards appeared on Morning Joe today to talk about the state of the race, which means he spent most of his time defending questions about why he has not endorsed yet. But a few people are saying he slipped in his stonewalling, accidentally suggesting that he voted for Obama.
Edwards acknowledged that he voted in the North Carolina primary, and that he would likely support that candidate. He then said, "I already voted for him."
Or did he? With that North Carolina accent, it might have been "I already voted for 'em." Ben Smith thinks it's the latter; Mark Halperin is undecided.
The whole interview is worth a watch, as Edwards talks about what motivates a person to run a presidential campaign. Watch the whole thing, or jump to about to 9:45 hear Edwards' comments on who he voted for:
Calling all HuffPost superfans!
Sign up for membership to become a founding member and help shape HuffPost's next chapter