Edwige Fouvry, a Brussels-based painter who is having her second solo exhibition at Dolby Chadwick Gallery in San Francisco, is interested in finding order and structure in chaos. Her painterly thickets, clearings and woodlands -- which sometimes include nude figures seemingly born from the painted landscape itself -- are charged by a sense of exploration and discovery.
I recently interviewed Fouvry and asked her about her background, her approach and her influences.
John Seed Interviews Edwige Fouvry
Can you tell me something about your early life and exposure to art?
When I was teenager, a friend of mine proposed that I join her for drawings lessons, so I followed her. The lessons where given in the small cultural center in town that also held some exhibitions of contemporary art and, here, I was introduced to new kinds of art. I wanted to know more and started to going to the library to borrow art books. This experience was really important in my decision to become an artist.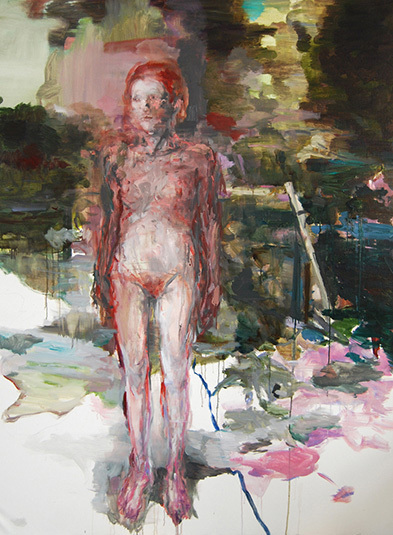 Nymphe, 2013 | Oil on canvas | 79 x 59 inches
Where did you receive your art education? Who were your most important mentors and influences?
I moved to Belgium to study in a prestigious school named "La Cambre," in Brussels. There I learned how to draw and paint but also to find my own personal expression. I love many artists, many of whom work in very different styles: El Greco, Edouard Manet, Francisco de Goya, Pier Kirkeby, Lucian Freud.
Is it right to say that your painting exists between representation and abstraction?
Yes, it is. I like to be on this edge; it gives me space and freedom.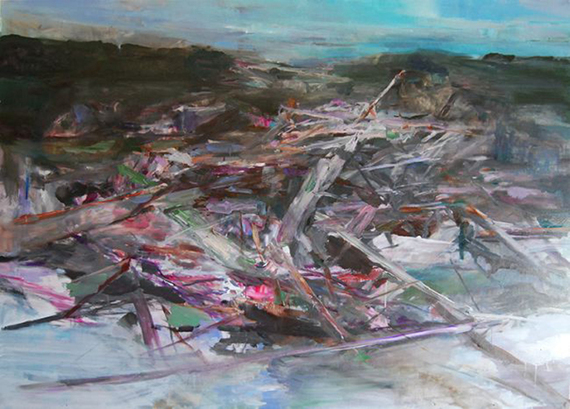 Lac et branches, 2013 | Oil on canvas | 59 x 79 inches
Your figures are painted in a manner very similar to the manner in which you paint landscapes. Do you like the idea that they can be seen in the same way, as being inter-related?
Yes, it's exactly this idea. In this way, I refer to German Romanticism, but in a contemporary manner. I like the idea of the human body immerged in nature: I think emotions can be found in a human figure or a landscape. My work is not a neutral and objective transcription of landscape or people, but an emotional re-interpretation of what I saw, of what comes to my mind when I paint: memories, feelings, moods, etc.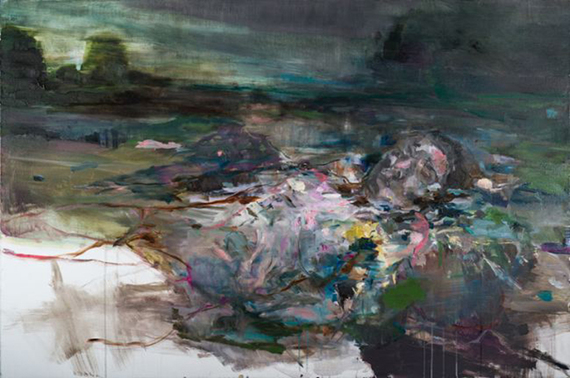 Ophelie, 2013 | Oil on canvas | 39 x 59 inches
How do you know when a painting is finished?
During the process, I try, I fail, I erase a lot. When I begin, I really don't know how the painting will be at the end. I think it's finished when all is said and projected on the painting, and when the composition is right. I'm convinced of this when I can sit in front of the painting and I feel comfortable with it, without wanting to correct it again.
Tell me about the qualities that you think are most important in your work. For example, the sense of touch seems to be very important.
First of all, it's important that people can be moved by what they see; that I finally manage to communicate with the paint. For this, yes, the sense of touch is important, as are color, structure, stroke, and drawing. For me, these are the tools to with communicate in the "painting language."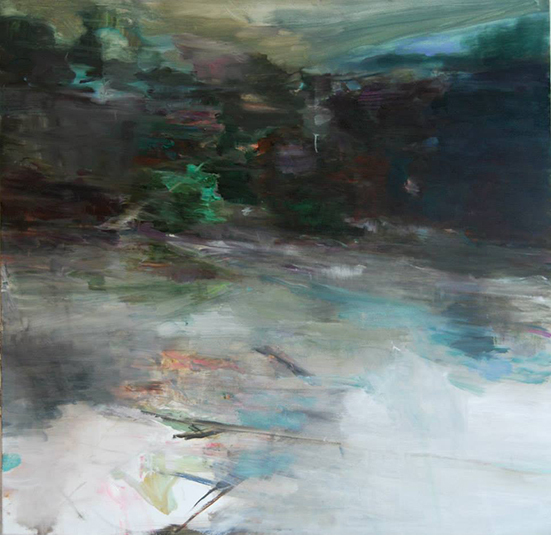 Paysage carremlac, 2013 | Oil on canvas | 59 x 59 inches
Who are some living painters you admire?
There are too many!! I admire so many painters: Michael Borremans, Luc Tuymans, Pier Kirkeby, Marlène Dumas, Alex Kanevsky, Ann Gale, David Hockney and so many more...
What are your interests outside of art?
Many things: going to concerts, cooking, being with my daughter, with my friends, traveling, etc...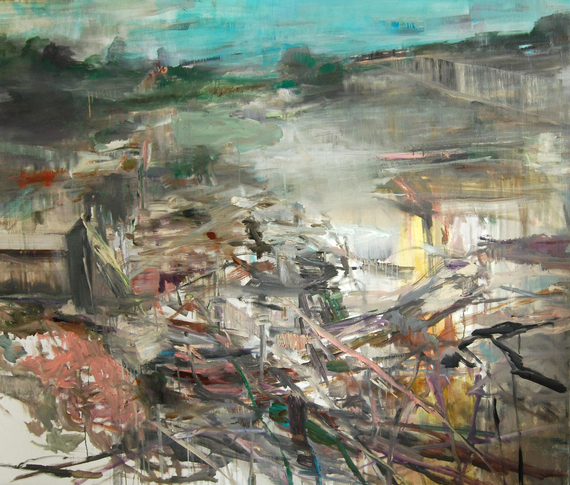 Maison et Branchages, 2013 | 79 x 59 inches | Oil on canvas
Is there anything else you would like to mention?
Yes: thanks to Lisa Chadwick who gave me this great opportunity to show my work in her beautiful gallery.
Edwige Fouvry
Sous le Ciel
March 6 -- 29, 2014
Dolby Chadwick Gallery
210 Post Street, Suite 205
San Francisco CA, 94108
Support HuffPost
The Stakes Have Never Been Higher
Related
Popular in the Community