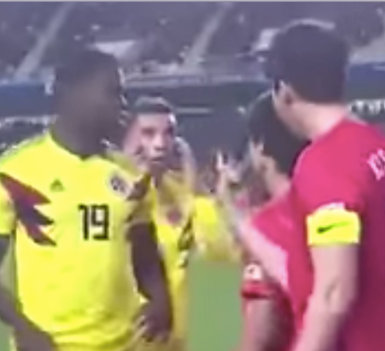 Colombian soccer player Edwin Cardona has addressed the racist gesture he made during a recent game against the South Korean team, insisting he meant no disrespect.
In a video posted on the Colombian national team's Twitter account, Cardona apologized for his actions during the game last Friday in South Korea, during which he pulled his face back to make slant eyes, typically an insult of Asians.
South Korean captain Ki Sung-Yueng called it "racist behavior" and "absolutely unacceptable."
"Regarding what happened ... it was not my intention to disrespect someone, a country or a race," Cardona said in the video, according to a HuffPost translation. "But if someone felt offended, or it was interpreted that way, I apologize."
He said he and his teammates "are very grateful to the people of Korea, for the way they've treated us from the first day, it was spectacular."
The Colombian player lamented that the incident was "misinterpreted," though he offered no explanation for what he meant by his gesture.
Cardona was heavy criticized across Asian communities. And the Colombian Football Federation team apologized for his action to both the South Korean players as well as the country, according to a HuffPost translation of news agency Yonhap.
The Korea Football Association responded, requesting that the Colombian organization take appropriate measures against Cardona. Officials have not yet announced any punishments.
South Korea defeated Colombia in the match, 2-1.
The incident comes just weeks after Houston Astros player Yuli Gurriel made the same gesture towards Los Angeles Dodgers' pitcher Yu Darvish, who is of Iranian and Japanese descent, during Major League Baseball's World Series.
Gurriel apologized for the gesture and for using the word "Chinito," a Spanish term that sometimes is used as a slur against Asians. MLB officials allowed Gurriel to continue to play in the series, but suspended him for the first five games of the 2018 season.
Popular in the Community