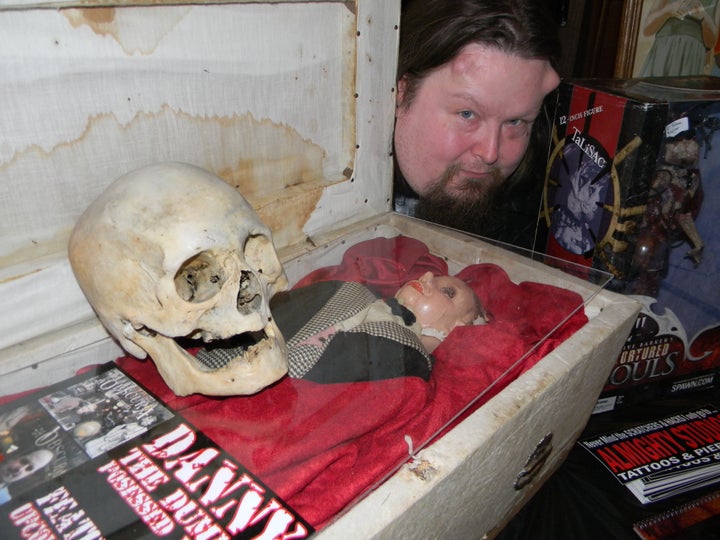 ERIE, Pa. -- Economic protesters were sidelined in downtown Erie last weekend, when ghosts and ghouls occupied the city's famed Warner Theatre. No, there was no zombie outbreak -- at least not this time around -- but a celebration of all things frightful by like-minded fans at the 8th annual Eerie Horror Film Festival.
The four-day festival and expo featured dozens of films, screenings, celebrity appearances and a variety of booths selling books, posters, clothing and collectibles.
Vincent was 6 years old in 1988 when he played the role of Andy Barclay in the 1988 horror film "Child's Play." He also starred in the 1990 sequel, "Child's Play 2." Vincent, now 30, said he was not traumatized by starring in the films opposite "Chucky," a doll possessed by the soul of a mass murderer.
"I had fun with it," Vincent told The Huffington Post. "I was not afraid of the doll. It was a good experience, and I feel very fortunate to be a part of one of the top five horror film franchises."
Until recently, Norman Reedus was an actor best known for his portrayal of Murphy MacManus in the 1999 film "The Boondock Saints." However, he now has a new claim to fame: playing the role of Daryl Dixon in the hit AMC television series "The Walking Dead".
Contractual obligations prevented Reedus from commenting on the zombie drama, but he did say he was thrilled to be in Erie for the horror festival.
"If you ain't having fun in Erie, then you ain't having fun," Reedus said.
Reedus was joined at the festival by two of his co-stars from "The Boondock Saints," Sean Patrick Flanery and David Della Rocco. All three actors proved to be fan favorites, signing autographs and posing for photographs.
O'Halloran, who said he is a fan of suspense and thriller movies, attended the festival last year and said he plans to return in 2012.
"I am having a great time," he told The Huffington Post. "[Erie] is a really fun town to hang out in, and it is a no-brainer for me to come back."
Among the dozens of films and previews shown at the festival was a trailer for "There Are No Goodbyes," a Lyons Den Productions film starring Matthew King and Jennifer Hooper. The preview of the film, which is a mash-up of several genres -- sci-fi, drama, romance and mystery -- was highly anticipated by the crowd in the theater and received a round of applause at its completion. "There Are No Goodbyes" debuts in April 2012.
The vendors brought their own festive frights to the table from far and wide. If you care for a scare, you might want to visit Ryan Gillikin's shop, Almighty Studios, in Jamestown, N.Y., or you can tune in to an upcoming episode of the Discovery Channel original series "Oddities." Featured on the show in November will be a ventriloquist's dummy named "Danny" who Gillikin says is thought to be possessed.
"It was a child's birthday or Christmas gift in the 1920s," Gillikin told The Huffington Post. "The child's father was having an affair with a servant and got her pregnant. He gave her arsenic to terminate the pregnancy. She became sick, and on her deathbed -- she was supposedly a practitioner of voodoo -- she cursed the doll with the spirit of her unborn child."
Following the housekeeper's death, children in the home claimed the doll stole their candy and attacked them. The doll was boxed and placed in an attic where it remained until Gillikin purchased it from a relative.
"I'm very skeptical of that sort of thing, but it was an interesting story and I collect oddities, so I bought it," Gillikin said. "I generally leave a bowl of candy with it. There has been no indication it is dangerous, but I will say it has shifted in the case on its own several times."
PICTURES FROM EERIE HORROR FEST
PHOTO GALLERY
Eerie Horror Fest
WATCH THE TRAILER FOR "THERE ARE NO GOODBYES":
Calling all HuffPost superfans!
Sign up for membership to become a founding member and help shape HuffPost's next chapter