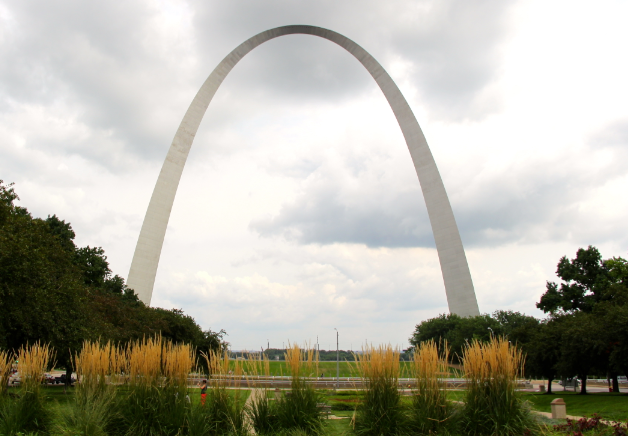 Gateway Arch, St Louis (photos courtesy of Kris Ciesliga)
If you're wondering why some people pronounce St. Louis St. Louie, it's because the city was named for King Louis IX of France, though the locals consider themselves a German city (think Anheuser-Busch). St. Louis is famous for the Gateway Arch, the Mississippi River, and the St. Louis Cardinals, but I came to attend the 50th anniversary of SPAH http://www.spah.org Society for the Preservation and Advancement of the Harmonica . That's where I learned that, speaking of baseball, "Stan the Man" Musial, considered one of the greatest hitters of all times, was also a harmonica player.
But you can't come all the way to St. Louis and do nothing but play harp and listen to the greats perform (Charlie McCoy, Brendan Power, Joe Filisko, Annie Raines, and a ton of others)' so I came early to explore the city http://explorestlouis.com where Tennessee Williams wrote The Glass Menagerie (about the apartment he was living in) and met Stanley Kowalski at the International Shoe Company. St Louis is also where ice cream was introduced at the 1904 World's Fair, and where the people are both tough and "St Louis nice."
First stop, the St. Louis Walk of Fame http://Stlouiswalkoffame.org in The Loop, where brass stars line the sidewalks with local celebs such as Yogi Berra, Bob Costas, Miles Davis, Tina Turner and Sheryl Crow. Across the street from the Walk of Fame is an 8-foot-high statue of Chuck Berry who performs at Blueberry Hill http://www.blueberryhill.com a St. Louis institution since 1972.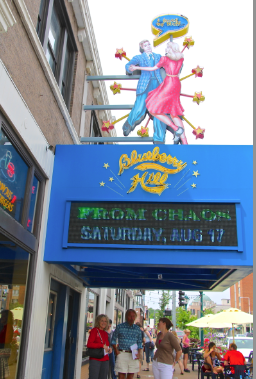 Blueberry Hill in the Loop
In this authentic funky restaurant/music club, every wall and shelf-space displays pop culture memorabilia from Howdy Doody to South Park, Flintstones to Simpsons. There's a serious dart room, an Elvis room, a Duck Room and a menu featuring everything from Cheddar Cheese Balls to Jerk Chicken Breast and Chili Mac. I tried the St. Louis specialty, Toasted Ravioli with Marinara Sauce. This deep-fried breaded ravioli was invented in the 1940's by mistake when a chef mistakenly dropped a ravioli square into the fryer.
Other culinary mistakes have also become St. Louis specialties such as Gooey Butter Cakes. In the 1930's, an old style German bakery forgot to add the flour to a flour/butter/sugar/egg cake, resulting in a baked gooey mess. Rather than throw it out, the chef served it, calling it Gooey Butter Cake. At Gooey Louie www.gooeylouiecake.com I tried the Turtle Park: chocolate peanut better, chocolate crust, caramel goo and kettle glazed pecans topped with chocolate and caramel drizzle, so thick I had to cut it with a knife.
I wasn't worried about the calories because I walked them off at the Missouri Botanical Garden http://www.missouribotanicalgarden.org. This 79-acre oasis smack in the heart of the city is considered one of three best botanical gardens in the world. One of the first things I saw were some Dale Chihuly brilliant glass sculptures gracing one garden and two pools.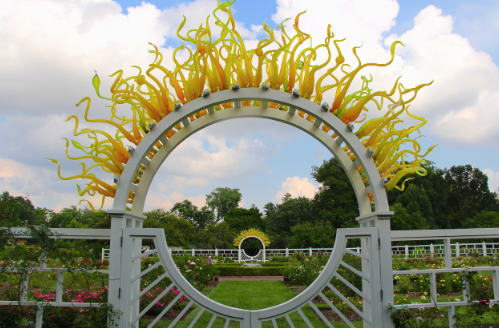 Dale Chihuly Art at the Missouri Botanical Garden
I walked through the rose garden, Victorian garden, Temperate House, Chinese Garden, Woodland garden, and then strolled across the wooden Koi Feeding Bridge on my way to the Japanese garden. Beneath me, brightly colored orange and red and blue Koi fish the size of cricket paddles looked up at me from the pond, their fist-sized mouths wide open in hopes of food.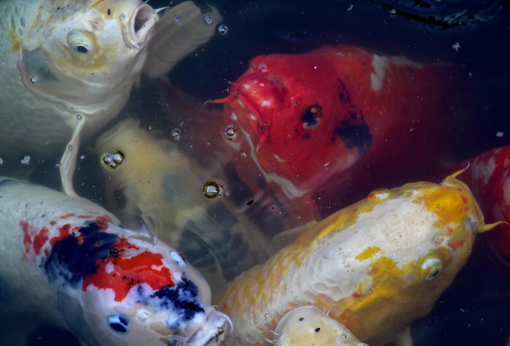 Koi beneath Feeding Brdige at Missouri Botannical Garden
Finnish architect Eero Saarinen who also designed the TWA terminal in NYC and the great tulip tables and chairs designed the famous St. Louis Gateway Arch, gateway to the west. At 635 feet, 63 stories high, and weighing 17,246 tons, this is the nation's tallest man-made monument. I rode in a small elevator car squeezed in with four other people, and ascended the narrow shaft in less than four minutes to the top. The locals call St Louis the southern most northern city, the northern most southern city, the eastern most western city, and the western most eastern city. It's easy to see why. From the windows up top, I could see the Mississippi River flowing below and could even see the old courthouse where the Dred Scott case was tried.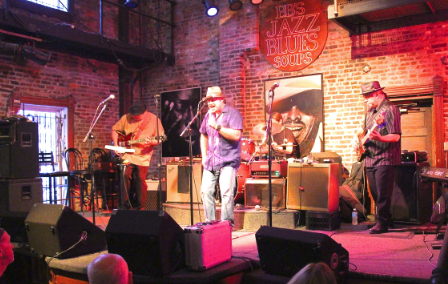 John Nemeth and Friends Harmonica Blow Out at BBs Jazz,Blues and Soup, St. Louis
What would St. Louis be without a stop at BBs Jazz, Blues and Soup nightclub/restaurant http://bbsjazzbluessoups.com? I dined on pulled pork and sweet potato fries while listening to the great singer/blues harp player John Nemeth http://www.johnnemethblues.com who was leading a Harmonica Blow Off. Such talented players as Joe Filisko, Jimi Lee, Peter Madcat Ruth, Ronnie Shellist, and Koei Tanaka played - one extraordinary musician after another. And then a gaggle of young players came on stage and played so beautifully I almost cried -- but they were tears of joy because these kids will keep the harmonica alive well into the future, so we'll always be able to hear such great songs as the St. Louis Blues.