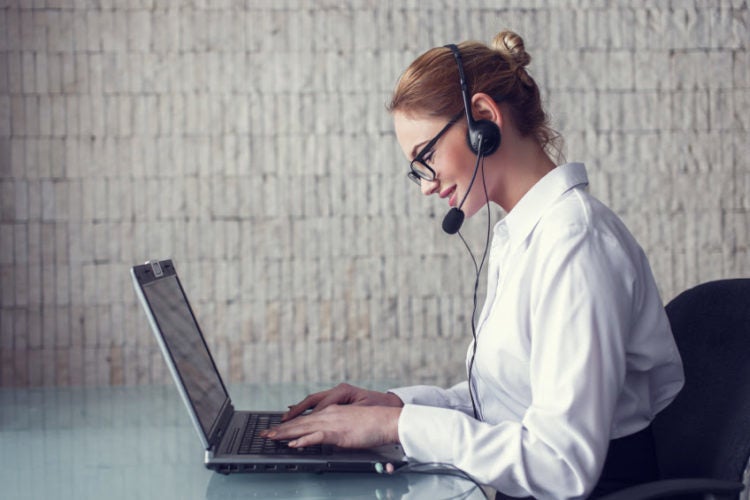 Running a business is one thing; retaining your customers is another. A business (or any organization, for that matter) will accomplish the latter through the use of efficient customer service; in particular, through the utilization of an IT help desk support set-up.
A help desk is a necessary piece of technology if you offer any service or product with a client or market base, as customers will need help with issues (and there always will be technology issues!) they may encounter as they use your service or product.
It might be to deal with queries that come in or to fix a bug in the system; either way, there must be an IT help support system in place to take care of the issues with as fewer hitches as possible. It is this support system technology that will ensure your company's operations run smoothly, thus making IT help desk support an integral part of any and every company.
I've always believed the quality of help desk support attendants are the most important factors in shaping user perception of any organization. Not the big application you just installed saving your company money, or the big funds you've managed to raise to consolidate your data centers, and certainly not all your promises of superior systems and hardware yet to come.
Therefore, an efficient IT help desk support is a crucial asset for efficient workflow, proficiency, and productivity.
It's worth noting that many establishments cluster the help desk and tech support roles together. However, a help desk is considered the first line of defense for tackling initial customer contact, while tech support is for the more specialized, second-level tougher issues that require higher expertise.
Help desk support is usually carried out through in-house staff personnel, though in the case of more compound operations, support tasks may be outsourced to an external technician.
Whether your firm needs to outsource its help desk support or not will depend on how critical its operations are and how often help may be required to sort out the issues at hand. Some small businesses may not have a huge help desk support team except one or two people who manage all the customer support problems, which can only go so far.
The competency of your help desk and support technicians most times will determine the impression people will have of your organization. Taking too long to fix recurring issues may give your customers an impression that you don't care about them, which surely isn't the case.
The use of state-of-the-art IT help desk support technology cannot be overstated, as it plays a central role in the building of an extended network of satisfied customers.
Problem-Solving Through IT Help Desk Support
In many cases, it can be a challenge to manage IT business applications requiring varying levels of support services. The multiplicity of business applications, as well as their underlying technology, may create a significant strain on your IT support resources. The first point of call for users with technology issues in the ITSM department is the ITIL centered processes, which offer a broad user-centric approach, providing an end-user with a knowledgeable base for all ICT requirements.
Effective help desk and tech support are all about tackling problems as they come, as well as developing ways to make customers' lives easier while solving their hassles in a hurry. If paired with different support options and the right approach, your IT help support team will collect data, sort, and assign them by problems, incidents, enhancements, and other myriad ways, easing some of the strain that comes from juggling technology glitches and other potential challenges.
A typical mistake many companies make is trying to make their IT help desk support efficient by only accepting queries via e-mail or through a contact form on their website. Their idea is to eliminate human interaction in their quest for efficiency, but this is a fundamental business operations error, as any technology platform, including IT help desk support tech, needs a human to supervise operations, even if the system is fully automated.
Common Customer Needs When A Ticket Is Submitted And How To Deal With Them
Availability, feedback, and prompt delivery of IT help desk services are the main distinguishing characteristics in a help desk service setup. Round-the-clock services without a drop in SLAs and quality through the delivery of excellent IT support resources will provide elasticity to clients, ensuring you maintain high-quality delivery, save costs, and minimize customer dissatisfaction.
When customers submit a ticket, a few simple things they'd like to be kept in the know about are:
That somebody is actively working on their problem
When the problem will be rectified
Notifications on the status of the issue
How long it will take to resolve the issue
The best way to proceed is to tailor your systems and processes to meet these customer needs while you add features that your IT support unit needs to run an efficient help desk.
Preferably, customers should relay their problems over the phone to a live IT assistant. That way, they will get the sense someone is listening, and their problems will be resolved soon.
If a customer submits a ticket by e-mail or your website, you should respond quickly to acknowledge receipt of the issue. Have somebody assess each ticket as it comes in, and then assign it to the appropriate personnel, leaving an apt comment for acknowledgment.
While a lot of the core principles of customer service apply, IT help desk support often requires a more specialized touch to master.
Conclusively, although handling the more technical side of customer service can be tricky especially when clients need specific solutions to specific tech challenges, there's value in knowing you have the competence and technology to resolve the problem in the fastest, most efficient way possible.
John is a freelance copywriter, content developer and designer. He loves helping people achieve their business and life goals at Anointed Copy where he creates engaging and converting content that compels ROI.
Calling all HuffPost superfans!
Sign up for membership to become a founding member and help shape HuffPost's next chapter
This post was published on the now-closed HuffPost Contributor platform. Contributors control their own work and posted freely to our site. If you need to flag this entry as abusive,
send us an email
.