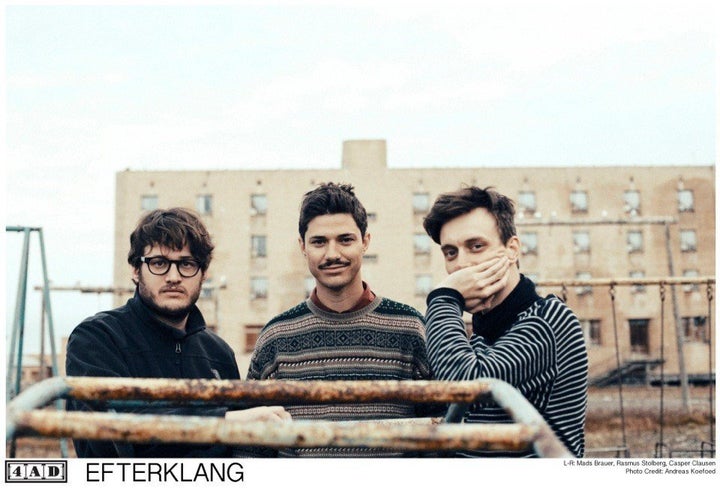 We have never featured ourselves in any of our 10+ something music videos. It never felt like something we needed or wanted to do. It's not because we are afraid of the camera -- we've had the pleasure of getting used to it via a long list of live videos and of course the film "An Island," where we worked together with Vincent Moon. But yes, "Apples" is the first Efterklang music video that we actually star in -- like we imagine real bands do. We realized this while shooting in Berlin -- it suddenly dawned on us that we were doing something for the first time and that we were even doing it half-naked. Once again the charm of Hvass&Hannibal had lured us into a place we could not have imagined going.
Over the last seven years, Hvass&Hannibal have been one of our closest collaborators. They've made the artwork for almost all our releases, they've made us wear pointy hats for the Performing Parades concerts and most recently they've made all our visuals for the Piramida concerts and the entire artwork for the album Piramida as well.
When we started looking into ideas for a video for "Apples" we were looking at the single cover Hvass&Hannibal did for the song. We were thinking it would be nice to animate the symbol and sort of use that circle as a viewfinder. Hvass&Hannibal were keen to make a video and quickly Jakob Steen & Christoffer Frandsen (the duo is also known as Oodls) was also invited onboard. They did the previous video for "Hollow Mountain." They are super-talented and really good with cameras and editing.
Oodls and Hvass&Hannibal did a lot of experiments and started developing a concept for the video. Fast forward two weeks and we (Mads, Casper & Rasmus) found ourselves in a studio in Berlin half-naked with a projector shooting images on our bare skin! The entire video is made using a projector shooting previously filmed material on our bodies as screens, which was then filmed again.
The new album of ours started out in unusual fashion by the three of us going on an audio expedition to the ghost town of Piramida in Spitsbergen just shy of the North Pole. We went up there in August 2011 and we collected field recordings and samples, which we then later used for the song-writing and recording in our studio in Berlin. The Danish documentary filmmaker Andreas Koefoed followed us on the trip. He did the album teaser for Piramida and he is also working on a bigger film project soon to be revealed.
A lot of the clips projected on our bodies are from Koefoed's filmed material from the trip to Piramida. This was combined with portrait style shoots of the three of us and Casper singing the song to the camera. Another element is the psychedelic colorful shots of liquids in movement and the last element is images of the three of us running in Berlin. We wanted to incorporate Berlin in the video as this really is where the music was written and formed. We spent 9 days in Piramida collecting sounds, but we spent 9 months in Berlin turning it into an album. The theme of running suited the lyrics in the song, which often refer to escape and running away.
We are very happy with the video. We feel it enhances the listening experience, which any music video should aim to do in our opinion. My favourite shot is very short. In a glimpse you see a super close-up of Casper [Clausen's] mouth projected on to my torso. Good luck finding that specific clip and enjoy the video! --Rasmus Stolberg
Related
Popular in the Community