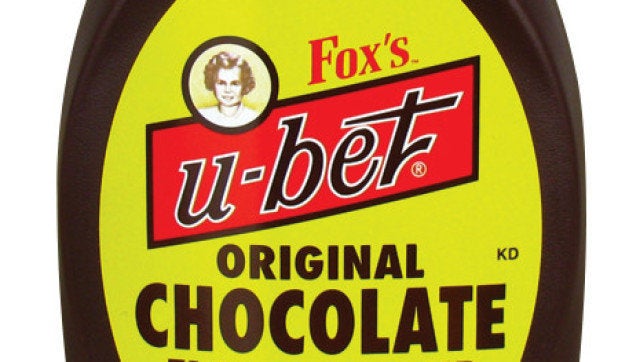 Growing up in New Mexico, I didn't encounter very many egg creams. I would have encountered significantly fewer if both my parents weren't from New York. I remember watching in awe as my mother poured an inch of chocolate syrup, an inch of milk and a fizzy topper of seltzer into a tall glass. As a burgeoning blowing-bubbles-into-chocolate-milk enthusiast, I was hooked on the bubbly head that formed on top. It reminded me of my other favorite science experiment, adding vinegar to baking soda and taking cover.
This egg cream, my mother warned me, wouldn't be quite right -- because you couldn't get Fox's U-Bet syrup in New Mexico. The chocolate syrup, which has been made in Brooklyn, NY since the 1900s, uses real cocoa and dry milk in its recipe. The result is a dark, heavy chocolate flavor that permeates the whole fizzy concoction.
I'll confess that egg creams have always weirded me out. Something about fizzy milk strikes me as unnatural. It wasn't until I moved to New York and tried an egg cream made with Fox's U-Bet that I understood the fanatical adoration that follows this drink around. Especially when it's garnished with a traditional pretzel rod.
These days, egg cream purists seek out the Kosher for Passover version of Fox's U-Bet (released in spring right around the Jewish holiday), since that version is made with the original cane sugar, rather than high fructose corn syrup. We've resolved to do the same.
Here's how to mix a proper egg cream, according to Fox's U-Bet:
The Original Brooklyn Egg-Cream
Take a tall, chilled, straight-sided, 8oz. glass
Spoon 1 inch of U-bet Chocolate syrup into glass
Add 1 inch whole milk
Tilt the glass and spray seltzer (from a pressurized cylinder only) off a spoon, to make a big chocolate head
Stir, Drink, Enjoy
If you can't find Fox's U-Bet near you, thanks to the magic of the internet, you can order a bottle online.