Playing with your food is usually regarded as a bad thing. But when you end up creating an entire font made out of fried eggs, you'll change people's minds about that general life rule. And that's exactly what Vladimir Loginov and Maksim Loginov of Handmade Font did when they created their egg font.
It took 1,000 eggs, 10 pans, five burned fingers, three hours and a bottle of oil to create a font made up entirely of fried eggs, but it was well worth the effort because it is simply glorious. The font was created using aluminum foil to shape the fried eggs into letters and a grill to cook them quickly. Once the letters were fried, they were photographed and tweaked in Photoshop to become this: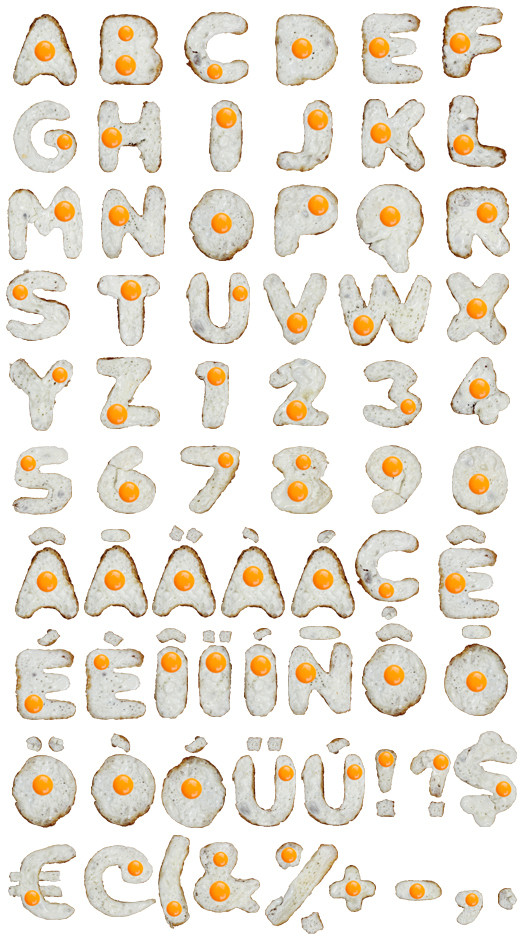 Photo credit: Handmade Font
Will anyone ever write in Helvetica again when they can get the message across with eggs? Probably not.
If eggs aren't really your thing, Estonian-based Handmade Font has also created a Corn Flakes font, a coffee font, a fried potatoes font and a buttered toast font (a personal favorite). Basically, these guys have got breakfast covered. The fonts generally cost a little under a hundred dollars each. That sounds kind of steep, but guys, they're handmade fonts, made out of our favorite meals. And, they've given us just the excuse we need to play with our food.