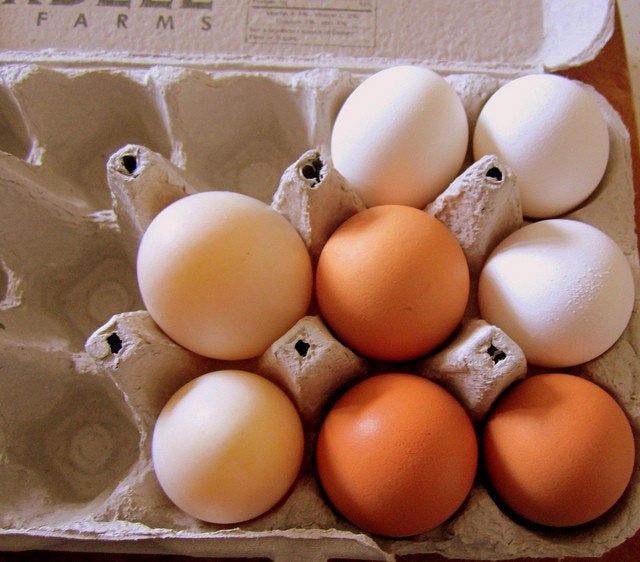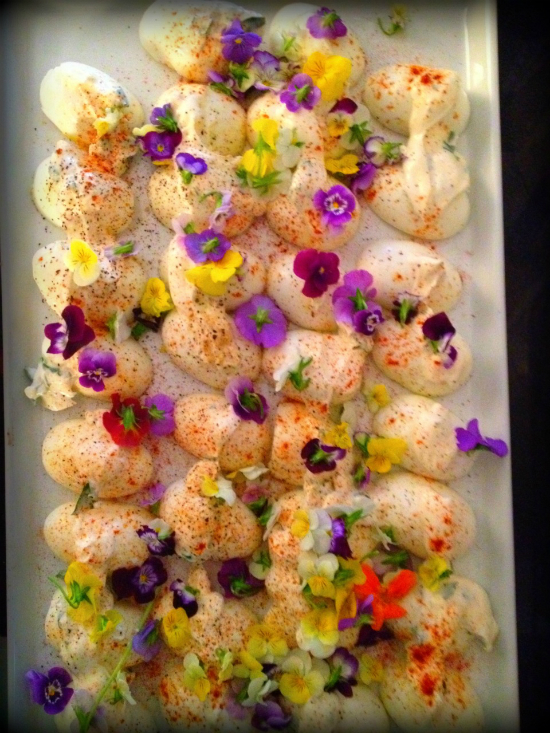 Egg Mayonnaise made its first appearance in my life when I was at sleep-away school in Scotland. It would turn up as mucky mess in sandwiches when we had away-games at neighboring schools.
Recently I've been looking back at old, traditional recipes and reviving them with a more modern twist. This recipe is easy-peasy and takes only 15 minutes or so to prepare. If you have a enthusiastic kitchen assistant standing by, you can get them to peel the eggs for you while you doctor up the mayonnaise. The key to this recipe for wow factor is having some edible flowers on hand. Most supermarkets will have those in a package with the fresh herbs, but you may very well have some in your garden. I've made this recipe with nasturtium petals, rose petals, and here with violet petals.
This is a good recipe for using up your older eggs as older eggs are easier to peel than super fresh ones. ("Old eggs are for boiling, fresh eggs are for frying" goes the old adage. Somewhat moot if you're using supermarket eggs but key if you keep your own chickens.) To keep this recipe low fuss, I use store bought mayo and then I fix it up with some fresh herbs and spices. But if you're keen, you can always make your own mayonnaise. This recipe has plenty of room for your imagination: you could add some olives, tomatoes, and serve on a bed of lettuce. I like to serve the eggs flat on a plate or on a wooden paddle cutting board as I think it adds a wee bit of drama.
6 eggs
1 cup of mayonnaise
dash of mustard powder
1 finely chopped garlic clove (I tend to grate the garlic as it's much faster)
1/4 cup of fresh basil chopped finely or into thin ribbons
1/4 cup of fresh Italian parsley chopped finely
dash of paprika
edible flowers
salt and pepper to taste
Boil the eggs for 7 minutes and then let them cool. Peel as soon as you can handle touching the eggs as it'll be easier to get the shells off.
While the eggs are boiling, mix up the mayo with the mustard powder, fresh herbs, and garlic.
Cut the eggs in half and lay them down on a flat plate or cutting board. Put a dollop of the mayo on each egg. Sprinkle paprika over the eggs for color. Salt and pepper. And finish off by scattering the flowers over the eggs.
Beautiful! Your guests will wowed.