The Mississippi-based company, which produces eggs branded Eggland's Best and Land O'Lakes, reported its average selling price for a dozen eggs jumped to $3.68 in the quarter that ended Feb. 25 from $1.46 a year earlier.
Egg prices topped inflation lists of all U.S. goods and services last year as avian flu wiped out commercial chicken flocks and led to egg shortages. Supermarket egg prices dipped 6.7% in February from a month earlier, but remained high at an average of $4.20, the government reported.
Cal-Maine, however, had no cases of avian flu at its facilities, CEO Sherman Miller said in the earnings statement.
"We have invested substantial capital and management resources in our biosecurity measures, and these investments, along with our employees' diligent adherence to our robust biosecurity protocols, have allowed us to continue to produce and bring more quality eggs to the market," Miller said.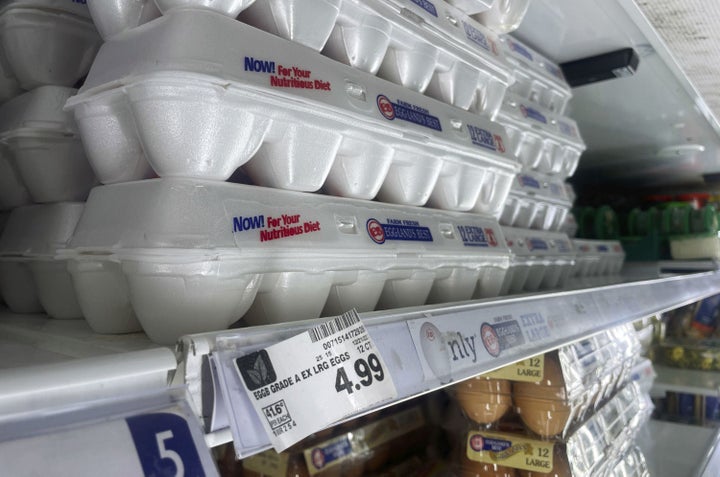 Sen. Elizabeth Warren (D-Mass.) and Rep. Katie Porter (D-Calif.) last month asked Cal-Maine and four other egg producers about the jump in egg prices and "the extent to which egg producers may be using fears about avian flu and supply shocks as a cover to pad their own profits."
"Past anticompetitive practices in the egg industry raise concerns about price gouging," the lawmakers wrote.
They added: "American families working to put food on the table deserve to know whether the increased prices they are paying for eggs represent a legitimate response to reduced supply or out-of-control corporate greed."
Farm Action, a farmer advocacy group, said in a January complaint to the Federal Trade Commission that the "real culprit" in high egg prices is a "collusive scheme" among major producers to fix prices and allow them to "extract egregious profits."
Max Bowman, Cal-Maine's chief financial officer, denied the group's allegations, according to CNBC. He called the U.S. egg market "intensely competitive and highly volatile even under normal circumstances."
Popular in the Community