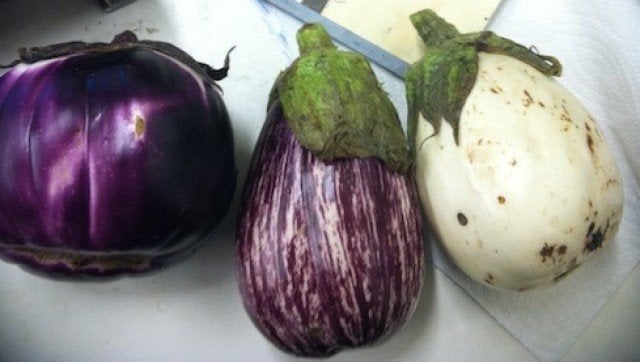 Welcome to the fifth installment of "WTF, CSA?" Periodically, throughout this CSA season, we'll help you make use of your overflowing CSA baskets. You ask, we answer. That's how this works. Or rather, you shouted, "WTF?" into your CSA box and now we're going to tell why that eggplant looks like that and what to do with it.
Eggplant can be so mysterious. A member of the nightshade family, it is unexpectedly related to the tomatoes and potatoes. Eggplant is unlike any other vegetable, with its meaty texture, thick skin and ability to stand up to a variety of cooking methods.
We got an email from a friend recently, who had no idea that what she'd received in her CSA box were eggplants, because of how different they all looked. Eggplants can come in many different colors and shapes, from the big, purple, Italian bell-shapes we all know, to thin snake-like Japanese eggplant. Eggplants can be purple, white, speckled, yellow and green. You can pickle them, roast them, grill them... look, there are a lot of options and we're getting tired just thinking of them.
To cut down on eggplant fatigue, we've decided to simply share with you the single greatest eggplant recipe of all time. That's right, we said it. This is it. Mollie Katzen's recipe for Tunisian Eggplant is a mediterranean take on eggplant caponata, something we're all pretty familiar with.
But there is something magical in the mathematics of this recipe: it is better than the sum of its parts. Something happens when the tomato paste melts into the red wine vinegar and coats your veggies like a blanket. This recipe is delicious hot, cold, room temperature, in a sandwich, with pita bread, eaten directly from the pot with a fork -- like eggplant itself, the possibilities are endless.
Is this a beautiful, complicated dish? No. But it is simple, perfect and you will figure out exactly how to tweak it to make your tastebuds reach maximum happiness.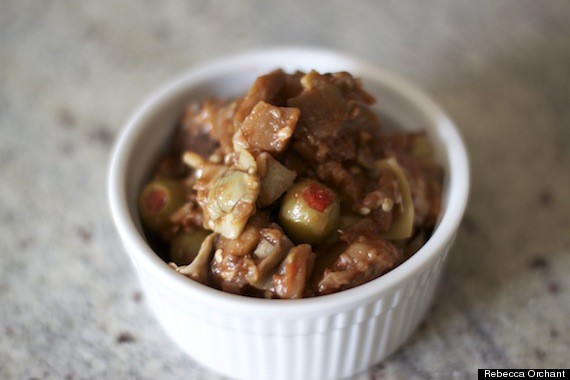 Preparation Time: About 40 minutes
Yield: Appetizer for six
Here is a South Mediterranean version of eggplant caponata (the famous Italian eggplant salad) featuring two outstanding guest stars: green olives and marinated artichoke hearts. It is so good it must be served as a course unto itself, accompanied by wedges of pita bread. (If you serve it with anything else, the other dish, no matter how good, might go unnoticed. *Ed Note: That is the TRUTH.)
It keeps beautifully, so go ahead and make it three or four days ahead of time, if that is most convenient for you.
1/4 cup olive oil (or more, as needed)
1 medium-sized onion, finely chopped
2 to 3 medium-sized cloves garlic, minced
1/2 teaspoon salt (or more, to taste)
1 large eggplant (peeling optional), cut into 1-inch cubes
3 tablespoons tomato paste
1/4 cup red wine vinegar
1 cup small pitted green olives
1 small jar (6 ounce) marinated artichoke hearts (drained, each piece cut into 2 or 3 smaller pieces)
pinches of dried tarragon, basil and/or oregano (optional)
Heat the olive oil in a large skillet. Add the onion, garlic and salt, and sauté over medium heat until the onion is soft and translucent (5 to 8 minutes).
Add the eggplant cubes, stir and cover. Cook until the eggplant is very well done (15 to 20 minutes), stirring occasionally. Add small amounts of additional oil, 1 tablespoon at a time, if needed to prevent sticking.
Stir in tomato paste and vinegar, and heat to the boiling point. Add the olives and remove from heat.
Stir in the artichoke hearts, then cool to room temperature. Taste to adjust the seasonings, adding the optional herbs, if desired.
Cover tightly and chill. Serve cold or at room temperature.
Still need more eggplant ideas? Check out the slideshow below.

Support HuffPost
A No-B.S. Guide To Life
Related
Before You Go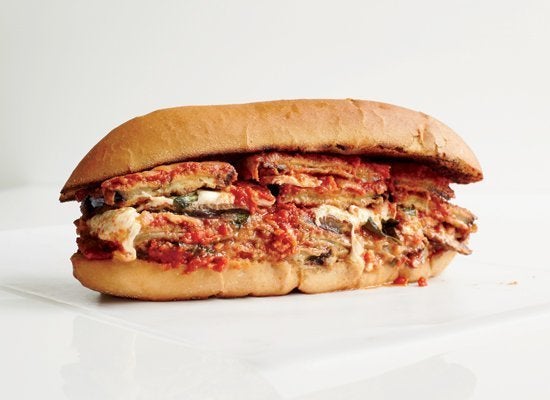 Eggplant Recipes
Popular in the Community