 One of my favorite summer evenings since moving back to the city post-college is when the New York Philharmonic takes the stage in Central Park. Last year, I picnicked on the grass with my boss Stephanie and all her friends--a birthday to remember, especially when the sky opened up during the orchestra's last aria, and dumped rain on all of us innocent, umbrella-less concert goers.
This year I planned on being more prepared for mother nature, packing a storm jacket and situating our party's blanket close to an exit path, as to avoid the inevitable stampede out of the park. But weather.com decided to give us a break this year. Or, rather, ruin our plans before we had a chance to break out our blankets all together.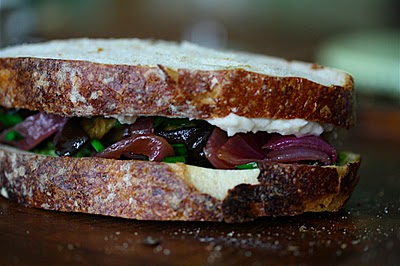 I had some last minute recipe testing to do for the book (white bean dip), and a few other random ingredients (roasted eggplant) to get rid of before leaving for the Vineyard, so concert or no concert, I was determined to track down some friends and force them to eat my food.
Luckily, my friend Jackie offered to have a group of us over to her apartment to picnic around the coffee table and listen to her mom's Yo-Yo Ma CD. It wasn't quite the same, what without the fear of being cited for an open container violation, but it was a pleasant evening nonetheless under Jackie's exposed beams, drinking wine out of Dixie cups, feasting on strangely conceived eggplant sandwiches, and sitting on the grassless ground.
Though not part of my standard summer tradition, this indoor picnic was such fun, that as the weather takes a turn for the chilly, I think I'll be breaking out my beach blanket again, if only to lay it on my living room floor.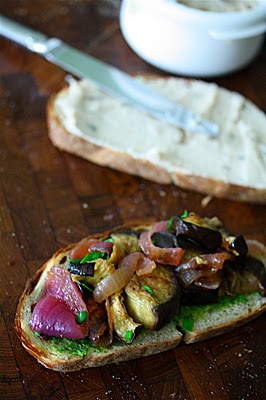 Roasted Eggplant Sandwiches with White Bean Spread and Chive Pesto
Makes about 5-6 sandwiches
2 medium eggplant, quartered and cut into 1/4 inch slices
2 medium red onions, quartered and cut into 1/4 inch slices
1/4 cup olive oil
1 teaspoon salt
1/2 lemon, juiced
2 tablespoons chives (optional)
1 loaf fresh sourdough or country white bread, cut into 1/2-inch slices (about 10)
1/2 cup chive or basil pesto
1 cup white bean spread
Preheat the oven to 450°F.
In a large mixing bowl, combine the eggplant, onion, olive oil and salt. Toss until fully coated, and then turn out onto a parchment or foil-lined baking sheet. Shake the pan to make sure the vegetables lie flat and have the maximum possible surface area exposed.
Roast in the oven for 20 minutes. With a spatula, redistribute the vegetables so they brown on the opposite side, and return to the oven for another 10-20 minutes, until the vegetables are dark brown and caramelized.
Remove to a bowl and toss with the lemon juice and chives, if using. (Eggplant can be make up to 2 days in advance).
Lay 6 slices of bread on a work surface. Slather each with pesto, and divide the eggplant among the slices. Slather the remaining bread with the white bean spread, and top the sandwiches.
If traveling, wrap each individual sandwich in foil and take with you to your picnic.