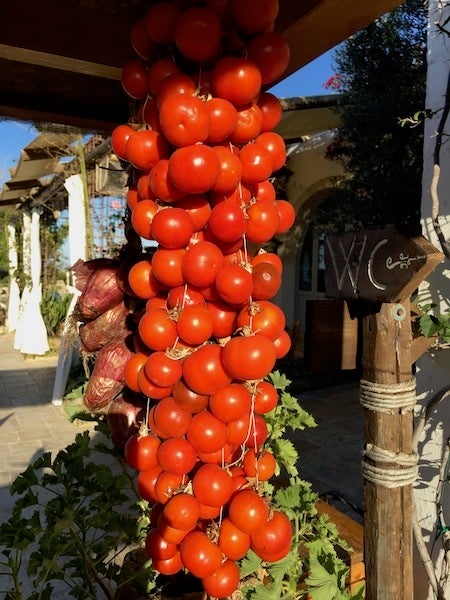 "May is International Mediterranean Diet Month. Eggplant and tomatoes are healthy Mediterranean diet foods."
There are many foods that are commonly classified as vegetables that are actually fruits. By definition, a fruit is the part of the plant that develops from a flower. It's also the section of the plant that contains the seeds. The other parts of plants are considered vegetables. These include the stems, leaves, roots and flower buds.
The following are fruits using the botanical definition: avocado, beans, peapods, corn kernels, cucumbers, grains, nuts, olives, peppers, pumpkin, squash, zucchini, sunflower seeds, eggplants and tomatoes. Vegetables include celery (stem), lettuce (leaves), cauliflower and broccoli (flower buds), and beets, carrots and potatoes (roots).
7-Facts about these fruits, eggplant and tomato:
Eggplant (one cup, cubed):
20 calories
2.5 grams dietary fiber
native to India
the skin is full of fiber, potassium, magnesium and antioxidants - leave on the skin and choose organic when available
choose ones that are firm and somewhat heavy for their size
although the large dark purple eggplant is the most popular variety, they come in other shapes, sizes and colors
British English uses the French word aubergine
Tomato (2-3/5" diameter, 123 grams):
22 calories
1.5 grams dietary fiber
20 percent daily value for vitamin A
28 percent daily value for vitamin C
water content is 95 percent
contains the antioxidant lycopene, known to reduce the risk of prostate cancer
greenhouse grown varieties are becoming more popular and require less pesticides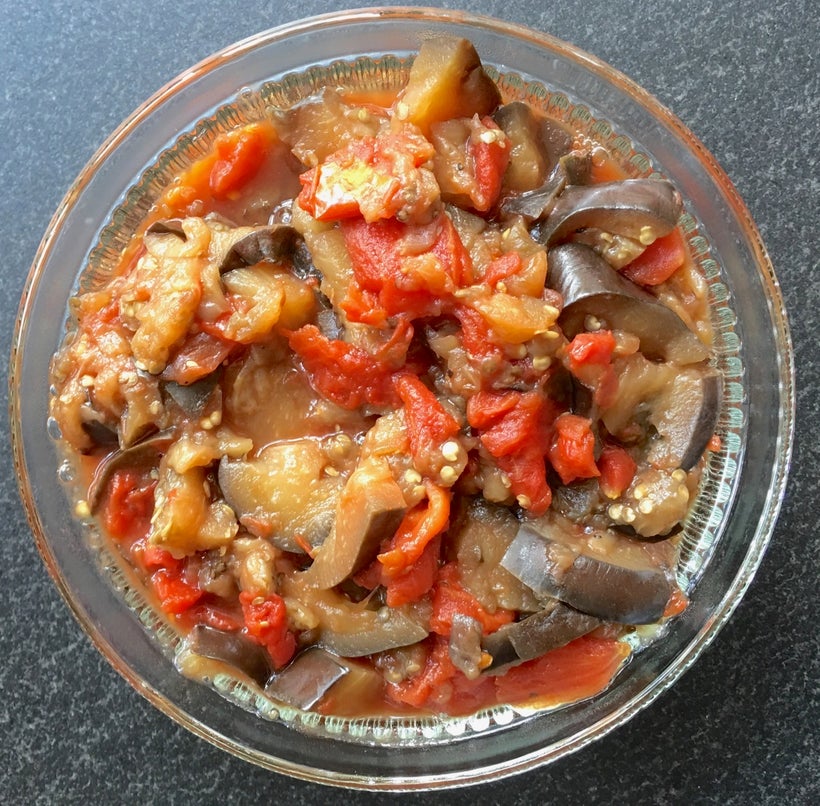 Layne's Eggplant and Tomato Stew
"This is one of my favorite (simple) Mediterranean Diet recipes"
Choose organic ingredients when available:
1 large eggplant
1 medium red onion
16-ounces diced tomatoes
1/8 teaspoon freshly ground black pepper
1/8 teaspoon salt
Dice eggplant and onion and set aside. Heat a large saucepan on medium heat, and add onion. Adjust heat as needed to "sweat" onion until translucent. Add diced tomatoes, eggplant and seasonings. Bring to a boil and then reduce heat to a simmer. Cover and cook for 30 to 35 minutes or until the eggplant is tender. Serve plain or mixed with fresh ricotta cheese over pasta.
Nutrition Facts per serving: 60 calories, 0.5 grams fat, 83 mg sodium, 13.7 grams carbohydrates, 6 grams dietary fiber, 2.4 grams protein, 33 percent daily value vitamin C, 19 percent daily value vitamin A.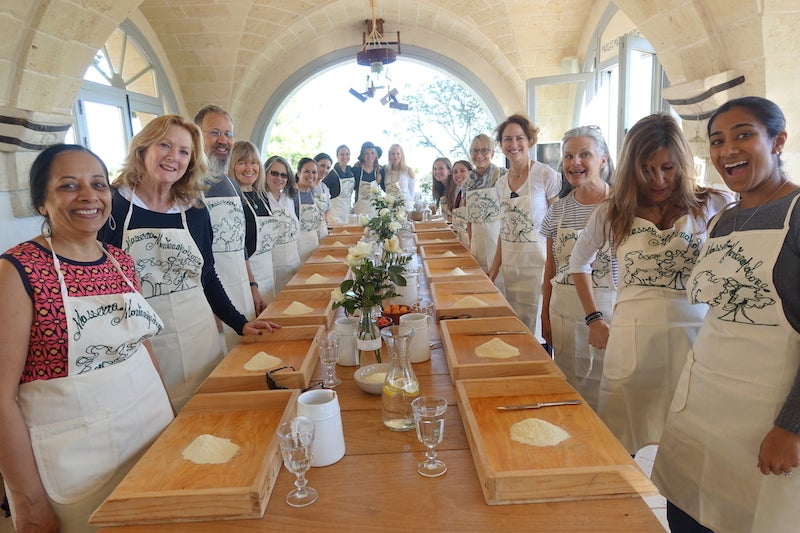 Registration is open for Culinary Trip to Puglia, Italy for RDNs, health professionals, chefs and friends: Why sit in a conference room when you can travel to Italy for a first-class, hands-on, authentic culinary and cultural journey through the ancient olive-oil producing region of Puglia this Fall? Experience daily life and activities like pasta making in Bari, cheese making in Alberbello, wine making in Brindisi, cooking in Gallipoli, organic farm living in Fasano, DOP bread-making in Altamura and so much more!
Calling all HuffPost superfans!
Sign up for membership to become a founding member and help shape HuffPost's next chapter
This post was published on the now-closed HuffPost Contributor platform. Contributors control their own work and posted freely to our site. If you need to flag this entry as abusive,
send us an email
.