Egypt and Morsi don't mix. The message was loud and clear in the visuals, on TV, online.
The picture of a banner erected on a Cairo street ahead of massive demonstrations to topple Mohamad Morsi parodied the Egyptian president's inarticulate fumbling of an explanation of chemical elements that don't mix while on a visit to Germany and further mocked by TV satirist Bassem Youssef.
It was tweeted by Sultan Saoud Al Qassemi, an Emirati commentator on Arab affairs, and reflected the views of millions of Egyptians who took to the streets and belted out "leave!"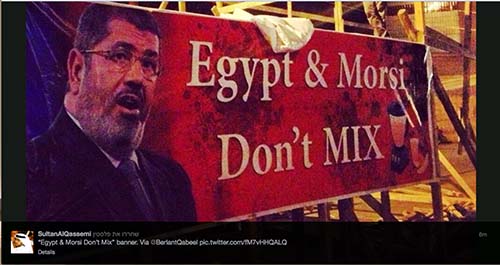 Screen shot of anti-Morsi banner in a twitpic
"Morsi sahhi el nome, el naharda akher yome (Morsi wake up, today is the last day)," thundered the voices of opponents in one of countless rhyming couplets on Sunday, the anniversary of Morsi's first year in office.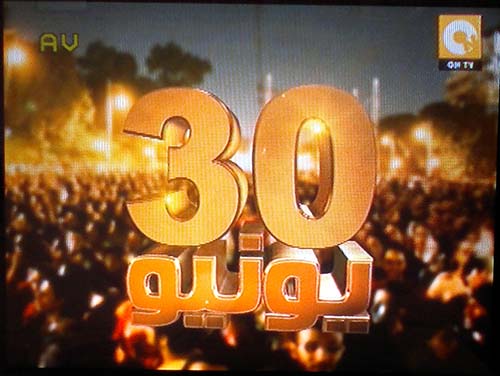 OnTV's June 30 Logo (Abu-Fadil)
Nina Raafat, a/k/a Citizen X, who jumped on the "Tamarod" (rebel) bandwagon tweeted: Today Egypt is closed. We're cleaning up."
Millions of Egyptians thronged to the streets of Cairo, the cities of Alexandria, Mansoura, Al Mahalla Al Kobra, and elsewhere, to protest their displeasure with Morsi and his Muslim Brotherhood-backed regime who are accused of fomenting sectarian strife, creating instability, ruining the economy, and scaring off foreign investors.
In recent months Egypt, an oil producer, has suffered from severe petrol shortages leaving citizens fuming in interminably long lines in front of gas stations and stuck in frustratingly gridlocked traffic.
Fast food giant McDonald's local subsidiary capitalized on the situation by delivering meals to trapped car passengers, as tweeted by British journalist Patrick Galey.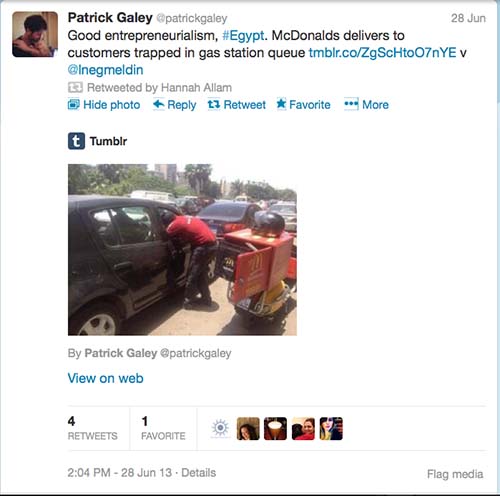 Screen shot of McDonald's delivery to trapped passengers in gas line
The Muslim Brotherhood, many of whose members, including Morsi, were jailed by the previous regime, is also charged with seeking to stifle the media, undermining women's rights, and terrorizing minorities.
Egyptian Information Minister Salah Abdel Maqsoud has repeatedly sexually harassed women journalists on the air.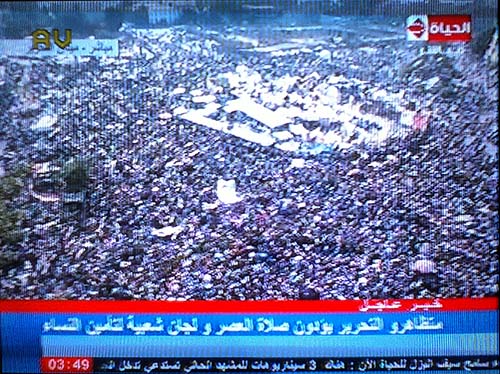 Al Hayat TV shows huge crowds in Cairo's Tahrir Square (Abu-Fadil)
"Tani, tani, tani, rag'een el segn tani, (again, again, again, you're going back to prison)," was the message carried by a protester in Cairo.
Members of the Palestinian Hamas militia and Lebanon's Hezbollah freed Morsi and cohorts from jail in the Wadi El Natroun desert region following the outbreak of Egypt's revolution in 2011, according to media reports, further fueling Egyptians' rage at those two groups.
Making light of tightened security around Al Ittihadiyya, the presidential palace in Cairo's Heliopolis neighborhood where pro- and anti-government protesters have clashed and where thousands filled the streets on Sunday, Simon Hanna tweeted:
"Guy at etahadeya search asked if I was Palestinian. Told him I was from Hamas, here to destroy #Egypt. He let me in. #june30."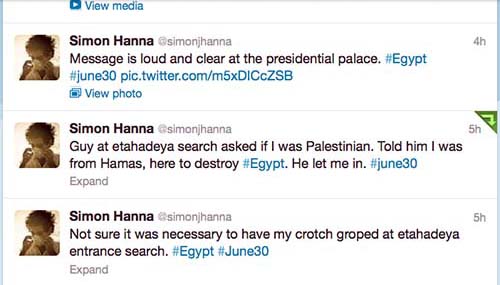 Screen shot of Simon Hanna tweet
Egyptians poured anger and sarcasm on other Muslim Brotherhood figures like Sheikh Youssef Al Qaradawi, a cleric on Qatar's Aljazeera satellite TV channel.
Someone identifying himself as Hassan Nasrulla uploaded a video clip of Al Qaradawi on YouTube in which the cleric praised then Tunisian president Zine El Abdine Ben Ali before he was ousted by a revolution that sparked the so-called "Arab Spring."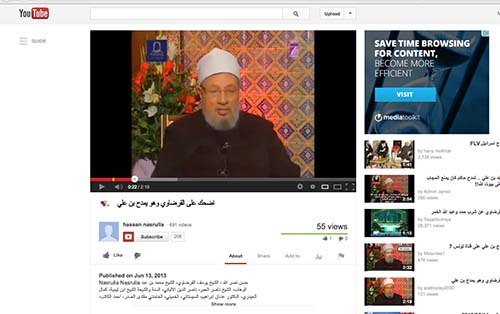 Screen shot of Al Qaradawi praising Ben Ali
There was no shortage of Egyptians out to discredit Morsi, the Muslim Brotherhood and anyone suspected of hijacking the January 25, 2011 revolution.
Muslim religious figures were no less critical.
"Mubarak stole money but he was lighter (to fathom) than he who stole the religion," said Ahmad Karima, a professor of Islamic Sharia (law) at Al Azhar University. "If Mubarak fell into sin, he's got the ignorant person's excuse, but what is the "Ikhwani" (Brotherhood's) president's excuse?"
The Brotherhood's mantra for years was "Islam is the solution." But a Coptic Christian in Cairo held up a sign that said "Believe me, Egypt, Jesus is the answer."
Greg Carlstrom, who goes by "Al Jazeera hack, blogger, photographer," uploaded a picture and tweeted, "'The ikhwan are Arab Zionists and American clients.' Flag in Tahrir #egypt pic.twitter.com/U6apRx7nmK."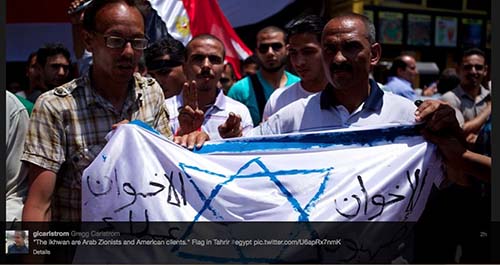 Screen shot of MB = Arab Zionists, American clients
He also tweeted a photo of a man with a sign slamming Washington's Ambassador to Egypt Anne Patterson whose comments about events in Egypt have inflamed passions.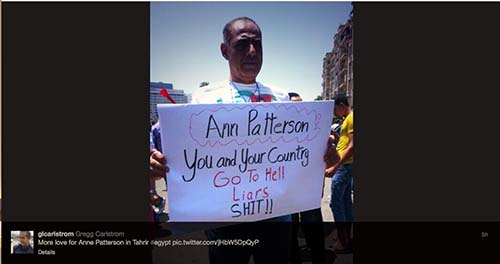 Screen shot of "More love for Anne Patterson in Tahrir" tweet
"Love to see bitterly anti-American protesters cheer as Egyptian pilots fly American-provided helicopters over #Tahrir Square #june30 #egypt."
But that didn't prevent Abdel Moneim Said from peppering his comments on CBC TV with Americanisms to explain why Egyptians had decided to revolt again.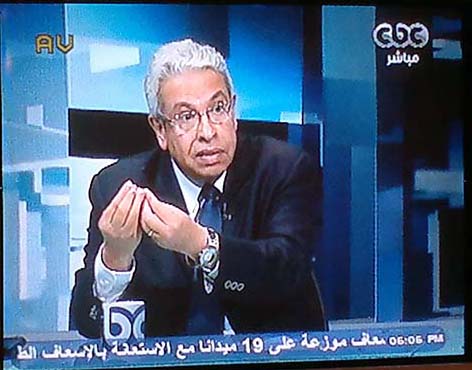 Abdel Moneim Said pontificates (Abu-Fadil)
Pre-revolution Said was the CEO of the Egyptian daily Al Ahram that photoshopped a picture of then president Hosni Mubarak to show him walking ahead of President Barack Obama at the White House.
Meanwhile, CBC TV provided blanket live uplinked coverage of demonstrations across Egypt with an impressive airing of 12 split screens including one of the studio in Cairo featuring different hosts and assorted talking heads.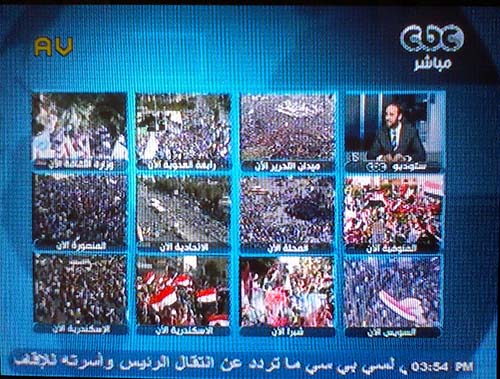 Egypt's CBC TV coverage splits screen to 12 locales (Abu-Fadil)
In what promises to be a protracted battle, Donia Iskandar tweeted "Aren't you ashamed of yourself, Morsi? Egypt is now on fire."
Popular in the Community