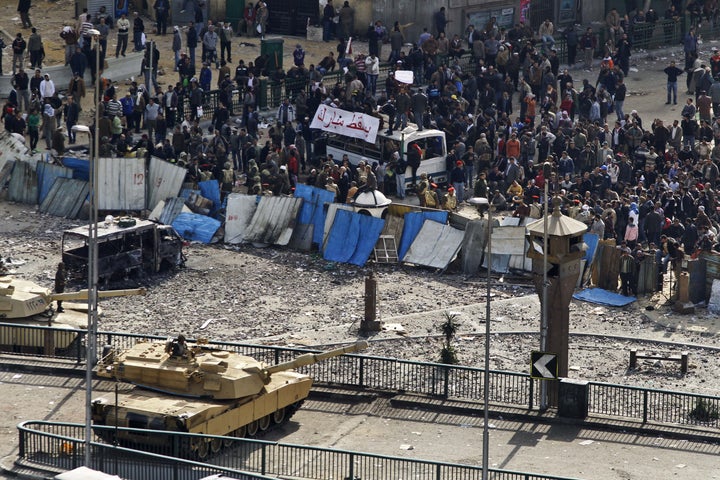 CAIRO - Egyptian army tanks and soldiers cleared away pro-government rioters and deployed between them and protesters seeking the fall of President Hosni Mubarak, as the prime minister made an unprecedented apology Thursday for the assault by regime backers that turned central Cairo into a battle zone.
Prime Minister Ahmed Shafiq told state TV that the attack Wednesday on the anti-government protesters was a "blatant mistake" and promised to investigate who was behind it.
But about the same time Shafiq was issuing an apology, another government official was denying a direct link to the violence by Mubarak supporters. As relayed by the BBC:
A cabinet spokesman Magdy Rady has insisted to Reuters that the government had no role in mobilising pro-Mubarak groups. "To accuse the government of mobilising this is a real fiction. That would defeat our object of restoring the calm."
Also in Egypt, foreign journalists were beaten with sticks and fists by pro-government mobs on the streets Cairo on Thursday and dozens were reported detained by security forces in what the U.S. called a concerted attempt to intimidate the press.
The protesters accuse the regime of organizing the assault, using paid thugs and policemen in civilian clothes, in an attempt to crush their movement. Government supporters charged central Tahrir Square Wednesday afternoon, sparking 15 hours of uncontrolled chaos, with the two sides battled with rocks, sticks, bottles and firebombs as soliders largely stood by without intervening.
The military began to move with muscle for the first time to stop the fighting early Thursday after a barrage of automatic gunfire hit the anti-government camp before dawn, killing at least three protesters in a serious escalation.
Four tanks cleared a highway overpass from which Mubarak supporters had hurled rocks and firebombs onto the protesters. Soldiers on the streets carrying rifles lined up between the two sides around 11 a.m. Several hundred other soldiers were moving toward the front line. Thursday morning, more protesters streamed into the square, joining the thousands of defenders who spent the chilly night there, hunkered down against the thousands of government supporters in the surrounding streets.
A sense of victory ran through the protesters, even as they organized their ranks in the streets in case of a new assault. "Thank God, we managed to protect the whole area," said Abdul-Rahman, a taxi driver who spent the night in the square. "We prevented the pro-Mubarak people from storming the streets leading to the square." He refused to give his full name.
The apology by Shafiq, who was appointed by Mubarak over the weekend, was highly unusual from a leadership that rarely makes public admissions of a mistake. His promise to investigate who organized the attack came only hours after the Interior Ministry issued a denial that any of its police were involved.
"I offer my apology for everything that happened yesterday because it's neither logical nor rational," Shafiq said. "What happened was wrong, a million percent wrong, whether it was deliberate or not deliberate ... Everything that happened yesterday will be investigated so everyone knows who was behind it."
The anti-Mubarak movement, which has carried out an unprecedented 10 days of protests bringing as many as quarter-million people into Tahrir, has vowed to intensify protests to force him out by Friday. In a speech Tuesday night, Mubarak refused to step down immediately, saying he would serve out the remaining seven months of his term -- a halfway concession rejected by the protesters.
Have a tip you want to share? You can leave a message for HuffPost at 00-1-315-636-0962. If you know someone there and have email access, send us an email at egypt@huffingtonpost.com. Our Skype account is HuffPostReports.
Scroll down for the latest updates.
Calling all HuffPost superfans!
Sign up for membership to become a founding member and help shape HuffPost's next chapter