CAIRO, Aug 5 (Reuters) - Nubar Keropian was in his late teens when the Egyptian army last took power by force of arms, overthrowing King Farouk and casting him off from Alexandria to exile and an early death in Italy.
Still working in the portrait studio his photographer father opened 80 years ago, Keropian recalls the events of 1952 as if it were yesterday, leafing through black-and-white photographs of quiet, clean Cairo streets and the bare banks of the Nile.
"They said it was a bloodless revolution," he muses, with no small dose of irony given events in Egypt 60 years on.
At least 300 people have been killed since the military deposed elected Islamist President Mohammed Morsi on July 3 following mass protests against him.
Keropian's father was one of thousands of Armenians who fled killings in Turkey to Egypt during World War One, becoming a photographer at Cairo's opulent Shepheard's Hotel - high society's sanctuary of choice from stifling North African heat.
Egypt was then under British military occupation although it became a notionally independent constitutional monarchy under Farouk, whom Keropian, 76, recalls as a "playboy and a womaniser".
What passed at the time for a nascent democracy, with a parliament and political parties, was snuffed out in 1952 by soldiers known as the Free Officers, among them Gamal Abdel Nasser, the man who would later take power and hold it until his death in 1970. British military advisers were expelled.
Revered by Egyptians as the revolution that gave birth to modern Egypt, it began in Cairo with a day of anti-British riots that razed hundreds of buildings, landmarks of the elite and Western influence.
Nightclubs frequented by Farouk, the Opera House, the Shepheard's Hotel and the Rivoli cinema, where Keropian recalls an organist who "came up from the stage during the interval and played some very nice tunes", went up in flames.
In a written ultimatum after months of political upheaval, the Free Officers told Farouk the army represented "the power of the people" and demanded that he step aside.
"Nasser let the king take all his fortune," said Keropian. "They say there were lots of boxes of jewels, and he was saluted when he left the port of Alexandria."
The Arab world's most populous nation would be ruled by military men for the next six decades, until Hosni Mubarak was toppled by the masses in Tahrir Square in 2011 and Morsi, a devout Muslim, was freely elected in 2012 after another interim period of military rule.

"NOT YET READY FOR DEMOCRACY"
A year on, Morsi is in detention, ousted by a general who said he too was acting on the will of a people who took to the streets in their millions to protest against Morsi's perceived incompetence and autocratic, Islamist bent.
Army chief Abdel Fattah al-Sisi is the poster-boy of what the military and Egyptian liberals insist was a popular uprising, backed by military intervention to prevent civil war. He promises a return to civilian rule and democracy.
But history is against him.
"When the revolution stopped," Keropian recalled of 1952, "(coup leader) General Mohammed Naguib said to Gamal Abdel Nasser, 'Let's go back to our barracks and leave the people to democracy.' Nasser refused and said, 'Egyptians are not yet ready for democracy.' And he abolished all the parties."
There are echoes of this narrative in Egypt today.
Egyptians "don't know how democracy works", Mohamed ElBaradei, vice president in a transitional cabinet appointed by the army, told the Washington Post last week. "They don't know the ingredients of a democracy. It takes time."
ElBaradei described as "esoteric" the debate over whether or not Morsi's overthrow constituted a coup.
"When you have 20 million people calling on Mr Morsi to leave, and the army had to step in to avoid a civil war, does that make it a coup d'état? Of course not," he said. "It's not your classical army intervention. It's really the army providing support to a popular uprising."
Those words were supported by the United States on Thursday, when Secretary of State John Kerry said the Egyptian army - which receives $1.3 billion in U.S. aid every year - was "restoring democracy" when it ousted Morsi.
"And the military did not take over, to the best of our judgment - so far," he said.
The army, which enjoys popular support and considerable control over the economy, has promised elections within six months. Most analysts agree that is optimistic.
They also say Sisi would win a presidential poll hands-down if he were to run today.
But the general, who denies any such ambition, must first deal with Morsi's Muslim Brotherhood, and its thousands of supporters, who refuse to leave the streets until their president is reinstated.
Cairo is not burning, this time, but the impasse has already cost some 300 lives. Its denouement could have far-reaching consequences across North Africa and the Middle East for Islamists who won a first whiff of power in 2011 in ballots that followed a wave of uprisings against autocratic rulers.
"Elections can lead to dictatorship but a military coup is rarely the foundation of democracy," former French U.N. diplomat Jean-Marie Guehenno wrote in the New York Times.
At the studio Keropian opens each morning, a coat of dust covers the giant German view camera that his father once used.
Boxes of negatives sit stacked against the walls and faded portraits of politicians, writers and movie stars speak to a thriving photography business in the 1940s and 1950s that was dominated by Armenian émigrés.
The digital age made Keropian, faithful to film, redundant.
He says he has not taken a portrait at the studio in five or six years, and lives off the sale of old prints taken by his father and the man who taught him the trade, a court photographer of Jewish origin known by the name 'W. Hanselman'.
He pulls from the drawer a picture taken by Hanselman of a reception to mark the drafting of Egypt's 1923 constitution that created a parliament and parties albeit hostage to the whim of the British-backed king.
Nasser scrapped that constitution on taking power. Morsi wrote a new version last year. Sisi suspended it and has commissioned his own amended draft, outraging the Islamists.
They have foresworn violence but Egypt has a long history of militancy and political assassination. Morsi's supporters are now encamped at a protest sit-in close to the military parade ground where Anwar Sadat, Nasser's former military successor, was gunned down by radical Islamist assassins in 1981.
Hanselman's photograph of the constitution celebration is well-lit, showing dozens of sharp, moustachioed faces.
Keropian believes his father set up the lighting, igniting a mixture of nitrate and magnesium not dissimilar to gun powder.
"It's formidable," he said. "It's very powerful, but very dangerous." (Editing by Angus MacSwan and Paul Taylor)

Before You Go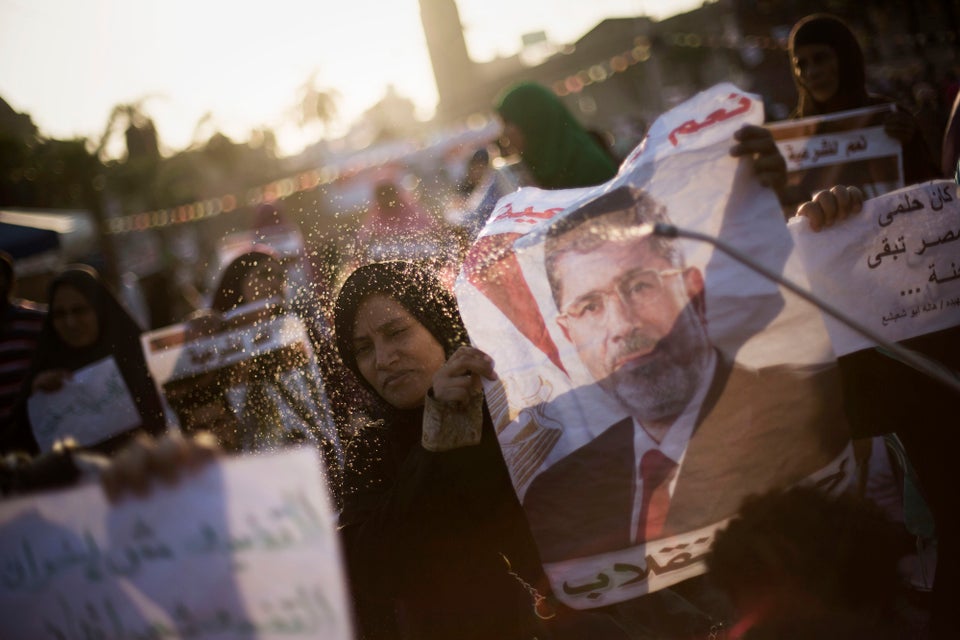 Bloodshed In Egypt
Popular in the Community