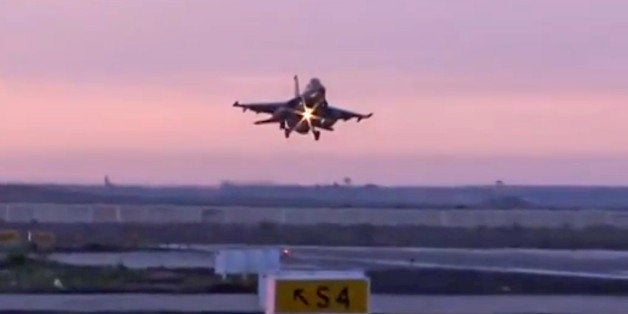 Every week, we bring you one overlooked aspect of the stories that made news in recent days. You noticed the media forgot all about another story's basic facts? Tweet @TheWorldPost or let us know on our Facebook page.
Egypt announced this week it bombed bases, training grounds and weapon caches belonging to Islamic State-allied militants in neighboring Libya. The Egyptian military said the airstrikes were in retaliation for the brutal beheading of 21 Egyptian Christians at the hands of the militants, shown in a video released on Sunday.
Although this week's announcement was the first official acknowledgement of Egyptian military action inside Libya, Cairo is believed to have been involved in strikes in its neighboring country as long as six months ago.
Since the elections of June 2014, Libya has been riven by conflict between two rival coalitions - each with a parliament, prime minister and armed fighters. In August 2014, "Libya Dawn," a loose coalition of militias including moderate and extremist Islamists, Berbers and fighters from the city of Misrata, took over the capital city of Tripoli, forcing the newly elected parliament to take refuge in Libya's east. The other coalition, fighting under the banner "Operation Dignity," is led by the controversial general Khalifa Haftar. The coalition unites troops from the Gaddafi regime, as well as federalists and militias from Zintan and Benghazi and has the support of the government in the east. Militants claiming allegiance to the Islamic State group based in Iraq and Syria have thrived amid Libya's power vacuum and security chaos.
Haftar has the support of Egypt and the United Arab Emirates, two regional players deeply concerned about the possibility of Islamists coming into power in Libya.
Last August, U.S. officials told The New York Times that Egypt and the UAE had secretly carried out airstrikes against Libya Dawn. The officials told the Times that Emirati fighter jets had used Egyptian bases to strike militant targets in the Libyan capital.
Egypt has denied direct involvement in airstrikes in support of Haftar up until now and it maintains it only provides training to Libyan forces loyal to its allies in the conflict.
Egypt's president, ex-military leader Abdel-Fattah el-Sissi, argues that Islamist extremism poses a regional threat. His government has violently repressed the Muslim Brotherhood and is battling armed Islamist groups in the Sinai peninsula.
The air strikes are already exacerbating Libya's divisions. Libya's Islamist-led coalition denounced the Egyptian bombing raids this week as a violation of Libyan sovereignty. Libya's other government, Egypt's ally, welcomed the strikes and said they were carried out with the full co-ordination of Libyan forces.
REAL LIFE. REAL NEWS. REAL VOICES.
Help us tell more of the stories that matter from voices that too often remain unheard.
BEFORE YOU GO
PHOTO GALLERY
July 2014 Attacks In Libya