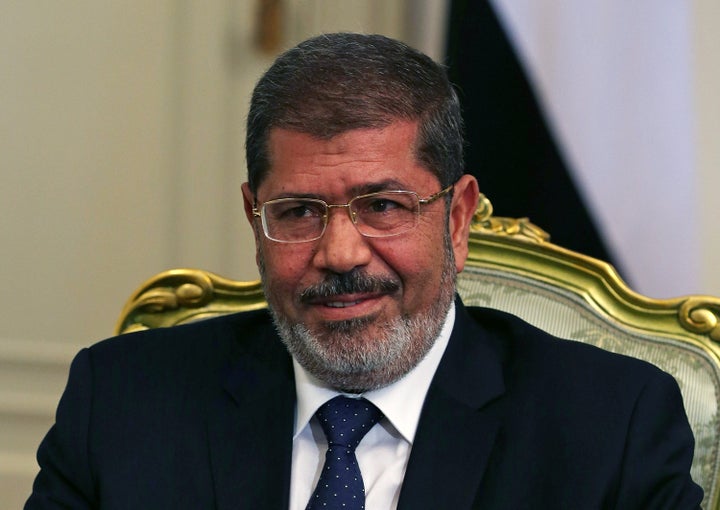 * Early indications suggest measure will pass
* Constitution backed by 57 percent in first round vote
* Rights groups report what they say are irregularities
By Yasmine Saleh and Edmund Blair
CAIRO, Dec 23 (Reuters) - Egyptians appear to have approved a new constitution after Saturday's final round of voting in a referendum, early indications showed, despite opposition criticism of the Islamist-influenced measure as divisive.
An official from the Muslim Brotherhood's political party, which backs the charter put forward by President Mohamed Mursi, said that after 8.1 million votes had been counted there was a 71 percent majority in favour of the constitution.
Taken with the first round vote, the official said he expected the overall result to show a roughly 65 percent majority in favor of the constitution. He spoke as counting progressed into the early hours of Sunday morning.
Exit polls from the opposition National Salvation Front also showed the constitution passing, an official told Reuters.
Last week's first round returned 57 percent in favour of the constitution, according to unofficial data. The vote was split over two days as many judges refused to supervise the ballot.
The referendum committee may not declare official results for the two rounds until Monday, after hearing appeals.
Islamist backers of Mursi say the constitution is vital to move to democracy, nearly two years after an Arab Spring revolt overthrew authoritarian ruler Hosni Mubarak. It will provide stability for a weak economy, they say.
But the opposition accuses Mursi of pushing through a text that favours Islamists and ignores the rights of Christians, who make up about 10 percent of the population, as well as women. They also say it is a recipe for further unrest.
"I'm voting 'no' because Egypt can't be ruled by one faction," said Karim Nahas, 35, a stockbroker, heading to a polling station in Giza, in greater Cairo.
At another polling station, some voters said they were more interested in ending Egypt's long period of political instability than in the Islamist aspects of the charter.
"We have to extend our hands to Mursi to help fix the country," said Hisham Kamal, an accountant.

Hours before polls closed, Vice President Mahmoud Mekky announced his resignation. He said he wanted to quit last month but stayed on to help Mursi tackle a crisis that blew up when the Islamist leader assumed wide powers.
Mekky, a prominent judge who said he was uncomfortable in politics, disclosed earlier that he had not been informed of Mursi's power grab. The timing of his resignation appeared linked to the lack of a vice-presidential post under the draft constitution.
Rights groups reported what they said were illegalities in voting procedures. They said some polling stations opened late, that Islamists illegally campaigned at some polling places and complained of irregularities in voter registration.
The new basic law sets a limit of two four-year presidential terms. It says sharia law principles remain the main source of legislation but adds an article to explain this further. It also says Islamic authorities will be consulted on sharia - a source of concern to Christians and others.
If the constitution passes, there will be a parliamentary election in about two months.
After the first round of voting, the opposition said reported abuses meant the first stage of the referendum should be re-run.
But the committee overseeing the two-stage vote said its investigations showed no major irregularities in voting on Dec. 15, which covered about half of Egypt's 51 million voters. About 25 million were eligible to vote in the second round.
If the charter is approved, the opposition says it will stir up more trouble since it will not have received sufficiently broad backing amid questions about the fairness of the vote.
"I see more unrest," said Ahmed Said, head of the liberal Free Egyptians Party and a member of the National Salvation Front, an opposition coalition formed after Mursi expanded his powers on Nov. 22 and then pushed the constitution to a vote.
Protesters accused the president of acting like a pharaoh, and he was forced to issue a second decree two weeks ago that amended a provision putting his decisions above legal challenge.
Said cited "serious violations" on the first day of voting, and said anger against Mursi was growing. "People are not going to accept the way they are dealing with the situation."
At least eight people were killed in protests outside the presidential palace in Cairo this month. Islamists and rivals hurled stones at each other on Friday in Alexandria, the second-biggest city. Two buses were torched.
Late on Saturday, Mursi announced the names of 90 new members he had appointed to the upper house of parliament, state media reported, and a presidential official said the list was mainly liberals and other non-Islamists.
Mursi's main opponents from liberal, socialist and other parties said they had refused to take any seats.
Legislative powers, now held by Mursi because the lower house of parliament was dissolved earlier this year, will pass to the upper house under the new constitution.
Two-thirds of the 270-member upper house was elected in a vote this year, with one third appointed by the president. Mursi, elected in June, had not named them till now. Mursi's Islamist party and its allies dominate the assembly.

Popular in the Community