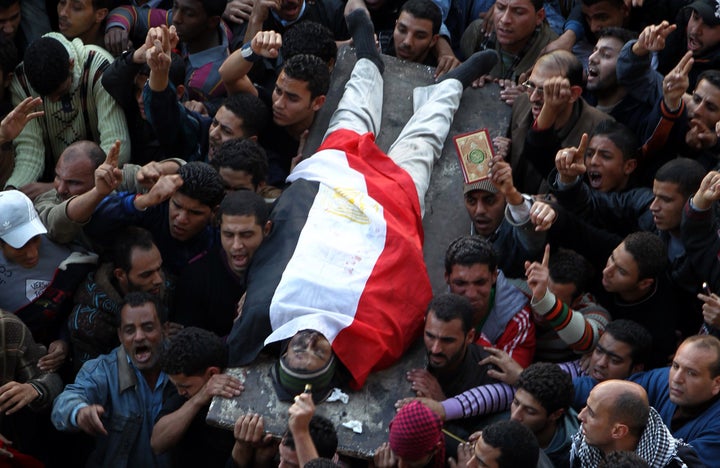 CAIRO -- Fighter jets swooped low over Cairo Sunday in what appeared to be an attempt by the military to show its control of a city beset by looting, armed robbery and anti-government protests.
Minutes before the start of a 4 p.m. curfew, at least two jets appeared and made multiple passes over downtown, including a central square where thousands of protesters were calling for the departure of Egyptian President Hosni Mubarak.
Police could be seen returning to some streets nearly two days after virtually disappearing, creating a security vacuum only partially filled by the presence of army troops backed by tanks at key sites around this city of 18 million people.
After days of escalating chaos, gangs of armed men attacked at least four jails across Egypt before dawn, helping to free hundreds of Muslim militants and thousands of other inmates. Gangs of young men with guns and large sticks smashed cars and robbed people in Cairo.
Banks were closed on orders from Egypt's Central Bank, and the stock market was shut on what is normally the first day of the trading week. Markets across the Middle East dropped on fears about the instability's damage to Egypt's economy, and the region's.
Have a tip you want to share? You can leave a message for HuffPost at 00-1-315-636-0962. If you know someone there and have email access, send us an email at egypt@huffingtonpost.com. Our Skype account is HuffPostReports.
Scroll down for the latest updates.