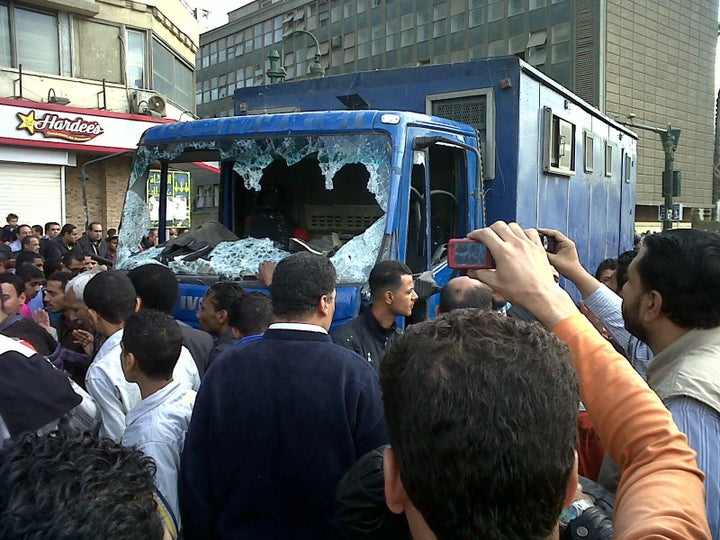 CAIRO -- Security officers from the Egyptian Interior Ministry attempted to clear a few remaining protesters from Tahrir Square on Saturday morning, setting off a cavalcade of clashes that have left several people badly wounded and strike a deeply unsettling note for the country's first democratic elections, just nine days away.
The police officers, dressed in black and bearing shields and riot gear, moved in on a small encampment of protesters left over from a massive demonstration on Friday, which had brought liberal revolutionaries together with Salafist Muslims to object to continuing repression by the temporary military council now ruling this country.
But by early afternoon, reinforcements in the form of neighborhood youths, who closely follow the doings of the security forces, had pushed the Central Security officers from the square, with some help from a small contingent of Egyptian army officers.
Youths chased after the police and soldiers with sticks and stones, yelling, "Down with the field marshal" -- a reference to the Army general now running Egypt -- and ultimately managing to boot them from the square.
For the next several hours, police armed with tear gas cannons repeatedly attempted to charge back into Tahrir, but by late afternoon, the protesters still held the southeastern corner of the square, near a Hardee's restaurant.
It was a scene eerily reminiscent of the clashes that precipitated the 18-day sit-in back in January and February, which ultimately led to the ouster of Hosni Mubarak, Egypt's dictator for the previous three decades. It was also the sort of intermittent violence that has continued to plague an unsettled Egypt.
Earlier in the day, army officers had briefly attempted to intervene between the youths and the police, but they quickly dissipated, and throughout the rest of the day their presence in Tahrir was negligible.
Follow Joshua Hersh on Twitter at @joshuahersh for updates and the latest on the upcoming elections in Egypt.
Popular in the Community