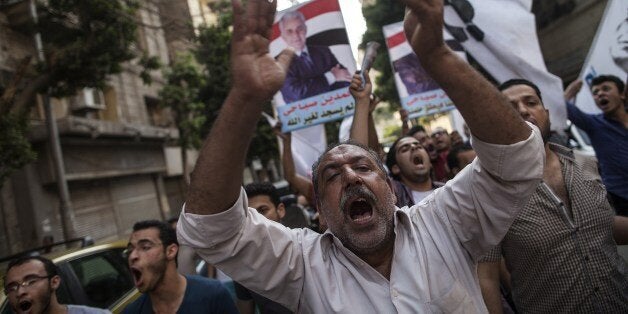 In many ways, the upcoming Egyptian presidential elections, which will take place on May 26-27, are an object lesson in how to fix an election while presenting a façade that everything is free and fair. The leading candidate and his supporters acted quickly -- months in advance of polling day -- to remove their main opposition from contention and to nip in the bud any possible dissonant voices.
Less than two years ago, Egypt held the most openly contested presidential election in its history, resulting in a narrow run-off victory for Mohamed Morsi of the Muslim Brotherhood-backed Freedom and Justice Party. Morsi prevailed over his opponent, former general and some-time Mubarak era Prime Minister, Ahmed Shafik by a credible three and a half percentage point margin of 51.7 percent to 48.3 percent.
Every indication suggests that in this upcoming election former general Abdel-Fatah al-Sisi will win by the type of margin that is familiar from the days of President Mubarak and the many sham elections held by Arab dictators from Iraq to Tunisia in recent decades. In voting already completed by Egyptians residents abroad, Sisi has received well over 90 percent of the vote.
With this type of margin, you can bet that soon to be President Sisi will claim a democratic mandate, pointing to the millions of voters who turn out for him. While it is unlikely that the turnout will match the almost 26 million who voted in the June 2012 presidential run-off elections, it is entirely possible given that he will win by a lopsided margin that Sisi's vote will exceed the 13.23 million who chose Morsi over Shafik -- giving Sisi's many enthusiastic backers inside and outside of Egypt a reason to claim it as validation.
We should be skeptical of such claims. As President Morsi discovered to his cost, winning more than 13 million votes meant that approximately 75 percent of the electorate did not vote for him and would never accept his legitimacy, eventually leading to the popular revolt against him which resulted in his removal by the military on July 3, 2013. Even if Sisi claims 20 million supporters, it would still not be a majority of the electorate, which numbers over 50 million.
It would be a mistake for U.S. policy makers to see this carefully staged electoral charade as giving any sign of progress towards the kind of peaceful, inclusive democratic transition that the majority of Egyptians continue to want.
It is telling that three of the four largest vote-getters from the first round of the 2012 elections, who collectively received around 66 percent of the votes cast, will not be candidates this time around. The winner, former President Morsi and tens of thousands of his supporters are in prison. The Freedom and Justice Party has been banned and the Muslim Brotherhood declared a terrorist organization. Ahmed Shafik, the runner-up, stated that the presidential elections would be "a farce" and declined to take part. Abdel Moneim Aboul Fotouh, who came in fourth with 17.5 percent is also not participating. The spokesman for Abdel Fotouh's Strong Egypt party announced a few days ago that they would be urging their members to boycott the election: "The interference of the military in politics and the crackdown on the opposition makes us believe the election will not be fair," he explained.
The perils of failing to publicly support the approved candidate are well understood. In Egypt's last nationwide poll, the referendum on the revised constitution in January 2014, members of the Strong Egypt party were arrested and prosecuted for campaigning for a "no" vote... The April 6 youth movement that was instrumental in mobilizing the millions of protesters who brought down President Mubarak in February 2011 has also been banned, and several of its key leaders are serving jail terms.
The basic rights and freedoms essential for conducting free and fair elections are not currently available to all Egyptians. Draconian anti-protest laws deny the basic right to freedom of peaceful assembly while tightening restrictions on the media, including the jailing and prosecution of journalists, are restricting freedom of expression. Tens of thousands of political prisoners are in jail and security forces routinely shoot dead anti-government protesters. An alarming cycle of violence is gaining momentum with lethal attacks on police officers and members of the security forces, and an intensifying counter-insurgency campaign is being directed at militant extremists in the Sinai.
The election of President Sisi will provide a test to the United States. If administration officials fail to speak out clearly to criticize the evident flaws of the election, and to push back against the Egyptian government's claims of democratic progress, then U.S. credibility as a supporter of human rights and democracy is at stake. Equivocation by the United States in the face of mounting human rights violations, distortion of language, and manipulation of the democratic progress would be a gross disservice to the Egyptian people.
Egypt badly needs to turn away from confrontation and polarization and making Abdel Fattah al-Sisi its new president by this kind of transparently flawed process will not move the country out of its current destructive dynamic.
Related
Popular in the Community