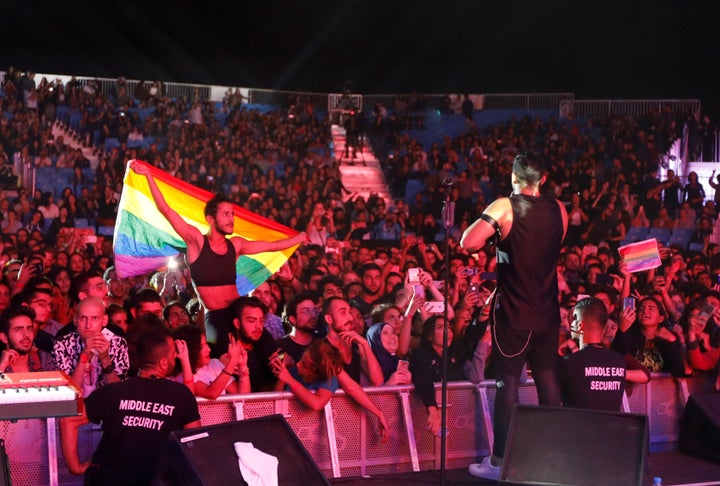 CAIRO (Reuters) - Sarah Hegazy has been jailed, beaten by inmates, and could face a life sentence in an Egyptian prison if found guilty of "promoting sexual deviancy" and other charges tied to her alleged crime: waving a rainbow flag at a concert.
The 28-year-old denies waving the flag but is one of 57 people arrested so far in Egypt's widest anti-gay crackdown yet, a swift zero-tolerance response to a rare show of public support for lesbian, gay, bisexual and transgender (LGBT) rights in the conservative Muslim country.
The crackdown comes as Egypt, a key Western ally in the Middle East, is under fire for its human rights record and the United States has withheld some of its $1.3 billion in annual military aid.
Hegazy, the only woman rounded up in the three-week-old campaign, says police goaded her cellmates to abuse her during her first night in prison, where she is being detained for 15 days and interrogated by special prosecutors who usually focus on Islamist militants.
"This is the game they (police) always play, especially since she is a girl. They incite the other detainees and say 'this girl wants men and women to be gay' so they harass her. I saw scratches on her shoulder, she looked very disheveled and exhausted. She was beaten," said Hegazy's lawyer Hoda Nasralla.
A security official would not comment on Hegazy's case but denied that police incite prisoners against each other or otherwise mistreat them. 
Lawyers for other detainees said their clients faced similar treatment. Suspected gay male detainees are subject to forced anal exams to determine if they have had homosexual sex, a procedure human rights groups say amounts to torture.
At least five such examinations have taken place, Amnesty International says. Judicial sources do not deny the examinations take place but say they are legally carried out and are not a form of abuse.
Egyptian authorities do not deny going after gays and an investigation report provided to Reuters by the Egyptian Initiative for Personal Rights (EIPR) openly refers to the police's campaign on homosexuals.
Police, state-aligned media, and the religious establishment all see it as a public duty to combat the spread of homosexuality.
Ten men have already gone on trial during the recent sweep and received jail sentences from one to six years.
MEDIA BACKLASH
On Sept. 22, at a concert packed with 30,000 people headlined by Mashrou' Leila, a Lebanese alternative rock band whose lead singer is openly gay, a small group of concert goers raised a rainbow flag and, within hours, the image went viral.
Almost immediately local media, dominated by state-aligned television personalities, began a campaign against homosexuals, saying they were receiving foreign funding, and hosting callers who compared their threat to Islamic State.
Egypt's media regulator then banned homosexuals from appearing in the media unless they were "repenting", calling homosexuality a "shame and a disease that should be kept under wraps, not promoted" in order to protect public morality.
Al-Azhar, Egypt's 1,000-year-old center of Islamic learning, said it would stand against gays in the way it stands against Islamist extremists. One church organized an anti-gay conference.
Public Prosecutor Nabil Sadek ordered the State Security Prosecution, which normally investigates terrorism and other national security threats, to investigate the flag incident.
At least four people, including Hegazy and 21-year-old Ahmed Alaa, were arrested for allegedly raising the flag although one man has since been released.
The overwhelming majority of those arrested are not involved in the flag case, however, and have simply been arrested over their perceived sexual orientation in the following days.
Police have raided homes, parties, and used online dating apps to lure gay men - a common tactic in Egypt - to arrest most of them, their lawyers say.
Calling all HuffPost superfans!
Sign up for membership to become a founding member and help shape HuffPost's next chapter
BEFORE YOU GO
PHOTO GALLERY
LGBTQ History