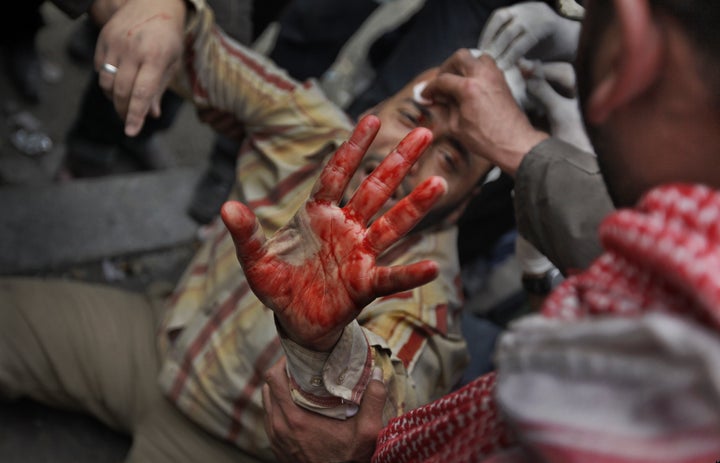 CAIRO - Protesters and government supporters fought in a second day of rock-throwing battles at a central Cairo square while more lawlessness spread around the city. New looting and arson erupted, and gangs of thugs supporting President Hosni Mubarak attacked reporters, foreigners and rights workers while the army rounded up foreign journalists. (SCROLL DOWN FOR LIVE BLOG)
The New York Times reported that there is no longer any live video feed coming from Tahrir Square.
As bruised and bandaged protesters danced in victory after forcing back Mubarak loyalists attacking the square, the government increasingly spread an image that foreigners were fueling the turmoil and supporting the unprecedented wave of demonstrations demanding the ouster of Mubarak, the country's ruler for nearly three decades.
"When there are demonstrations of this size, there will be foreigners who come and take advantage and they have an agenda to raise the energy of the protesters," Vice President Omar Suleiman said in an interview on state TV.
In an interview with ABC News, Mubarak said he wants to leave office now, but cannot for fear the country will sink deeper into chaos. He blamed the outlawed Muslim Brotherhood, an opposition group, for the violence.
"I was very unhappy about yesterday," Mubarak told ABC's Christiane Amanpour. "I do not want to see Egyptians fighting each other."
In Washington, U.S. State Department spokesman P.J. Crowley condemned what he called "a concerted campaign to intimidate international journalists in Cairo."
Have a tip you want to share? You can leave a message for HuffPost at 00-1-315-636-0962. If you know someone there and have email access, send us an email at egypt@huffingtonpost.com. Our Skype account is HuffPostReports.
Calling all HuffPost superfans!
Sign up for membership to become a founding member and help shape HuffPost's next chapter