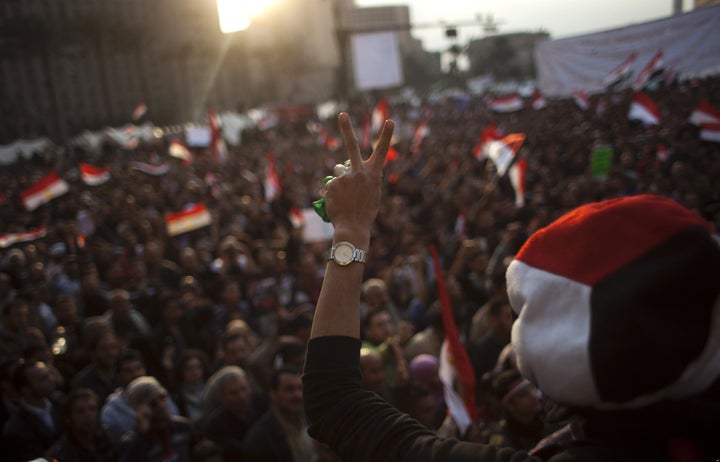 CAIRO - Thousands of state workers and impoverished Egyptians launched strikes and protests around the country on Wednesday over their economic woes as anti-government activists sought to expand their campaign to oust President Hosni Mubarak despite warnings from the vice president that protests won't be tolerated much longer.
SCROLL DOWN FOR LIVE BLOG
Some 8,000 protesters, mainly farmers, set barricades of flaming palm trees in the southern province of Assiut, blocking the main highway and railway to Cairo to complain of bread shortages. They then drove off the governor by pelting his van with stones. Hundreds of slum dwellers in the Suez Canal city of Port Said set fire to part of the governor's headquarters in anger over lack of housing.
Efforts by Vice President Omar Suleiman to open a dialogue with protesters over reforms have broken down since the weekend, with youth organizers of the movement deeply suspicious that he plans only superficial changes far short of real democracy. They refuse any talks unless Mubarak steps down first.
Showing growing impatience with the rejection, Suleiman issued a sharp warning that raised the prospect of a renewed crackdown. He told Egyptian newspaper editors late Tuesday that there could be a "coup" unless demonstrators agree to enter negotiations. Further deepening skepticism of his intentions, he suggested Egypt was not ready for democracy and said a government-formed panel of judges, dominated by Mubarak loyalists, would push ahead with recommending its own constitutional amendments to be put to a referendum.
"He is threatening to impose martial law, which means everybody in the square will be smashed," said Abdul-Rahman Samir, a spokesman for a coalition of the five main youth groups behind protests in Cairo's Tahrir Square. "But what would he do with the rest of the 70 million Egyptians who will follow us afterward."
Suleiman is creating "a disastrous scenario," Samir said. "We are striking and we will protest and we will not negotiate until Mubarak steps down. Whoever wants to threaten us, then let them do so," he added.
Nearly 10,000 massed in Tahrir on Wednesday in the 16th day of protests. Nearby, 2,000 more blocked off parliament, several blocks away, chanting slogans for it to be dissolved. Army troops deployed in the parliament grounds.
For the first time, protesters were calling forcefully Wednesday for labor strikes, despite a warning by Suleiman that calls for civil disobedience are "very dangerous for society and we can't put up with this at all."
Have a tip you want to share? You can leave a message for HuffPost at 00-1-315-636-0962. If you know someone there and have email access, send us an email at egypt@huffingtonpost.com. Our Skype account is HuffPostReports.
Related
Popular in the Community