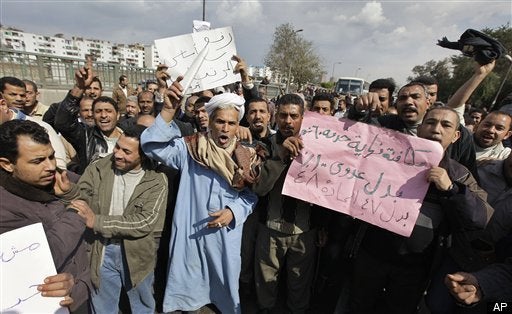 CAIRO - Thousands of Egyptian state employees, from ambulance drivers to policemen and transport workers, protested Monday in Cairo to demand better pay and conditions in a wave of labor unrest unleashed by the uprising that ousted President Hosni Mubarak.
(SCROLL DOWN FOR LATEST UPDATES)
Outside the Nile-side TV and state radio building, hundreds of public transport workers demonstrated to demand better pay. Several hundred protesters from the state Youth and Sports Organization also protested Monday in Tahrir, or Liberation, Square with similar demands.
Across the Nile River in the Giza district, hundreds of ambulance drivers staged a protest, also to demand better pay and permanent jobs. They parked at least 70 ambulances on a roadside along the river, but did not block the main road where they protested.
In downtown Cairo, some 200 policemen demonstrated for better pay for a second day. They also want to clear the name of the hated police, further tarnished by the deadly clashes between protesters and security forces. Some carried portraits of policemen killed in the clashes.
"These are victims of the regime too," declared one placard.
The Central Bank of Egypt ordered banks across the country closed following a strike by employees of the National Bank, the largest state bank. Tuesday is a national holiday in Egypt to mark the birth of Islam's 7th century Prophet Muhammad. The banks are now scheduled to reopen Wednesday.
The stock market, however, will stay closed Wednesday and Thursday, the final weekday in Egypt. A previous announcement had said it would reopen Wednesday, ending a three-week closure that began after the market lost almost 17 percent of its value in two days of trading in late January.
The ruling military council that took over power from Mubarak on Friday has said that security and a return to normalcy are among its top priorities. It has called on Egyptians to return to work to save the economy after the 18 days of protests sent hundreds of thousands of foreign tourists fleeing the country in hurried evacuation flights -- a major blow to the country's biggest economic sector.
Monday's protests came one day after the ruling military rulers took sweeping action to dismantle Mubarak's autocratic legacy, dissolving parliament, suspending the constitution and promising elections.
The generals also met Sunday with representatives of the broad-based youth movement that brought down the government. Prominent activist Wael Ghonim posted on a Facebook page he manages notes from the meeting between members of the military council and youth representatives, which he described as encouraging.
The military defended the caretaker government led by Prime Minister Ahmed Shafiq and stocked with Mubarak loyalists as necessary for now in the interests of stability but pledged to soon change it, according to Ghonim and another protester, Amr Salama.
"They said they will go after corrupt people no matter what their position current or previous," the posted statement added. Amendments to the much-reviled constitution will be prepared by an independent committee over the next 10 days and then presented for approval in a popular referendum to be held in two months, they said.
The military also encouraged the youth to consider forming political parties -- something very difficult to do under the old system -- and pledged to meet with them regularly.
"We felt a sincere desire to protect the gains of the revolution and an unprecedented respect for the right of young Egyptians to express their opinions," Ghonim said.
Have a tip you want to share? You can leave a message for HuffPost at 00-1-315-636-0962. If you know someone there and have email access, send us an email at egypt@huffingtonpost.com. Our Skype account is HuffPostReports.
Related
Popular in the Community