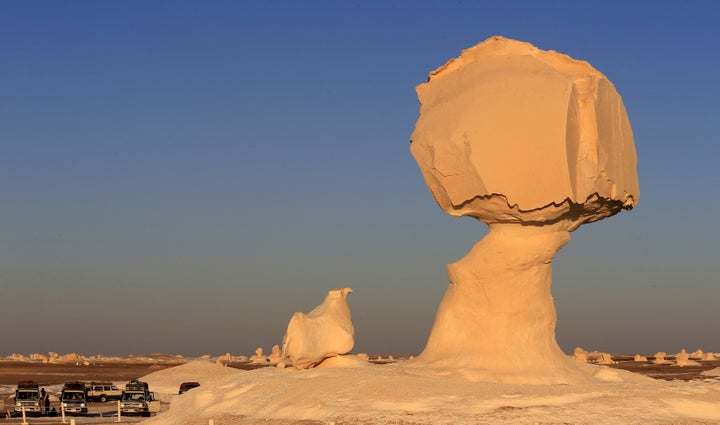 Mexican survivors of an Egyptian military airstrike on a group of tourists, which killed at least 12 people, have recounted what happened.
The tour group members told Mexico's ambassador to Egypt that military helicopters and a plane bombed their convoy, which was traveling through Egypt's western desert, reported Reuters.
Eight of the 12 dead were Mexican citizens. President Enrique Pena Nieto has condemned the killings and called for an exhaustive investigation. 
Egypt's interior ministry has defended its security forces. It said a military and police team was pursuing militants during a counter-terrorism operation, and that the four tourist vehicles were in a restricted area when they were mistakenly targeted. 
Egyptian tourism officials criticized the tour company for not obtaining a permit to be in the area, even though, as The Guardian pointed out, the location of the attack is listed as a popular tourist attraction on their website.
A local tour guide denied the government's claims that the group was not allowed to be in the area, and told the BBC that they were even accompanied by a police escort. 
Egypt's security forces have been fighting an ongoing insurgency from Islamic State-linked militants that has increased in scope and seen a rising death toll over the course of 2015. The militants, who are largely based in the Sinai region, which is near Cairo, have targeted public figures and soldiers. They have also carried out attacks on popular tourist sites, which is crippling Egypt's vital tourism industry.
The Egyptian government has launched an aggressive campaign to combat the militants, passing repressive anti-terrorism laws and conducting military operations that have included numerous air strikes. Officials have sought to strictly control its anti-terror campaign narrative, but analysts say the state has struggled to maintain the veneer that their operations have been successful.
"When Egypt comes out with casualty figures that are flatly contradicted by official sources and other media, it doesn't help their credibility," Michael Hanna, Egypt expert and senior fellow at The Century Foundation, told The WorldPost in July.
PHOTO GALLERY
Heatwave In Egypt
REAL LIFE. REAL NEWS. REAL VOICES.
Help us tell more of the stories that matter from voices that too often remain unheard.