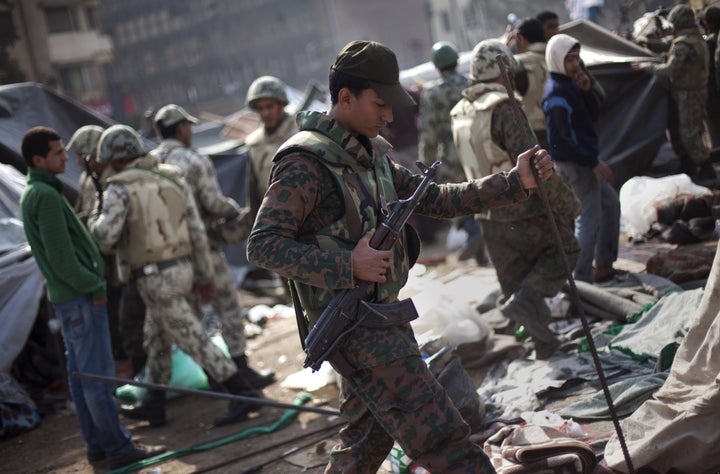 SCROLL DOWN FOR LIVE UPDATES
CAIRO (AP) — Egypt's military leaders dissolved parliament and suspended the constitution on Sunday, meeting two key demands of protesters who have been keeping up pressure for immediate steps to push forward the transition to democratic, civilian rule after forcing Hosni Mubarak out of power.
In their latest communique, the military rulers that took over when Mubarak stepped down Friday, said they will run the country for six months, or until presidential and parliament elections can be held.
The military leaders said they were forming a committee to amend the constitution and set the rules for popular referendum to endorse the amendments.
Both the lower and upper houses of parliament are being dissolved. The last parliamentary elections in November and December were heavily rigged by the ruling party, virtually shutting out any opposition representation.
The caretaker Cabinet, which was appointed by Mubarak shortly after the mass pro-democracy protests began on Jan. 25, will remain in place until a new Cabinet in formed – a step that is not expected to happen until after elections.
The ruling military council reiterated that it would abide by all of Egypt's international treaties agreed in the Mubarak era, most importantly the peace treaty with Israel.
Have a tip you want to share? You can leave a message for HuffPost at 00-1-315-636-0962. If you know someone there and have email access, send us an email at egypt@huffingtonpost.com. Our Skype account is HuffPostReports.
Calling all HuffPost superfans!
Sign up for membership to become a founding member and help shape HuffPost's next chapter