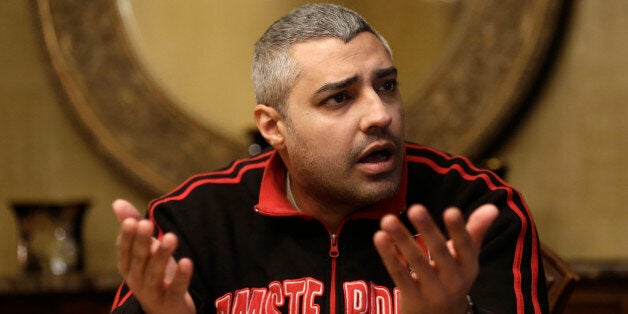 Mohamed Fahmy was due to begin his retrial in an Egyptian criminal court two days ago on charges of terrorism and broadcasting "false news." But when the court convened, the judges postponed the new trial to Mar. 8. This is when Mr. Fahmy, a journalist who has committed no crime and is currently on bail, must next return to the defendants' soundproof cage.
Earlier this month Egypt's highest court issued its reasons for overturning the original conviction and sentence in the case. The Court of Cassation's decision recognized that the original trial was unfair, as I have previously explained. The judges noted the catalogue of due process violations that revealed a biased and unjust approach by the authorities. The court also considered that Fahmy's conviction for acts of "terrorism" was nonsensical since he was not even charged with threatening or using violence. It concludes that the trial court judgment was "flimsy and based on conflicting reasoning that undermines it and justifies overturning it on appeal."
Since then, documents have become available showing that even the prosecution has criticized the judgment of the trial court -- presided over by a judge known as the "executioner" -- that convicted Mr. Fahmy and his colleagues. The prosecutor's statement to Egypt's highest court on the appeal argued that there was insufficient evidence to sustain the charges.
First, it concludes that there was no evidence to show that Mr. Fahmy and others were "members of a group founded in contravention of the law." And it goes on to say in relation to the other charges that since "the judgment provides nothing to show that the news itself is false, or to show that the appellant knew of its falsehood, it is wanting for not establishing the elements of the crime of which the appellant was found guilty." The prosecutor goes on to criticize due process violations in the trial and the handling of evidence and concludes that "the appealed judgment, to the extent that it relies on such invalid evidence is itself invalid." The fact that this is the position taken by the prosecution -- the entity that brought the charges in the first place -- in itself shows the absurdity of the charges and subsequent trial process.
The outcome of the retrial, and its timeframe, remain uncertain. But more importantly, Mr. Fahmy should not be subjected to this process at all. Earlier this month Fahmy and his family celebrated the return of Fahmy's former colleague and co-defendant, Peter Greste, to Australia under the terms of a decree allowing foreign prisoners to be transferred to their home state. Mr. Fahmy is eligible for transfer under this same law -- and the retrial process that is now in motion does not change that.
Mr. Fahmy is a Canadian national who was subjected to the same unfair trial process as Mr. Greste. Fahmy was told by high-level Egyptian officials that, as a dual Egyptian-Canadian national, he must give up his Egyptian citizenship to guarantee a transfer. He had no choice but to do so in order to secure his freedom.
Since then, the Egyptian government took steps to implement his release. They publicized Fahmy's nationality renunciation in their Official Gazette. The Canadian government also received assurances from the Egyptian government that a decision had been taken to release him and that his departure from the country was imminent. This includes assurances made by officials from the Foreign Ministry, Justice Ministry and Interior Ministry, according to the Canadian officials. Such assurances led the Canadian government to declare that Mr. Fahmy's release was "imminent." But it did not happen.
So what did Canada do? It published a short written statement by a junior minister calling the situation "unacceptable" and asking for Fahmy's "full and immediate release" and "consideration of a general amnesty." Such sheepish whimpers are woefully inadequate when it comes to enforcing an agreement reached with a sovereign state regarding a citizen's release from detention. Canada should now begin real advocacy to ensure that Egypt honors its agreement to release Mr. Fahmy from Egypt. There is no legal impediment to his immediate transfer to Canada. Yet calls from Canadian society and politicians for Prime Minister Harper to pick up the phone to personally intervene in the case have so far fallen on deaf ears.
Fahmy's calls on Al Jazeera for support have also been rebuffed. It is however hoped that Al Jazeera English -- Mr. Fahmy's employer when he was arrested -- will refrain from taking any action that might undermine his bid for freedom.
I now plan to visit Egypt to meet with my client and discuss the status of the case with Canadian and Egyptian officials. Egypt's Ministry of Foreign Affairs has acknowledged my request and my visa application is currently being processed. I hope that such a visit can lead to a swift and complete resolution of this case.
Amal ClooneyCounsel for Mohamed Fahmy
An Arabic version of this statement is available here.
Related
Popular in the Community