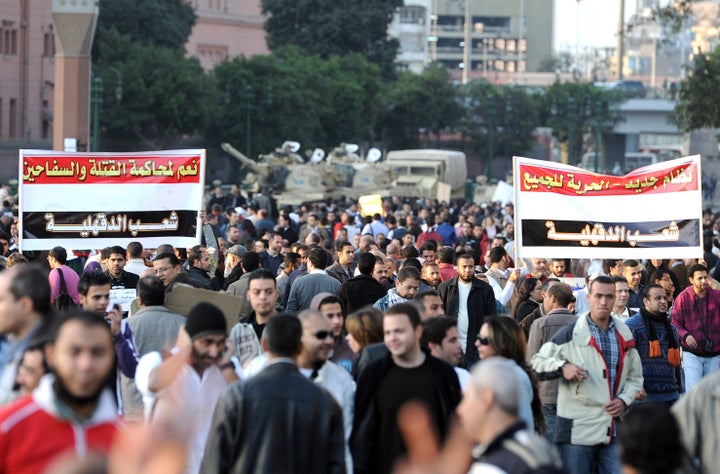 CAIRO - Tens of thousands of people flooded into the heart of Cairo Tuesday, filling the city's main square as a call for a million protesters was answered by the largest demonstration in a week of unceasing demands for President Hosni Mubarak to leave after nearly 30 years in power.
(SCROLL DOWN FOR THE LATEST UPDATES)
Rivers of protesters arrived in Tahrir, or Liberation, Square at checkpoints guarded by protesters and the army, which promised Monday night that it would not fire on protesters.
The announcement was a sign that army support for Mubarak may be unraveling as momentum builds for an extraordinary eruption of discontent and demands for democracy in the United States' most important Arab ally.
"We are not going anywhere until Mubarak leaves," said Mohammed Abdullah, a 27-year-old aviation engineer.
Mubarak, 82, would be the second Arab leader pushed from office by a popular uprising in the history of the modern Middle East.
Soviet-era and newer U.S.-made Abrams tanks stood at the roads leading into Tahrir Square, a plaza overlooked by the headquarters of the Arab League, the campus of the American University in Cairo, the famed Egyptian Museum and the Mugamma, an enormous winged building housing dozens of departments of the country's notoriously corrupt and inefficient bureaucracy.
Working-class men in scuffed shoes and worn cloth pants stood alongside women in full-face veils who chanted, "The people want to bring down the regime!"
For days, army tanks and troops have surrounded the square, keeping the protests confined but doing nothing to stop people from joining. The guns of many of the tanks pointed out from the square.
Military spokesman Ismail Etman said the military "has not and will not use force against the public" and underlined that "the freedom of peaceful expression is guaranteed for everyone."He added the caveats that protesters should not commit "any act that destabilizes security of the country" or damage property.
The protests appeared to be better organized on Tuesday. Volunteers wearing tags reading "Security of the People" said they were watching for government infiltrators who might try to instigate violence.
"We will throw out anyone who tries to create trouble," one announced over a loudspeaker.Authorities shut down all roads and public transportation to Cairo, security officials said. Train services nationwide were suspended for a second day and all bus services between cities were halted.
All roads in and out of the flashpoint cities of Alexandria, Suez, Masnoura and Fayoum were also closed.
The officials spoke on condition of anonymity because they were not authorized to speak to the media.
Have a tip you want to share? You can leave a message for HuffPost at 00-1-315-636-0962. If you know someone there and have email access, send us an email at egypt@huffingtonpost.com. Our Skype account is HuffPostReports.
Scroll down for the latest updates.
Related
Popular in the Community