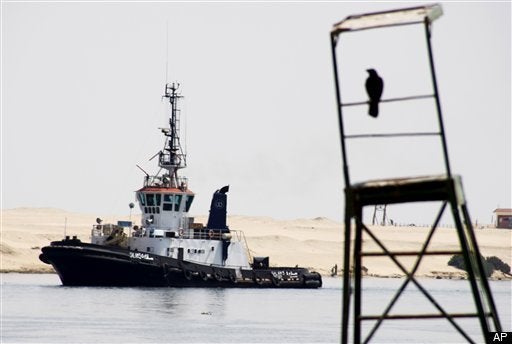 Prices of oil and other commodities are rising, buoyed by fears that the unrest in Egypt could affect trade.
With the global economy still struggling to recover from a recession, international trade is a key source of growth. While there's been no significant interruption in the trade of oil since the unrest began early last week, purchasers fear that a major change in the Egyptian government could affect access to the commodity.
Egypt, the largest country by population in the oil-producing Middle East, is a crucial link in the oil trade. Although Egypt isn't a major U.S. trading partner, its key role in the international oil trade means that an interruption would affect the U.S. directly. In 2009, 2.9 million barrels of crude oil passed every day through Egypt's Suez Canal and SUMED pipeline, according to the Energy Department.
If the canal and pipeline were closed, ships transporting oil would be forced to add 6,000 miles to their journey, the Energy Department notes, in a document that describes "World Oil Transit Chokepoints." The Egyptian protests have evidently stoked fears of an interruption.
"It's moved oil prices up and it's likely to do that for at least a little while," said Mark Weisbrot, co-director of the Center for Economic Policy and Research, in Washington. "Some movement is kind of rational, and reflects the actual probability of an oil supply interruption."
Brent crude, which helps determine the price of two-third of the world's oil, traded at a 28-month high on Friday, Reuters notes.
The prices of other commodities have also risen sharply in the past year, and the situation in Egypt seems likely to exacerbate that rise. Egypt is a major exporter of cotton, and trade with the U.S. accounted for more than 30 percent of the cotton export business during the first half of last year, according to Egypt's records.
The price of cotton more than doubled last year, according to the International Monetary Fund. While adverse weather has affected production of the crop, some producers have also been hoarding cotton, in the hope that the price will rise further. This limited supply has boosted prices.
The affect of the Egyptian unrest on prices is, as of now, based on speculation, since the movement of goods hasn't been significantly impaired. And so far, the price of oil has been more affected than the prices of agricultural products.
"It doesn't necessary affect commodity prices immediately," Weisbrot said. But he added, "I don't think its going to be resolved that quickly."