Egyptians awoke to a somber reality Thursday.
On Wednesday, Egyptian security forces unleashed a bloody crackdown on supporters of ousted president Mohamad Morsi. At least 525 people were killed and thousands injured, making it the single bloodiest day since the country's 2011 revolution.
See 10 heartbreaking photos from the aftermath of the massacre below. Note: Some of these photos are graphic and viewers may find them disturbing.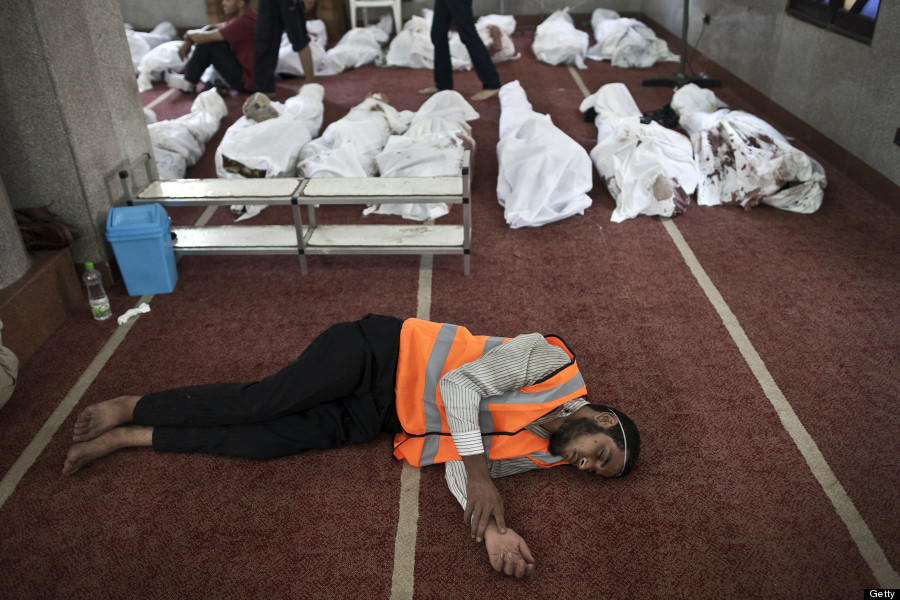 An Egyptian volunteer sleeps on the carpet of a mosque in Cairo where lines of bodies wrapped in shrouds were laid out on August 15, 2013. (MAHMOUD KHALED/AFP/Getty Images)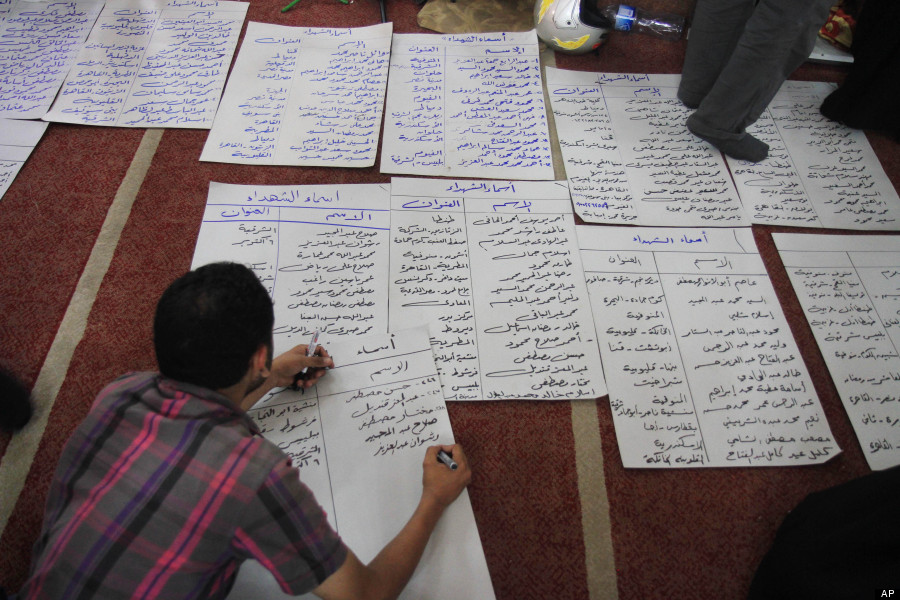 A man writes down identified names of bodies of Morsi supporters at the El-Iman mosque in Cairo's Nasr City, Egypt, Thursday, Aug. 15, 2013. (AP Photo/Ahmed Gomaa)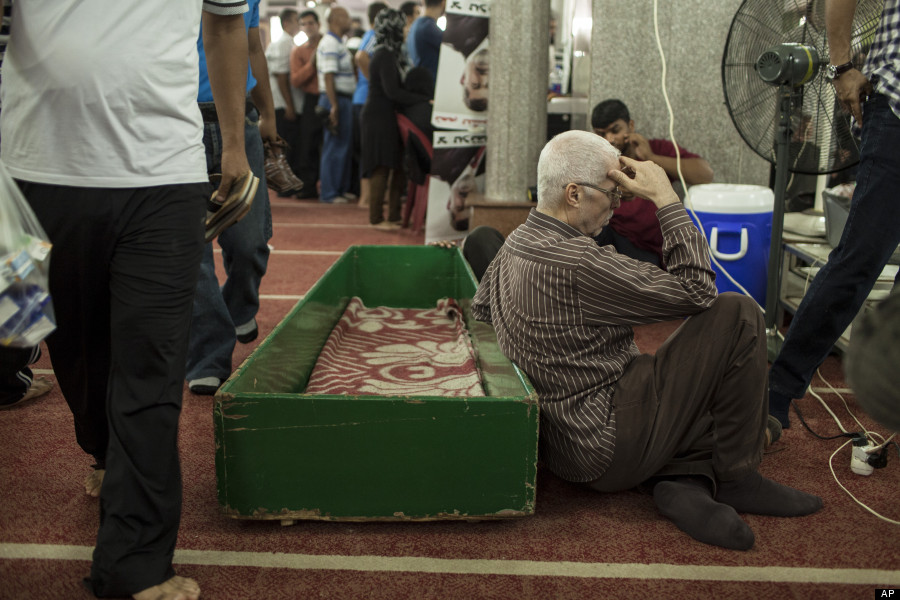 An Egyptian man sits by an empty coffin as family members identify the bodies of Morsi supporters. (Photo by Ed Giles/Getty Images) An Egyptian child displays empty tear gas canisters among the debris of a protest camp in Nahda Square, near Cairo University in Giza, Cairo, Egypt, Thursday, Aug. 15, 2013. (AP Photo/Amr Nabil)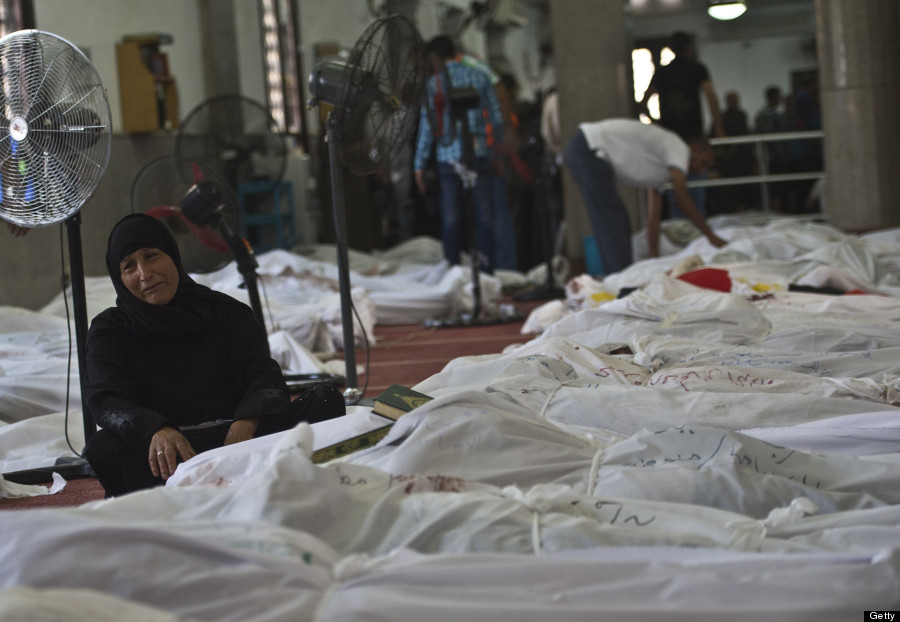 An Egyptian woman mourns over the body of her daughter wrapped in a shroud at a mosque in Cairo on August 15, 2013. (KHALED DESOUKI/AFP/Getty Images)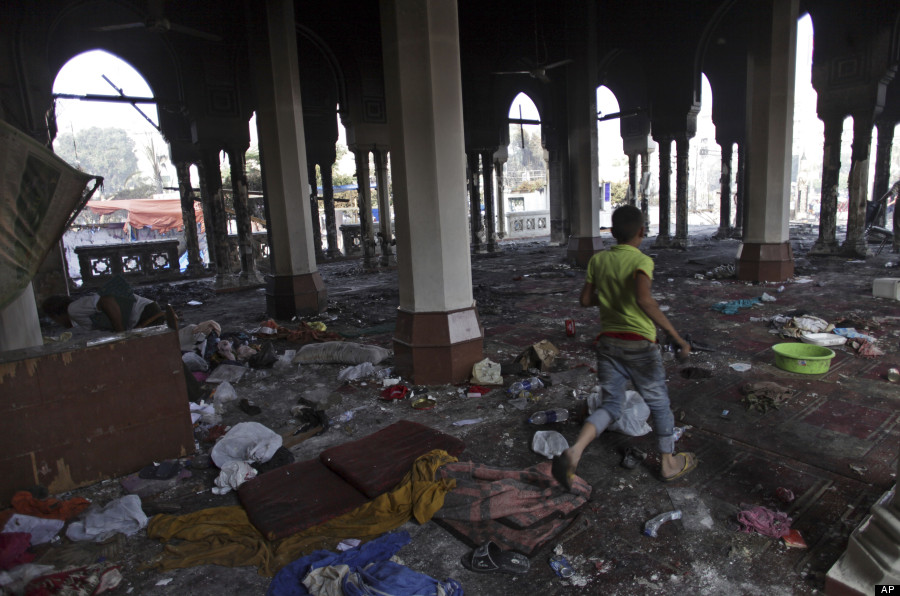 An Egyptian boy runs inside the burned Rabaah al-Adawiya mosque, where supporters of Egypt's ousted President Mohammed Morsi had a protest camp at Nasr City, Cairo, Egypt, Thursday, Aug. 15, 2013. (AP Photo/Khalil Hamra)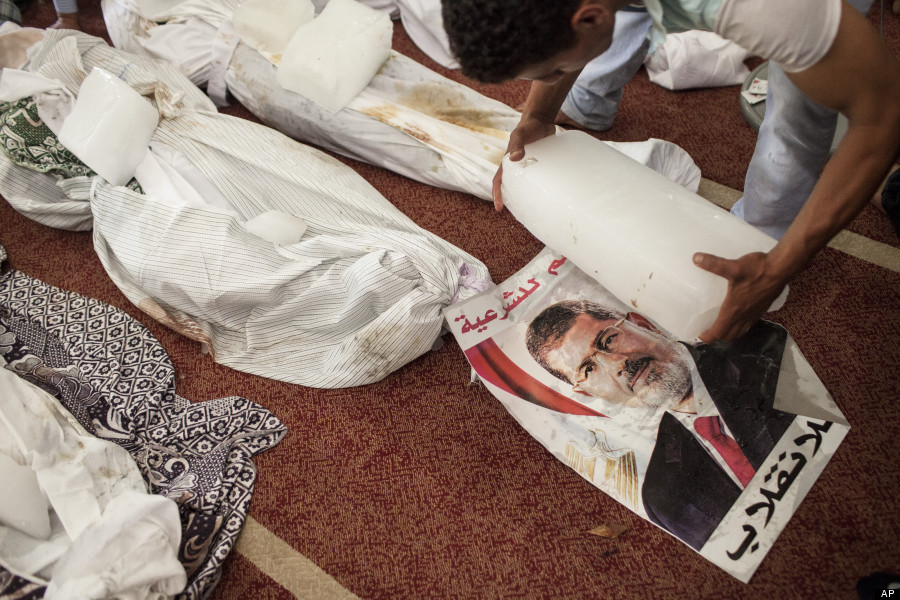 An Egyptian man places blocks of ice on the body of a Morsi supporter killed during a violent crackdown by Egyptian Security. (Photo by Ed Giles/Getty Images)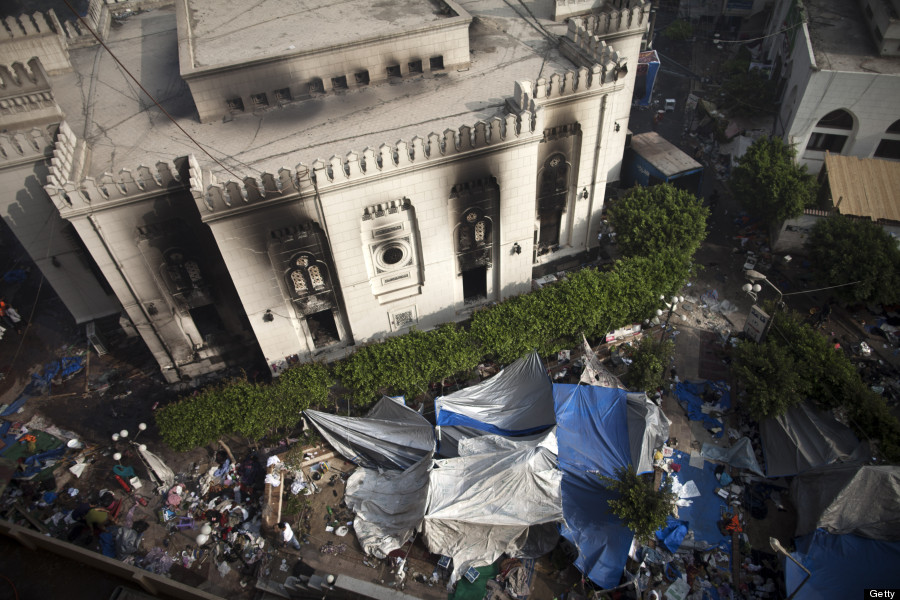 A general view shows the burnt facade and debris at Rabaa al-Adawiya sqaure in Cairo on August 15, 2013, following a crackdown on the protest camps of supporters of the Egypt's ousted Islamist leader Mohamed Morsi. (MAHMOUD KHALED/AFP/Getty Images)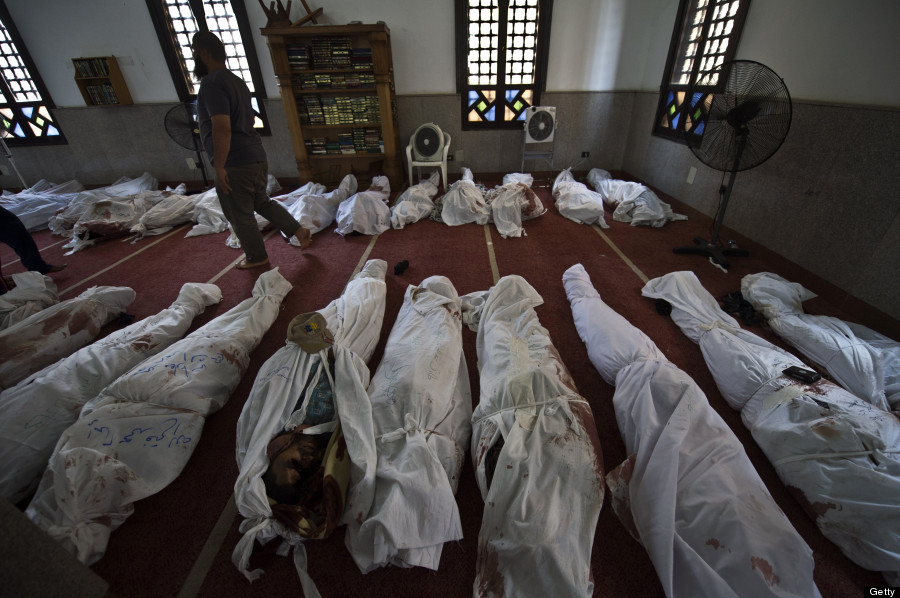 An Egyptian man walks between lines of bodies wrapped in shrouds at a mosque in Cairo on August 15, 2013. (KHALED DESOUKI/AFP/Getty Images)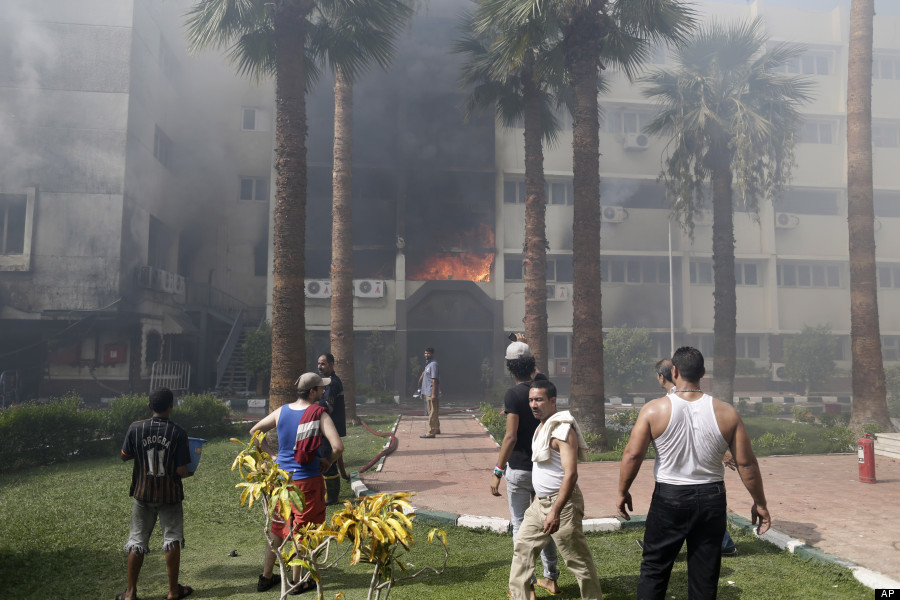 Egyptian civilians help firefighters to battle flames at a Giza governorate building that was stormed and torched by angry supporters of Egypt's ousted president, Cairo, Egypt, Thursday, Aug. 15, 2013. (AP Photo/Hassan Ammar)
Related
Before You Go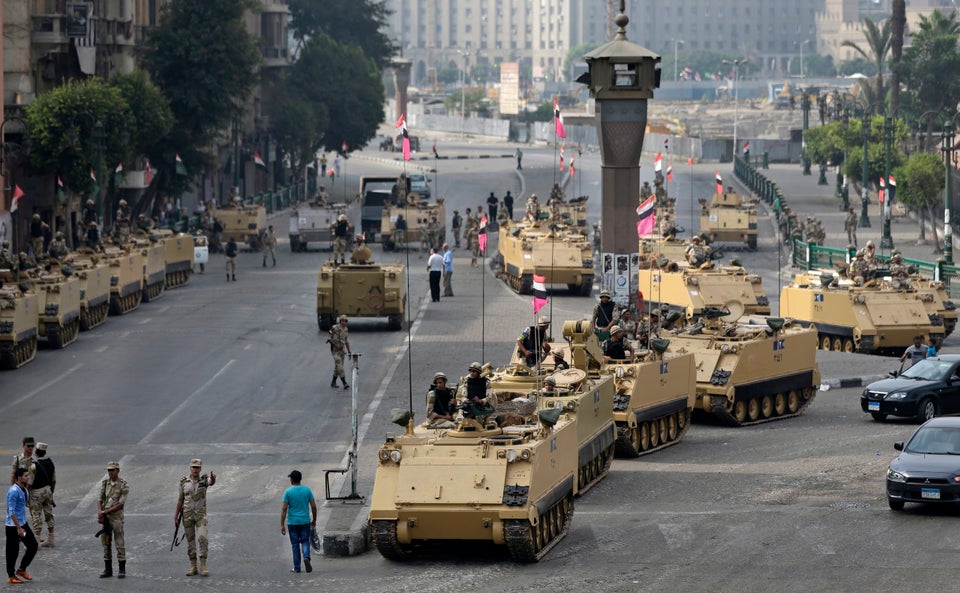 Clashes In Cairo (Warning: Graphic Images)
Popular in the Community