 CAIRO, Oct 5 (Reuters) - Egyptian authorities said on Saturday anyone who protests against the army on Sunday when the country celebrates the anniversary of an attack on Israel forces during the 1973 war will be regarded as agents of foreign powers.
Presidential spokeman Ahmed al-Muslimani was speaking to the state news agency in anticipation of demonstrations by the Muslim Brotherhood, which has been staging protests against the army's ouster of Islamist President Mohamed Mursi in July.
Egyptian authorities tightened security around the country after clashes on Friday killed at least four people.
Mursi's supporters on Friday mounted their boldest demonstrations since troops crushed protest camps demanding his reinstatement on Aug. 14. The four who died in Cairo were all Brotherhood supporters, security sources said.
Both opponents and supporters of the Brotherhood have called for more mass protests on Sunday, during celebrations of the anniversary of an Egyptian attack on Israeli forces in the Sinai during the 1973 war.
"Protesters against the army on the anniversary of victory (Oct. 6, 1973 war) will be carrying out the duties of agents, not activists," the presidential spokesman said. "It is not befitting to go from a struggle against authorities to a conflict with the nation."
The Interior Ministry said security had been stepped up on highways, in all cities and at important installations.
Political tensions have gripped Egypt and hammered the economy since the army ousted Mursi, installed an interim government and drew up a political road map it promised would bring fair elections.
In a televised speech to the nation, Interim President Adly Mansour promised that a constitution would be written to accommodate "all Egyptians". He said free and fair parliamentary and presidential elections would be held shortly after the constitution is finished.
On Saturday afternoon, about 1,000 Mursi supporters tried to reach the Rabaa al-Adawiya mosque area in northeast Cairo, where security forces crushed one of their protest camps in August. All but about 50 were turned back by police, who fired tear gas, security sources said.
Interior Minister Mohamed Ibrahim said in a meeting with aides that security forces would not tolerate attempts to block roads or "spread chaos", the state news agency reported.
"The ministry will deal with the utmost firmness and decisiveness with any of those practices, and confront any lawlessness," it quoted him as saying.

The military boosted its presence around Tahrir Square - where hundreds of thousands of Egyptians demonstrated during the revolt that toppled autocrat Hosni Mubarak in 2011 - after clashes on Friday in several cities.
Prime Minister Hazem el-Beblawi said in a statement to the nation that "evil elements" still posed a danger but had lost much of their power, a reference to Islamist militants.
Beblawi said the road map was "taking its natural course" and that he hoped it would conclude soon. He said the economy was starting to improve and "there were clear signs and reassuring indicators".
Authorities have cracked down hard on the Brotherhood, which won every election after Mubarak's fall but became unpopular during Mursi's rule, with many Egyptians accusing him of trying to acquire sweeping powers and mismanaging the economy, allegations he denies.
The Brotherhood accuses the military of staging a coup and sabotaging democracy by removing Mursi, the country's first freely-elected president.
On Aug. 14, Egypt's military-backed authorities smashed the two pro-Mursi sit-ins in Cairo, with hundreds of deaths, and then declared a state of emergency and imposed a curfew. Many of the Brotherhood's leaders have been arrested since.
Egyptian authorities face a rising number of attacks by militants in the Sinai, bordering Israel and the Gaza Strip, which is controlled by the Palestinian group Hamas, an offshoot of the Muslim Brotherhood.
Fears are growing that an Islamist insurgency could take hold in other parts of Egypt, a key U.S. ally which has a peace treaty with Israel and controls the Suez Canal, a vital global trade route.
In September, a Sinai-based militant group inspired by al Qaeda claimed responsibility for a failed suicide bombing against the interior minister in Cairo.
On Saturday, security forces arrested two members of al Qaeda carrying hand grenades in the coastal city of Marsa Matruh, security sources said.
One of the men threw a grenade just before he was apprehended, wounding six policemen, they said.

Support HuffPost
The Stakes Have Never Been Higher
Related
Before You Go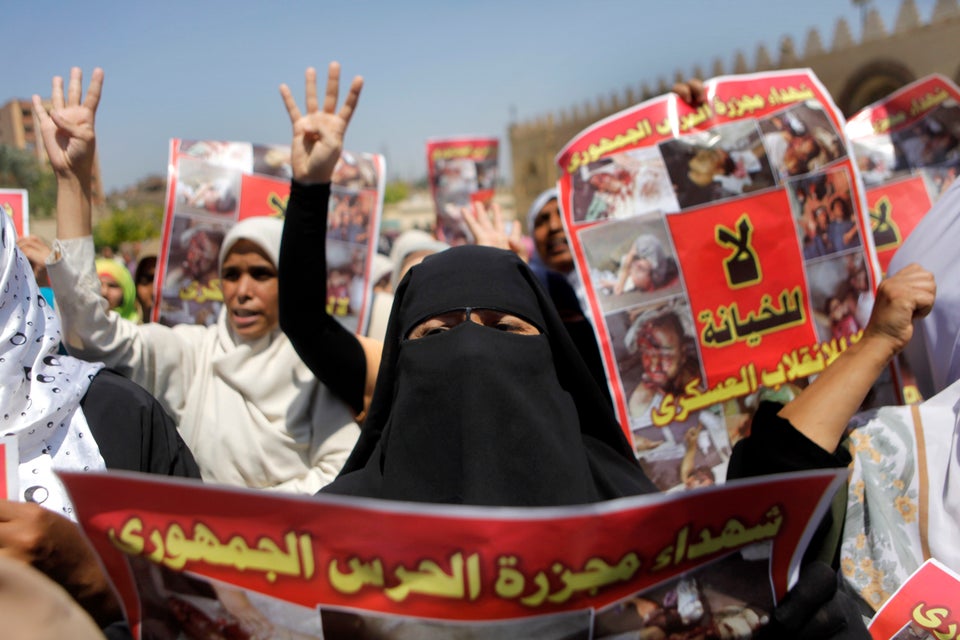 Protests In Egypt
Popular in the Community