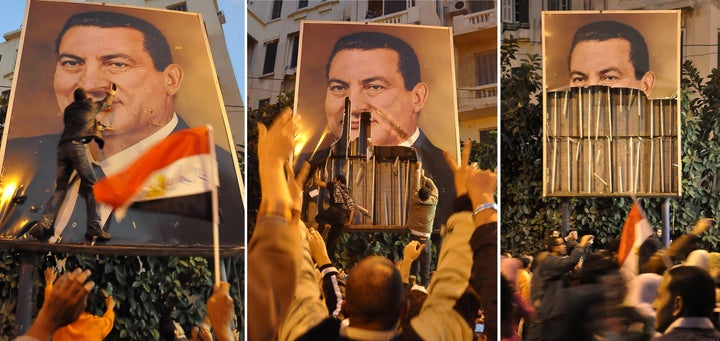 CAIRO (AP) - The Egyptian capital Cairo was the scene of violent chaos Friday, when tens of thousands of anti-government protesters stoned and confronted police, who fired back with rubber bullets, tear gas and water cannons. It was a major escalation in what was already the biggest challenge to authoritarian President Hosni Mubarak's 30 year-rule.
Internet and cell-phone services were disrupted across Egypt starting overnight and throughout the day as authorities used extreme measures to hamper protesters from organizing the mass rallies called after Friday prayers.
Police also fired water cannons at one of the country's leading pro-democracy advocates, Mohamed ElBaradei, and his supporters as they joined the latest wave of protests after noon prayers. Police used batons to beat some of ElBaradei's supporters, who surrounded him to protect him.
A soaking wet ElBaradei was trapped inside a mosque while hundreds of riot police laid siege to it, firing tear gas in the streets around so no one could leave. The tear gas canisters set several cars ablaze outside the mosque and several people fainted and suffered burns.
Large groups of protesters, in the thousands, were gathered at at least six venues in Cairo, a city of about 18 million people, and many of them were on the move marching toward major squares and across Nile bridges.
They are demanding Mubarak's ouster and venting their rage at years of government neglect of rampant poverty, unemployment and rising food prices.
Have a tip you want to share? You can leave a message for HuffPost at 00-1-315-636-0962. If you know someone there and have email access, send us an email at egypt@huffingtonpost.com. Our Skype account is HuffPostReports.
You can follow the latest updates below.
Related
Popular in the Community