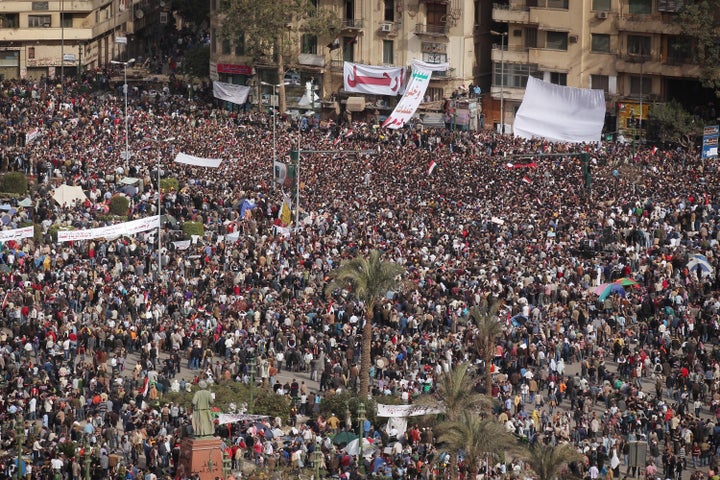 CAIRO -- Protesters demanding President Hosni Mubarak's ouster packed Cairo's central square by the tens of thousands Friday, waving Egyptian flags, singing the national anthem and cheering, appearing undaunted and determined after their camp withstood two days of street battles with regime supporters trying to dislodge them.
Thousands including families with children flowed over bridges across the Nile into Tahrir Square, a sign that they were not intimidated after the protesters fended off everything thrown at them by pro-Mubarak attackers - storms of hurled concrete, metal rebar and firebombs, fighters on horses and camels and automatic gunfire barrages. The protesters passed through a series of beefed-up checkpoints by the military and the protesters themselves guarding the square.
A man sitting in a wheelchair was lifted - wheelchair and all - over the heads of the crowd and he pumped his arms in the air. Thousands prostrated in noon prayers and immediately after uttering the prayer's concluding "God's peace and blessings be upon you," they began chanting their message to Mubarak: "Leave! Leave! Leave!"
According to Al Jazeera, hundreds of thousands gathered near Tahrir Square. One correspondent for the network said that Friday's protests marked the loudest crowds he had seen yet.
BBC Arabic reported that Mohammad Rifaha Tahtawi, the spokesman for a major university in Cairo, submitted his resignation and joined the protests. According to the New York Times, Field Marshal Mohamed Tantawi appeared with -- but did not join -- protesters in Tahrir Square. Earlier in the week, a state TV anchor resigned in protest.
In the afternoon, a group of Mubarak supporters gathered in a square several blocks away and tried to move on Tahrir, banging with sticks on metal fences to raise an intimidating clamor. But protesters throwing rocks pushed them back.
The Arabic news network Al-Jazeera said a "gang of thugs" stormed its offices in continuation of attacks on journalists by regime supporters that erupted Thursday. It said the attackers burned the office and damaged equipment. The editor of the Muslim Brotherhood's website, Abdel-Galil el-Sharnoubi, told the AP that policemen stormed its office Friday morning and arrested 10 to 15 of its journalists. Also clashes with sticks and fists between pro- and anti-government demonstrators erupted in two towns in southern Egypt.
More detailed scenarios were beginning to emerge for a transition to democratic rule after Mubarak's nearly 30-year authoritarian reign.
Proposals floated by the Americans, the regime and the protesters share some common ground, but with one elephant-sized difference: The protesters say nothing can be done before Mubarak leaves, while the 82-year-old president insists he will serve out the remaining seven months of his term to oversee the transition process. Protesters labeled their rally the "day of leaving," a reference to their demand Mubarak go on Friday. Some held up signs reading, "Now!"
Have a tip you want to share? You can leave a message for HuffPost at 00-1-315-636-0962. If you know someone there and have email access, send us an email at egypt@huffingtonpost.com. Our Skype account is HuffPostReports.
Scroll down for the latest updates.
Popular in the Community