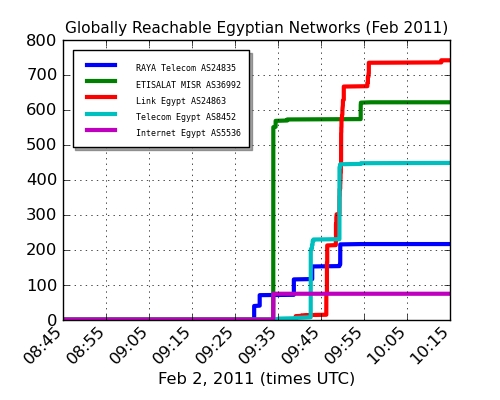 All major Egyptian ISPs appear to have readvertised routes to their domestic customer networks in the global routing table, including Noor Group, the exception until Monday to the Internet blackout.
The rebooted Egyptian table is smaller than it was a week ago, but that's mostly because of a normal process called "reaggregation" (the deletion of very small, specific customer routes that are partially or totally redundant with existing announcements, generally for purposes of traffic engineering). That's to be expected: the Egyptian table had gotten pretty dense with redundancy in the week leading up to the takedown, and it's been cleaned up in the process of being brought back.
It wasn't totally smooth; a few larger network blocks belonging to the Egyptian Universities Network (AS2561) were still missing. Unfortunately, these included the address space that hosts the .eg top level domain servers. The routes have since recovered.
We can also confirm that Facebook and Twitter are up and available inside Egypt, at least from the places we can monitor. No traffic blocks are in place, DNS answers are clean, IP addresses match, no funny business. For now.
Popular in the Community