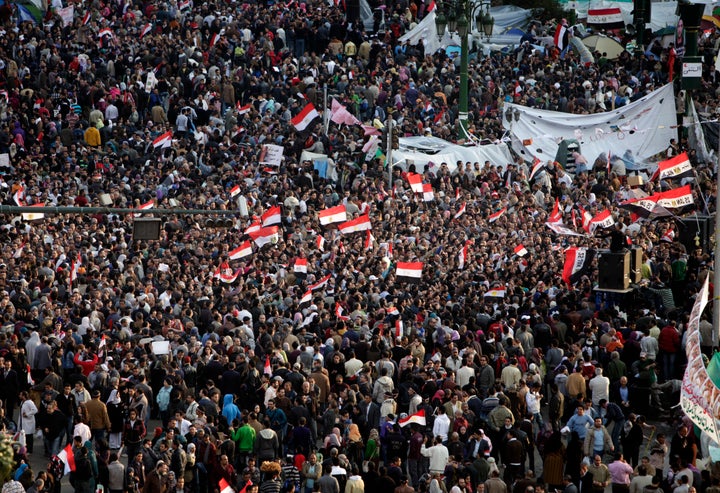 This week marks six years since the start of the Egyptian revolution, when 18 days of demonstrations by millions of protesters nationwide ousted autocratic President Hosni Mubarak from power and ended nearly three decades of his tyrannical leadership.
But the anniversary of this historic uprising bears little cause for celebration in Egypt, as President Abdel Fattah el-Sisi has continued ― and in some ways, intensified ― Murabak's legacy of repression.
Egyptians' post-revolutionary hopes for greater freedom were quickly doused as governance transitioned in 2012 from the military to Mohammed Morsi ― Egypt's first ever democratically-elected leader ― who effectively granted himself temporary unlimited authority without judicial oversight months after taking office.
Morsi belonged to the Muslim Brotherhood, a U.S.-supported Islamist social, political and religious opposition movement that was founded in Egypt. Just a year after Morsi's election, millions of Egyptians filled the streets yet again to demand his resignation amid growing anti-Brotherhood sentiment and accusations of oppression.
In July 2013, he was deposed through a military coup led in part by el-Sisi, who was head of the nation's armed forces at the time. Months later, the Muslim Brotherhood was outlawed and declared a terrorist organization in Egypt.
Morsi was found guilty of crimes that included ordering the torture and unlawful detention of protesters who opposed his regime. Human rights group Amnesty International called the verdict the result of a "sham trial," and sharply criticized the Egyptian criminal justice system. Morsi was later sentenced to death, but the sentence was overturned in Nov. 2015 and he faces retrial.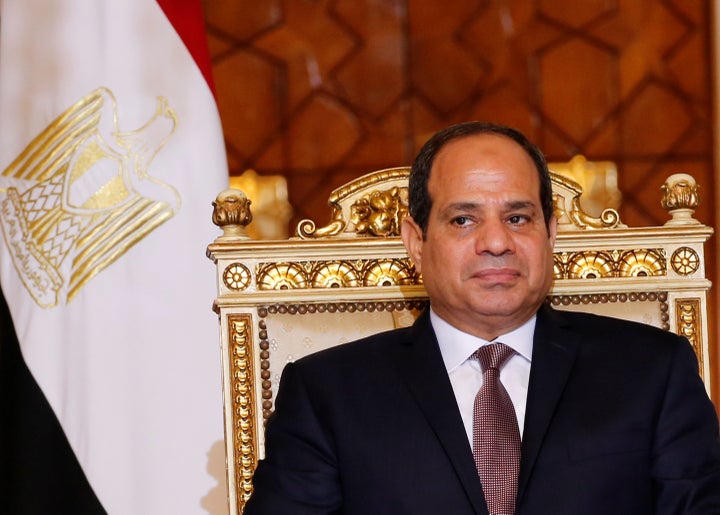 Since rising to power in 2014, el-Sisi has expanded an alarming nationwide crackdown on dissent and purported terrorism-related threats in Egypt, which recently resulted in retired Egyptian soccer icon Mohamed Aboutrika being added to the country's rapidly growing 'terror list' over alleged ties to the Muslim Brotherhood.
El-Sisi has widened government surveillance abilities and authorities' powers as part of his sweeping counterterrorism movement. Public criticism of his regime remains effectively banned.
Rights groups have documented hundreds of death sentences and unfair trials, extrajudicial killings of protesters, enforced disappearances and abductions of journalists and activists, torture of political prisoners, evictions and building destruction by state officials under el-Sisi's leadership.
A security official explained one of his agency's methods of suppressing dissent to Reuters in January 2016.
"We have taken several measures to ensure activists don't have breathing space and are unable to gather, and several cafes and other meeting places have been closed, while some have been arrested in order to scare the rest," he said.
Amnesty International has called the unfolding situation an "unprecedented human rights crisis" in Egypt.
"Enforced disappearance has become a key instrument of state policy in Egypt," Philip Luther, Amnesty's Middle East and North Africa director, explained in a 2016 situation report. "Anyone who dares to speak out is at risk, with counter-terrorism being used as an excuse to abduct, interrogate and torture people who challenge the authorities."
In April 2016, el-Sisi, whose failed promise of economic revival was already causing domestic tensions, announced that Egypt would be giving two Red Sea islands to Saudi Arabia. The shocking move baffled and outraged many in the country and sparked huge protests. When el-Sisi was asked a question about the transfer during a subsequent policy speech before a group of parliamentarians, he snapped back: "I did not give anyone permission to speak." An Egyptian court ultimately rejected the controversial plan on Jan. 16.
El-Sisi's internationally condemned fight against terror was recently fortified by apparent support from newly sworn-in U.S. President Donald Trump.
While former President Barack Obama strongly denounced post-revolutionary violence and oppression against Egyptian civilians ― which has included tens of thousands of detentions and arrests ― the ongoing issue appears, so far, to be less of a concern for Trump. In a phone call with el-Sisi on Jan. 23, he praised and vowed to back Egypt's counterterrorism efforts with continued military support, but made no mention of the regime's widespread human rights abuses.
Cairo has received an annual $1.3 billion in American aid for its armed forces, but relations between the two countries were deeply strained by Egyptian military violence against the Muslim Brotherhood and its supporters in August 2013, prompting Obama to cancel joint military exercises.
"We deplore violence against civilians," said Obama, triggering angry backlash from Egypt's interim government at the time. "While we want to sustain our relationship with Egypt, our traditional cooperation cannot continue as usual when civilians are being killed in the streets and rights are being rolled back."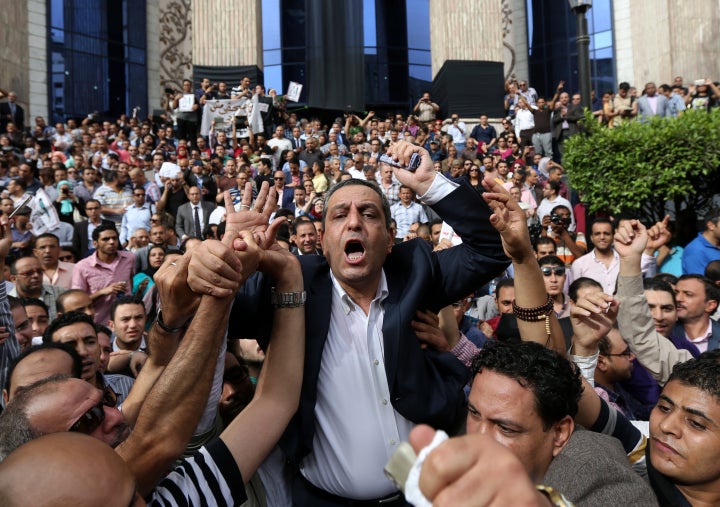 El-Sisi has also used the front of national security interests to exert his influence over the Egyptian media. In 2015, his administration approved an anti-terrorism law that threatens massive fines against journalists who report "false" news that strays from government statements.
Freedom of information advocacy group Reporters Without Borders ranks Egypt 159th out of 180 countries for its 2016 press freedom scores list. Since the revolution, successive governments have attempted to muzzle reporters and steer the media, the group notes, adding: "Authorities are orchestrating a 'Sisification' of the media and a witchhunt (sic) against the now-banned Muslim Brotherhood."
Six years after a revolution that sought greater freedom and liberty for the Egyptian people following decades of repression, the country is back in the hands of an autocratic regime, facing a deteriorating human rights crisis.
Luther says responsibility now falls on the international community to intervene.
"All states, particularly EU member states and the USA, must use their influence to pressure Egypt to end these appalling violations, which are being committed under the false pretext of security and counter-terrorism," he said in the Amnesty report. "They should cease all transfers of arms and equipment that have been used to commit serious human rights violations in Egypt until effective safeguards against misuse are established, thorough and independent investigations are conducted and those responsible are brought to justice."
Related
Before You Go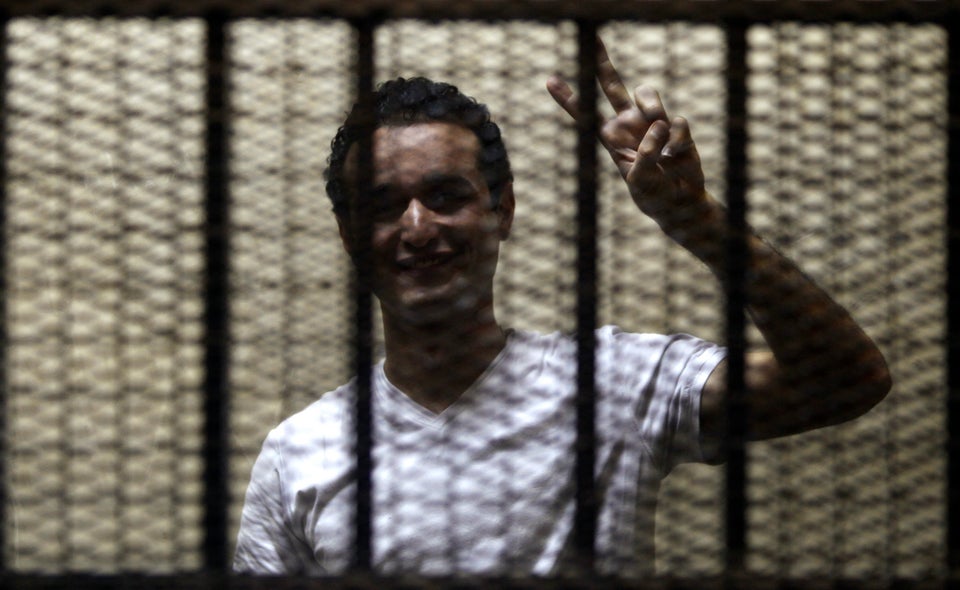 Activists Detained In Egypt
Popular in the Community